I am very pleased to announce that CrankyAds.com, my new ad management system for bloggers, is ready for a full public release.
You can download the plugin for free from here –
The plugin is currently available only for WordPress bloggers, however in the future we will have options for any website.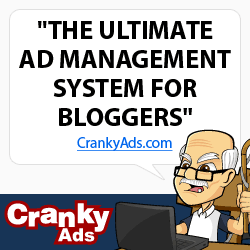 It has been tested on over 500 blogs over the previous six months. We have ironed out a lot of bugs during this time, and while it is not 100% bug free (software never is), it's very stable and you should have no problems using it on your blog.
CrankyAds has run all the ads on this blog, including text links, banner ads and video ads since the end of 2011. I switched from the OpenX ad management software to CrankyAds, which immediately made life a lot easier because of how simple CrankyAds is to use.
That is the main reason I recommend you use CrankyAds as the advertising management system for your blog. It's easy to use, only does what you need it to do and helps you sell more ads.
I am happy to say that we are confident enough in our service to announce the full public release of the CrankyAds plugin. Please try it yourself and help us spread the word!
CrankyAds.com – Ad Management. Made Easy.
Why The Name?
You might be wondering what's with the name CrankyAds?
There are many reasons for the name. How I came up with it was actually because of an iPhone App company I briefly started with a friend in 2010, but quickly shut down when my friend went back to his family business.
We went through an extensive brainstorming process for a good domain name for the App company. The result of that research process was registering the domain CrankyApps.com.
Part of the set-up of the App company led to having a mascot – Mr Cranky – created by a developer on 99Designs. Mr Cranky is a grumpy fellow (well cranky to be exact), and has spent a lot of time online. In fact he has been online long before they even invented the Internet!

Mr Cranky never worked for our App company, but he did pick up the gig working for CrankyAds, and has been part of our logo from the start.
My primary goal is to have a domain name that is a good brand. Something that can be remembered without being just a label for the service. I wanted easy memory recall rather than good keywords for search engines. Hence the mascot and the somewhat unusual choice of word in "cranky".
The cranky aspect is also relevant because of the challenge of making money online with your blog. Often people get cranky with how hard it is, hence the connection with CrankyAds, an advertising management system that takes the "crankyness" out of making money with your blog.
So What Exactly Does CrankyAds Do?
I had the basic idea for CrankyAds many years ago.
It was during my early days online, running my first websites before I got into blogging, that I realized none of the current ad management systems were easy to use. They all required incredible technical knowledge or had so many options, most you never used, that configuring the system is a huge roadblock.
When I started blogging and began to make money with advertising as my first stable income stream, I developed a few techniques to make it passive. I basically set up my system so advertising could "sell itself".
CrankyAds was created to meet my goal of creating a simple ad management system that also had a few key features built into it to make it a more effective tool for actually selling ads.
This is what CrankyAds can do for you –
It handles the rotation of all your advertising, which means it will display different ads for each page load on your blog.
You can use it to display ads in text link, graphic banner or youtube video formats, which means you can offer all these types of media to advertisers.
You determine the price, duration and where the ads will appear on your site. Advertisers automatically go on to a recurring subscription after buying the ad so you don't have to chase up payment.
CrankyAds collects stats on how many impressions and clicks each of your ads delivers. You can see these stats and so can your advertisers.
Both you the blog publisher, and your advertisers receive a private login to the CrankyAds manager (online control panel), where stats can be viewed and campaigns can be edited or cancelled any time day or night.
CrankyAds creates a page on your blog that sells the ads for you (an "advertise here" page). On this page the ads you set up are listed, with big fat buy buttons advertisers can click and go through an automated process to buy the ad, including making payment directly to you, and uploading the ad media.
You can use CrankyAds to rotate your own ad campaigns, for example ads for affiliate products or your own products or services.
There's a lot to the system, but the core features listed above are really all you need. Our focus has always been on ease of use, and while there are a couple of technical steps to initially install the plugin and set up your first adzones, you will quickly get used to it.
Changing things like price or ad size is very easy, as is accessing all your data in the CrankyAds manager.
Much of this needs to be experienced before you will understand exactly how it works. I suggest to answer any questions you may have that you first go and try CrankyAds.
Download the plugin here and then install it on your blog and begin playing with it.
How Much Does CrankyAds Cost?
CrankyAds is free.
The full version of the software is currently available to any WordPress blogger. Other platforms will be added soon, so check the website for details.
One of the key differences between CrankyAds and many of the ad networks out there is that you can keep 100% of the income you make from selling ads on your site yourself.
If you install the plugin and an advertiser comes to your site and buys an ad, the money goes directly to your Paypal account. We do not take a cut. It's all managed using our software, but it's up to you to keep track of your campaigns, approve them, cancel them and communicate with your sponsors when necessary.
At the moment we only support Paypal, however in the near future we are considering other options.
Why Am I Doing This? What's In It For Me?
You are probably wondering why give all this away for free, especially given we (me and the CrankyAds team) have put in quite a bit of time and money already into the project.
This is a business, and we have a business model.
At the moment we just want as many bloggers to use it and benefit from it as possible. We want to make it the best option for managing in-house advertising campaigns, and to do this we need feedback from actual users like you.
To monetize the service so we can function as a business and grow, we have two income streams planned.
1. CrankyPlus – A full service version of CrankyAds.
If you qualify for the CrankyPlus upgrade we go out there and find sponsors for you, manage the payments through our own transaction system so you are protected (as are your advertisers), and handle all customer support. In exchange for this, we take 25% of any ads we source for you.
Your website has to be at a certain level to qualify for CrankyPlus, we are not just taking on any site since we do have to go out there and work to find ads for you. To clarify, only CrankyPlus takes 25%, if you use the CrankyAds software yourself you keep 100% of the advertising revenue.
For more details, see the CrankyPlus Page.
2. CrankyMart – An online marketplace to buy ads from the entire CrankyAds network of blogs.
All blogs who use CrankyAds and keep adzones running on their site will have their inventory (available ads) listed in the CrankyMart, our marketplace, for sponsors to buy.
Potential sponsors can search the CrankyMart for sites to buy advertising from. If the ad is purchased via the CrankyMart, then we take 25%. This is of course if you as the blogger approve the ad. You will be notified via email if it is a CrankyMart purchase so you know that you get to keep 75% of the income.
We hope we can match up great sponsors with great blogs and create win-win-win relationships between CrankyAds, you as the blogger, and advertisers who want to reach your audience.
The CrankyMart is scheduled to launch as a Beta version by early May.
How Are We Going So Far?
Although it has taken longer than I expected to get a working plugin ready, it has come a long way. We've definitely turned a corner in 2012 or I wouldn't be writing this blog post.
CrankyAds has actually evolved beyond my early vision thanks to the great work of Walter and Mick, our developer and designer. These guys are both very talented, are founders with ownership of the company, who I work with on a daily basis to continue our growth.
We started our first live test by switching over Entrepreneurs-Journey.com to the very first Beta version of the CrankyAds plugin. It's been running on this site ever since and has handled over $10,000 in ad sales so far.
In 2012 I started dropping a few links to CrankyAds in this blog and via my newsletter. We had Pat Flyn write about and recommend CrankyAds and also Ana Hoffman write about and use it. Ana became our first CrankyPlus client, followed shortly afterwards by GideonShalwick.com. We have since sold a handful of ads on each of these sites.
As I write this we are nearing the first 1,000 registered blogs milestone. We also know that many of the blogs who use CrankyAds have sold ads directly, which is exciting for us – it actually works!
Obviously it takes traffic to sell ads, and many CrankyAds users don't have big numbers yet. We do have a few significant sized blogs using our plugin, and we hope to reach out to more in the future. Of course we love the small blogs using CrankyAds too and know that many small blogs become big blogs eventually.
CrankyAds is available to anyone, so you should never feel like your site is not ready, you just might need to put in more work to find sponsors if you don't have the traffic. As long as you keep growing your site, your income will grow too (more on how to do this here).
I think we have enough proof that we are servicing a need in the blogging community and we can only get better from here.
Now all I ask is that you give us a try, use CrankyAds and keep using it so you can be included in the CrankyMart when it launches in the next month or two, consider applying for CrankyPlus if you think you qualify and keep working on your blog.
My goal is to help as many bloggers as I can to create consistent income streams with the help of CrankyAds. I know how amazing advertising income is – it's been a foundation for my online businesses for over ten years.
So what are you waiting for, get on board!
CrankyAds.com – Ad Management. Made Easy.
Yaro Starak
CrankyAds Founder