A few years ago I was working very hard to achieve certain goals in an area of my life that I had never come close to realizing the kind of outcomes I desired.
Because these goals were so foreign to me I had a lot of self doubt, which only increased as I continued to experience poor results. I felt like I was in a negativity spiral, which unfortunately I believed was contributing to the poor results even before I experienced them.
I started to expect failure and feared the feeling of failure so much that I felt it before I even tried. My entire mindset in this area of my life was skewed towards fear, loss and negativity.
Positive Adjustment
As is often the case for me, I looked to books and education to help me solve this problem. I had a mindset issue that I could deal with through developing how I thought about my results. I would never feel truly confident – congruently – until I experienced the results I was after, but I could certainly work on how I interpreted the small steps I was taking, and the many failures I was experiencing in the present.
In short, I needed an attitude adjustment, a better way of looking at the road I was walking.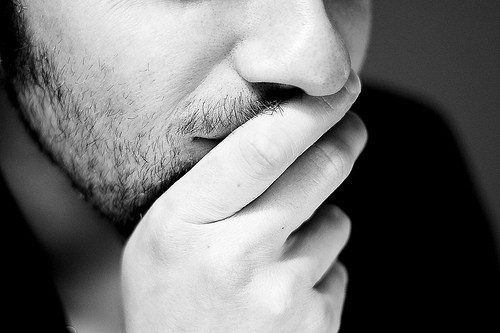 Reading certain books or listening to audio materials act as a mental "pep-talk" for me. Hearing from experts and people who have achieved the goals I am working towards really helps. It's also great to learn statistics from people who have put together large studies, so I come to understand conditions that affect us all, and how I can make smart choices as a result.
One important book that came into my life around this time was Martin Seligman's Learned Optimism and later his Authentic Happiness book and movement. His studies showed that optimists live longer, achieve more and generally feel happier.
He also revealed that people are born with a natural inclination towards optimism or pessimism, and just like you can't control whether you are tall or short, whether you default to an optimistic or pessimistic stance is determined at birth.
Seligman did point out that despite your default genetic world view, you can train yourself to become more optimistic. I was encouraged by this and immediately began looking at how I responded to people and events in my life. Although I can talk a good talk when it comes to being positive and present positivity to people around me, I realized that in general I usually defaulted to a pessimistic interpretation of my life, at least within my head.
Years before I had become an active monitor of my own self-talk as a means to cure my anxiety and panic attacks. I learned that I was responsible for what I was feeling because I spent most of the day in my head berating myself about all the things that were "wrong" in my life. Through the experience of monitoring how I thought, I became quite good at reframing my interpretation of events.
I wanted to take my self-talk analysis to another level and work to change my default response to events from negative to positive, regardless of what the real word results were showing. This is not easy because initially you feel like you are lying to yourself. It's as if you are trying to convince yourself that things will change and it's not really that bad, when deep down you don't believe it.
I found one technique from positivity training to be especially effective. Here's how it works…
Pessimists see bad things that happen as permanent and pervasive – it will always be the same – and an indication of a flaw they personally have.
Every business I build is a failure and doesn't make money, therefore every business I make will fail in the future and I am thus a failure too.
Where an optimist sees events as temporary and a stepping stone towards positive outcomes. They also see failure as a result of what they did or the environment they did it in, rather than a character flaw or something that is personally wrong with them.
This business didn't work because my timing wasn't right. I learned some great marketing techniques building it, which will help me with my next business. I will get better and better and eventually will have a profitable business.
It's a simple twist, but a powerful one you can apply immediately. See failures as temporary and an indication of a technique that didn't work rather than a permanent flaw in you as a person. Know that as long as you keep working, things improve.
What About Feelings Of Failure?
Training myself to become more positive in my interpretation of the world was a good first step, but that didn't mean I suddenly stopped failing. I found that I could think better about events, but changing my feelings was particularly hard. Unless I experienced some kind of real world positive result, I didn't feel much better.
Worse still, often I might feel better about some kind of positive sign, only for it to fall through. This made me feel jaded and bitter. It's like taking a step upwards only to fall back again, but this time falling from higher up so it hurts more.
I became especially wary of my feelings because I started to take stock in concepts like the Law of Attraction. The Law of Attraction proposes that the universe is constructed to respond to how you feel and think – what ever you resonate you get back. Some people are rock solid devotees of this idea, where others think it is a bunch of hogwash.
Traditionally I'm a fence sitter, but happy to give things a try if it will help me achieve something I am working towards. I was concerned that if I didn't feel congruent about my positivity I wasn't really positive, I was just trying to mentally convince myself of something different – to think positive – even if the world wasn't giving me positive results to make me feel positive too.
I started to wonder whether my feelings were in response to what I was thinking or my thinking was in response to what I was feeling. Then there are physiological conditions, like for example when I am hungry I'm usually grumpy and thus I think and feel negative. If I eat, suddenly things are all good again.
Surely being happy isn't just about having a full tummy?
I realized there are many variables at play and understanding that they are all interconnected is important. What became critical to me was staying aware of the state I was in before blaming anything else.
For example, if I am hungry or grumpy because something negative happened, I would stay aware of the reason for my feeling, but not let that feeling take over my entire world view.
This is an important step. Previously I could let one bad result, or missed meal ruin my entire day. I'd spiral into negative thought patterns, berate myself even more and see all of this as some indication of personal failure. Now instead, I saw explanations for conditions as temporary and reminded myself not to let them have impact on me because they will quickly change.
Nothing is permanent so why dwell on what I don't like about the present?
This may seem simple, but you probably know how easy it is to stay stuck with a negative feeling that takes over your entire day. It can dictate how you interpret everything that happens to you and, if you believe in the law of attraction, can be the cause of why you continue to have a bad day, or week or even month (you resonate negativity and thus attract more of it).
I've become very good at letting go of the small things. I still struggle with the physical aspects of life and reframing them – for example when I sprained my wrist falling off my bike I had a week of pretty intense pain and weeks of recovery, which resulted in bouts of depression.
The same goes for the more challenging parts of life like when my mother had her stroke. Some things you are meant to feel sad about of course, but often we give way too much weight to small, transitory events, and let them control our lives.
Cry only when it's worth shedding tears.
Inevitable Outcomes
Optimism, positivity training, the law of attraction, reframing, emotional congruency, all of these concepts came together wonderfully when I heard Eben Pagan teach a fantastic idea he called – "Inevitability Thinking".
Inevitability Thinking is thinking and acting as if what you are doing is a forgone conclusion because you set up the conditions for it to happen.
Inevitability Thinking is about having the confidence to know that a given outcome is available to you if you do certain things. This is an absolute fact. It has to happen eventually. When and how it happens is impacted by timing, luck and other things you can't control, but the luck, timing and necessary conditions will occur, given you do what is required.
Once you know the conditions required your only job is to make them a reality. It's a simple formula -
Study the system -> Implement the system -> Get the result.
Obviously for this to work you need a proven system based on fundamentals that work. You should also look for ways to reinforce the inevitability as you are working. By doing this you hold yourself accountable to tangible results, and you start to see the conditions manifest. Once all the conditions are met, you have your outcome.
For example, while building a blog you might look at the small achievements, like getting your first 50 readers, then 100 email subscribers, and writing your 100th article as signs that you are on your way. You are building the conditions for success and achieving tangible results. Keep doing this and you end up at the top of a success ladder.
Eliminate Fear
I love Inevitability Thinking because it immediately removes fear and doubt and negativity and turns what you are doing into a process, a series of steps that when done right, earn you the reward. It's no longer random, you just need to collect the resources and knowledge necessary, then get busy doing.
Most people when they start something new focus on how foreign everything feels, how lacking they are in knowledge and experience, how afraid they are of failing and all kinds of reasons for not doing it.
With Inevitability Thinking you know from the start that you can achieve what you are aiming for because you know what it takes to make it happen. All that stands in your way is putting in the work. You don't contemplate failure, or spend time dwelling on all the reasons you can't succeed. That is a waste of energy.
This might seem like a simple concept, but it's actually quite hard to master. We are human and have fears and self esteem challenges. Confidence is needed for you to truly think inevitably all the time, and confidence only sets in once you have achievement.
For example, when I think about starting a new blog, I feel very confident it will succeed. I know the process and the only real challenge is setting aside the time to do the work.
With my startup company I'm doing a lot of things I have not done before and we face a lot of challenges. Every time I see a competitor who is doing well, it's easy for me to feel self-doubt, that we won't succeed, that we should give up now.
If I think inevitable about my startup, I know we can't help but continue towards success. Sure we might pivot, change direction or target market or our strategy completely, but it will be because we are following a process. We are looking at problems people have and how our company can fit in to help solve these problems. If we do this long enough, we can't help but succeed because the principles we are working with are sound.
That last point is important. Inevitability Thinking isn't blind. You don't just tell yourself you will succeed, you have to know the principles you are working from work. They are proven laws, which many other people have already used and succeeded with. Your belief comes from knowing the process works and is reinforced every day as you slowly build up the conditions required for success.
Start With What You Can Control
If you lack confidence now, the smartest thing you can do is learn a process for what you are trying to achieve, then implement it.
It's important to begin actions as soon as possible so you can learn from real testing, not assumptions (try lean testing). If you don't start getting some kind of result, good or bad, then often your emotions will kill your chances (too much thinking and not enough doing).
Confidence ultimately comes only from actions. You use Inevitability Thinking to keep your mind on task, rather than pondering silly things like how other people are better than you, or how you have never done this before, or how you failed last time. This keeps your emotions in check, makes you focus on positive outcomes and gets your energy flowing in the right direction. Everything is congruent.
In the end the only thing you can control is how you think about, and thus interpret, everything that is going on around you. Why would you use this power of perception to focus on things that don't help you? That's what I call crazy.
Yaro Starak
Thinking Inevitable
Photo courtesy of @boetter