Back in 2004 when I started blogging there really wasn't anything such as a professional blogger. Those who were making money as a blogger weren't talking about it… yet.
Over the next two years the idea of blogging for money, possibly even as a career, became a reality. Blog networks started up paying bloggers a salary, thanks to programs like Google Adsense generating income became easier for the average Internet user, and eventually blogging went mainstream.
Today thousands of bloggers make money and while the number of those who do it as their main job is small in comparison to the number of blogs in existence, for those who realize the lifestyle of a professional blogger, life is good.
I never intended to make money as a blogger when I started. It was an experiment aimed solely at gaining more traffic from search engines. Little did I know that my blog would eventually become my business and just a few short years later I'd sell off all my other businesses just to pursue blogging.
Today my blog has helped pay for my house, my car, an 8 month trip around the world and I've just purchased a plush two bedroom apartment in my favorite suburb, where I will be moving to next month just before my 30th birthday (pictures coming soon!).
Needless to say, I am extremely blessed by what blogging has done for my life, and part of my mission as a blogger is to help other people realize similar benefits and freedoms thanks to blogging. Here are some of the resources I offer that can help you follow in my footsteps…
Would You Like To Become A Blogger?
If you're interested in starting your own blog, the first thing I recommend you do is go to the free video training site Gideon Shalwick and myself provide for absolute newbie bloggers called "Become A Blogger" –
This site offers ten free videos that take you from zero, to setting up an optimized WordPress blog (and if you go to the blog portion of the site, you will find some additional free videos that give away even more powerful secrets to successful blogging).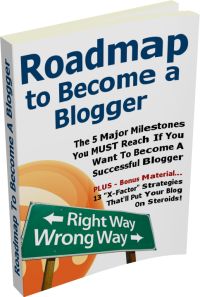 While you are at the Become A Blogger site, make sure you download the free report – The Roadmap to Become A Blogger – which is a solid introduction to what it takes to build a successful blog.
Pay particular attention to the second half of the report where Gideon, who is an expert at leveraging social media, especially video, takes you through a series of techniques we call the "X-Factor".
X-Factor techniques are particularly powerful leverage tools that combine multi-media with social media to bring traffic to your blog. In today's online marketing world, if you don't leverage new media when building your blog, you're going to struggle to stand out from the crowd, which is exactly why we offer the "X-Factor" techniques to teach you how to be better than "average" blogger.
You can download the Roadmap report in both text and audio here -
www.BecomeABlogger.com/roadmap/
I strongly recommend you watch the free videos, get your blog set up and then devour the Roadmap report in one sitting (or listen to the audio version). You will then be a in a great starting position, better than most people who begin blogging, to really profit from your efforts.
Follow a roadmap and you are much more likely to succeed, especially if you are very new to the blogging game and want your hand held along the way.
Become A Blogger Premium 2.0 Opens Next Week
Next Monday, June 29th, for five days only, Gideon and I are opening up Become A Blogger Premium 2.0, the latest updated version of our introductory video training program for bloggers.
This course had over 1,000 students complete the training over the past six months (the best retention rate of any of my programs).
Now that the program is finished, the entire course is there laid out, including over 60 videos with discussion on each video, a private forum for members only, plus all the additional resources we offer like live group coaching calls twice a month with me and Gideon, master the mindset audio series and more.
The videos are split into two types –
Strategy presentations from me where I lay out my system for successful blogging to you
Practical how-to videos presented by Gideon, who teaches you the step-by-step to set-up and optimize your blog, and how to implement the techniques we teach
We're now ready to begin training the next group of eager bloggers and I'm inviting you to work with me and Gideon over the next six months (if you haven't already!). This time we're opening the doors only for five days and then shutting down. If you want in, you have to decide next week.
This program really is for beginners who want to learn the how-to of successful blogging. If you're confused by technology and blogs and websites, etc, and want your hand held throughout the process and prefer to be shown visually through video, there is no better blog trainer than Gideon and the resources inside Become A Blogger Premium 2.0.
If you don't believe me, go watch the first ten free videos we give away –
If you like the style of presentation in those videos, are eager to learn more (and DO more) and want to work closely with someone who is currently living out the professional blogger lifestyle, then stay tuned for next week to claim your spot in Become A Blogger Premium 2.0, the last public run through of the program for 2009.
I'll have more information for you later in the week. For the time being, go watch the videos and read the Roadmap, it's a brilliant report.
www.BecomeABlogger.com/roadmap/
Yaro Starak
Professional Blogger