New Update! As requested, the recording of the webinar is now available.
You can stream it from this page –
How to Finally Make A Profitable Website In 2012 – Webinar Live Recording
On that page you will also find the link for the special $1 trial for two weeks + huge bonus pack offer that expires January 31st at 9pm Eastern US Time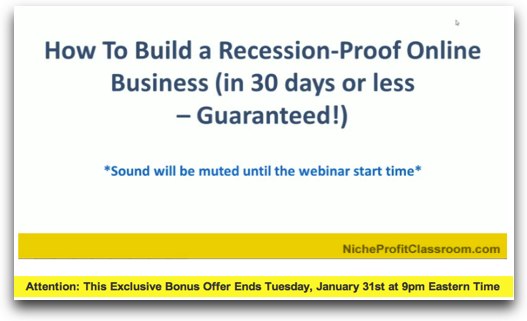 Imagine building a website that makes $100 a month. Then you go and build another website, in a completely different subject area, and it makes $200 a month.
Repeat this process, making anywhere from $100 and $1,000 a month from each website and you can build up a nice portfolio – enough to quit your job and become a full time internet marketer.
That's a dream I know plenty of people have. It's fantastic for beginners because you don't need to be a subject expert or have a lot of capital. I'd go as far to say it's also one of the most reliable methods to make money online.
There are no guarantees, and more people fail than succeed, but as an entry level online business, niche websites is about as good a starting point I know of (along with blogging of course!).
You spread your risk across various subject matters, but the system you use is the same for each website. Research traffic, set up a website, create a few key pages to attract visitors, monetize the audience, and repeat.
Of course it's not quite as "simple" as that, but in principle, this is exactly what Adam Short did several years ago and began teaching to other people.
Way back in 2009 I invited Adam on to a podcast interview to explain his process for setting up profitable niche websites, the system he developed to build up a portfolio that was generating in excess of $90,000 a month.
The podcast was a huge hit, but that was a while ago, so it's time for an update…
A New Webinar For 2012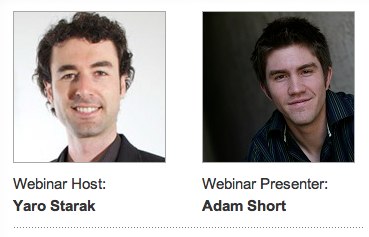 Now it's 2012 and it's time to do a brand new live presentation with Adam, to learn what are the current niche profit website techniques he is using.
You can watch the free webinar here –
http://www.nicheprofitclassroom.com/webinars/bm/replay.html
Adam goes through his entire presentation, revealing to us –
What kind of money niche websites can make and why it's a great opportunity for people new to internet marketing
How he conducts research to know what topics have the traffic (and the traffic that makes money!)
How to set up a niche website to target the traffic you find during the research step
How to outsource the creation of content to target the right keywords that bring in free traffic from Google
And what methods he uses to make $100 to $1500 a month from that traffic from each website
If you don't yet have an online business model or you've been struggling to find one that works, make sure you watch this webinar.
At the end of the presentation Adam has a special package offer to try his full Niche Profit Classroom course.
It's optional to join and the webinar itself has plenty of practical lessons, but if you like what you learn, Adam's special offer will be worth waiting for.
I've promoted Adam's course for three years and it has been my number one affiliate product. He has the best "stick" rate of any product I have ever promoted – which means the people I refer to him sign up for his course and stay with it for a long time.
This tells me that Adam's course is good, which is why I have no hesitation recommending it to you and introducing you to Adam and his methods on this webinar.
I don't promote many courses anymore, but this is definitely one person and system I still endorse.
Enjoy the webinar!
Yaro