In the wake of the recent trashing of the SOPA bill and the collective uproar that surrounded it, I'd like to investigate a few things relevant to us as online entrepreneurs, creativity and ownership.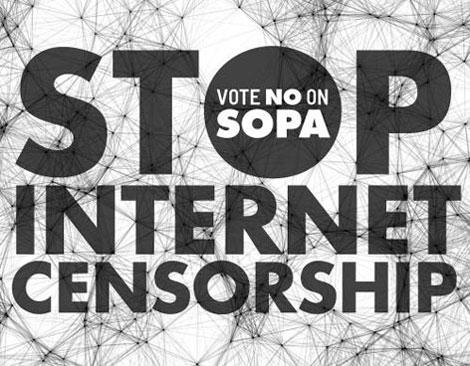 Just in case you have been living under a rock and don't know what I'm talking about, the US government recently tried to pass a bill to stop online piracy. If it had been passed, it would have allowed the US government to blacklist sites that sold counterfeit/pirated products, from fashion items to digital products to prescription drugs etc.
There's absolutely nothing wrong with trying to clamp down on people illegally profiting from goods and services for which they don't actually own the IP, production or design rights to… but there are a few MASSIVE failings in even trying to police who owns what… not to mention giving government the power to decide who to blacklist and why. (I won't go into that last comment in depth here, too much to cover in one article and I could begin a serious rant.)
Ideas And Creativity Thrive On Freedom
In this article, I'm going to discuss a few of the key reasons why as online or offline entrepreneurs, IP can easily be a hazy area, and how the very essence of the Internet and all of our success thrives on the fluid and transparent sharing of ideas.
Whilst the internet was a-buzz with everyone writing madly about the SOPA bill, I read a post by one of my all time favorite authors, Paolo Coelho, and his thoughts on the SOPA bill and piracy.
Paolo Coelho's Thoughts On Piracy
And how do I feel about this? As an author, I should be defending 'intellectual property', but I'm not. Pirates of the world, unite and pirate everything I've ever written!

The good old days, when each idea had an owner, are gone forever. First, because all anyone ever does is recycle the same four themes: a love story between two people, a love triangle, the struggle for power, and the story of a journey. Second, because all writers want what they write to be read, whether in a newspaper, blog, pamphlet, or on a wall.

The more often we hear a song on the radio, the keener we are to buy the CD. It's the same with literature.

Some people will say: You're rich enough to allow your books to be distributed for free.

 That's true. I am rich. But was it the desire to make money that drove me to write? No. My family and my teachers all said that there was no future in writing.

Paolo Coelho
Piracy Doesn't Hinder Creativity Or Influence
Coelho writes about something we've all heard from various mentors and peers before…
I've heard Seth Godin say plenty of times not to get hung up on people getting your information for free – it increases your outreach and influence and if you really give value and people like your work, they'll buy it.
A bunch of well-respected and influential online entrepreneurs, including Yaro and Gideon tell us to give our best stuff away for free. People will always buy from us if they love what we're doing and they'll want more of what we have anyway. We don't need to lose sleep about pirating if we're offering amazing, high value work.
When Piracy Is A Problem
I'll tell you where pirating does become an issue… if we aren't creative enough to come up with your own content in the first place. Then if someone "steals" our ideas, we have to find a way to get more of them – no wonder people get worried about pirating – if you lack access to your own creativity, then finding new ideas is hard.
Even though it can be annoying watching everyone copy you, it's no big deal, because you know you have the creativity to constantly come up with more new stuff.
Ever since I was a kid, I would do something creative with art, then anyone who couldn't access their own creativity would copy me. I used to get quite annoyed by this, until I realized it's just the way of the world, and I'm not exempt from doing this either.
It's Not What You Own, It's How Well You "Own" It
In fact, in this day and age, trying to claim "sole ownership" of any idea is a bit ludicrous. We're all learning from each other, we're all drawing insights and creative inspiration from each other all the time. The beauty and the power of the Internet is that it allows this incredible free flow of ideas and inspiration between people from all walks of life, all around the world.
The Internet has unleashed a level of creativity the world has never seen before and it's amazing! I say – revel in it, don't panic about it.
Seriously, this is important… if you know what you're doing, and you're amazing at what you do, you have no need to fear other people copying or stealing your ideas or work… you will be successful regardless. How many people do you think copy Seth Godin? Does it look like it's bothering him or affecting his bottom line? Paolo Coelho, bless his heart, runs HIS OWN PIRATING WEBSITE for his books! God I love that man! And he reports that his sales continue to grow, to nearly 140 million copies worldwide.
How To Beat Piracy
The thing to remember is, we all know who Seth is, we all know who Paolo is, we know they create amazing content and we want to buy it from them. We're buying them as much as we're buying their content. We want to get a bit closer to the source… their unique creative expression comes from their connection with their own source of creativity. We all like it; we all want it.
We feel closer to it when we get it from people who have that connection to unique creativity within themselves. That's why we buy the real thing from them even though we can get a pirated copy or a regurgitated copy of it that someone who lacks creativity has ripped off and tries to sell as their own. We can intuitively feel the difference between authentic creative expression and the power that has to influence and inspire us.
Passing laws to stop pirating is pointless and dangerous as it reeks of "big brother" type control of information and denying freedom of speech through the Internet.
If you really want to know how to handle the issue of pirating, take a leaf out of Seth or Paolo's book. Become so gifted at what you do, find your own unique creative expression and share it with voracious passion and tenacious courage. Then piracy won't bother you, you'll be too busy being amazing and the world will love you for it.
Neroli