Update: The MP3 audio version of the Roadmap report has been added to the download page and it's free too. Now you can read and listen to what it takes to build a great blog!
I'm very excited to announce that my latest report, co-authored with Gideon Shalwick, my partner in the Becomeablogger.com video site, is now ready for download.
Gideon and I have been working hard for the past few months preparing this report for you. It's called "The Roadmap To Become A Blogger", or as I like to simply call it – "The Roadmap".
You can download the free report right now from here –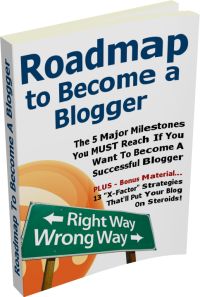 http://www.becomeablogger.com/roadmap/
Why Another Report About Blogging?
I don't release new products very often. The reason why is because I prefer to invest time in something to make sure it delivers tremendous value and I like to have the opportunity to develop a product with feedback from active participants.
Back in 2007 I hired Gideon Shalwick to produce a series of videos I had envisioned for a domain name that I acquired called becomeablogger.com. I wanted to have some very basic training presented in video for people new to blogs so they could learn how to begin the blogging process by themselves, no matter what skill they currently possessed with technology.
Fast forward to today and we are nearing 60,000 viewers of those videos. Gideon did a fantastic job and I'm so pleased the site has truly taken off.
Gideon and I both agreed that if the videos were well received we would like to do more. However, in order to devote the time and resources into creating the videos (the free videos we currently give away cost several thousand dollars to create), we would need to make the service a membership site, and hence the idea for Become A Blogger Premium was born.
This new premium video membership site will open December 4th 2008 to invite the first intake of students. I'll have more news about that soon.
As soon as we decided to launch the new training program I knew we would need something to give away as a teaching tool to introduce people to the concepts we are presenting in the new series of videos. After going back and forwards between delivering the resource in video or text, we decided to use both, but focus our core message in one document – The Roadmap.
What Is The Roadmap Report?
The Roadmap is a completely new guide to successful blogging based on my core strategies for building a great and profitable blog, but with an added dimension, because it's been interpreted and augmented by Gideon.
Of course I didn't want to produce *just* another guide to profitable blogging since my Blog Profits Blueprint already does a very good job of that. That's why the Roadmap deliberately take a different approach, yet still introduces you to the fundamentals of good blogging.
You can look at the Roadmap as an extension of what was started in the Blueprint. Some of the materials overlap, but you will see in particular the second half of the report is a critical update for our current blogging environment. Things have changed and the Roadmap gives you some tools to excel in the current Internet landscape we all operate in.
Rather than me try to explain everything here, go download the Roadmap for yourself and set aside 30 minutes to read it. You will be glad you did.
Here's the link again (it's free) – http://www.becomeablogger.com/roadmap/

Gideon Teaches Me Something New
After working with Gideon and becoming his friend, I began to experience what unique talents he possesses. The first thing that was pretty clear to me after our initial collaboration is that Gideon is great at teaching beginners through video. Just watching the free videos at becomeablogger.com is enough to see that.
I joke with Gideon that he's like a "sesame street" presenter for blogging, teaching people how to use blogs and web tools with a style simple enough that children could follow his instructions. This is a good thing of course, because when explaining what can be complex tasks on computers, you need to clearly present what people need to know without overwhelming them.
As I got to know Gideon better another talent surfaced, and it was something I was very pleased to see as it's not a strong point of my own (it's good to surround yourself with people who are good at what you are not).
Gideon has an uncanny ability to keep up with the latest and greatest marketing trends online that use social media and multimedia. It's no coincidence that Gideon decided to become an expert at video – there's a passion driving that motivation. Gideon constantly buzzes me on Skype with links to new tools, interesting videos, social media sites and all kinds of resources.
All these resources, when used in the right way, can be powerful marketing tools and I wanted Gideon to teach me and others how to use these tools to promote a blog.
Blogs, as we all know, do not succeed without marketing and it's getting harder and harder to stand out from the crowd. I came to realize that what Gideon knows is a differentiation factor. By implementing his Web 2.0 techniques your blog becomes a dominant player – and I've been using his ideas ever since.
Now it's time to share them with you.
The X-Factor
The Roadmap really is Gideon's creation. I wrote the introduction and I advised him on what should be in the document and my advice led to him completely scrapping the first version of the report and writing it again. This turned out to be a very good thing and the latest document is fantastic in my opinion. This is Gideon's baby and he should be proud.
The first part of the Roadmap is exactly what it describes – a roadmap for going from a standing start, setting up your blog and then completing a set of milestones in a sequence to build a successful blog.
For experienced bloggers, this may not be something new to you, but it's definitely worth reading because it will tell you what you are not doing that could be stopping you from building a great blog.
The second part of the Roadmap contains Gideon's magic – what we call the "X-Factor" techniques that you need to apply to your blogging in order to stand out in the current environment.
Today good writing alone is not enough and the X-Factor is what you apply to your blog in order to take it to a level, where you start to realize all the big benefits of blogging, namely –
Huge traffic
Preeminence in your marketplace
And of course, significant profit
Once you learn the X-Factor techniques presented in the Roadmap, you will have the keys for finally realizing what you want from your blog.
You can download your copy right now from here –
http://www.becomeablogger.com/roadmap/
Why You Should Download The Roadmap
If you like what I have to say about blogging in my newsletter and on this blog, if you have benefited from Gideon's training videos at Becomeablogger.com and you are a devoted fan of the blogging dream, then you need to pay attention to this report.
For some of you this will be partially old news, but there's enough in the Roadmap that I believe even seasoned veterans will benefit. If Gideon can teach me something new and I've been in this game for four years now, he can definitely do the same for you.
If you are completely new to blogging you are in for a treat. The Roadmap is a fantastic – and most importantly – a basic introduction of the world of successful blogging, plus it has some absolutely killer new ideas that most people won't know and certainly don't do, that you can start your blogging journey with a big advantage.
Here's that download link one last time…
http://www.becomeablogger.com/roadmap/
After you finish reading the Roadmap stay tuned for some more great resources coming up. Gideon has some short videos to teach you a couple of the X-Factor techniques and then of course, on December 4th, Become A Blogger Premium is open to new students.
Yaro and Gideon
Become A Blogger Trainers
PS. One last thing – Make sure you leave us your feedback about the Roadmap as comment replies to this blog post. We really love to hear what you think of the new report and the ideas presented within.