I'm getting old.
Well, at least in internet years.
It's getting close to 15 years now that I have been online and had a website of my own. During this time I've played with all kinds of different business models. Perhaps just calling them money making techniques rather than fully fledged businesses is more accurate in the majority of cases.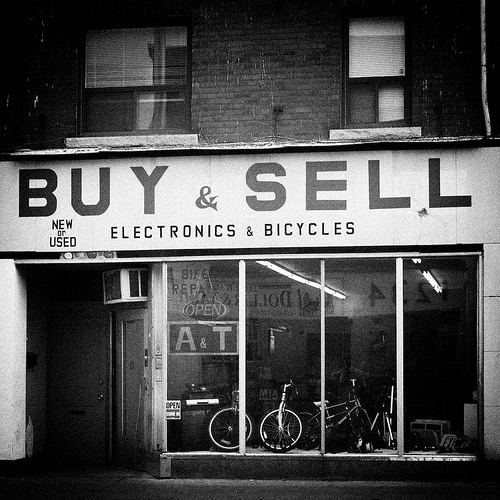 Nearly every technique I've used was designed to set myself up with what you would call a "lifestyle business".
I didn't realize it at the time, I thought a business was a business, but I can see now that what type of business you decide to build very much dictates what kind of life you will lead.
A lifestyle business is, as the name suggests, a business created to facilitate the kind of lifestyle you desire. In my case, and I suspect for many of the current solo-internet marketers out there, the kind of business you want is one that requires little time to manage, yet makes enough for you to live a comfortable life, not have a job and travel if you desire so.
Passive income, low labour or easily outsourced income streams are perfect for a lifestyle business, and are exactly what I went after during the first 10 or so years online. Although I knew the outcome I wanted, I didn't really understand how to get it, so for a long time I focused more on just "making money" than anything else.
The Pros And Cons Of The Four Primary Business Models
Here's a breakdown of the four different models I have used and what I like and dislike about them.
1. Selling Physical Goods
I used eBay briefly, then eventually had my own e-commerce store. While most of my eBay trading was selling things around the house, my e-commerce store focused on selling collectable Magic cards.
Pros: What I like about having a physical store is that the value is in the product. In my case I never manufactured a product myself, I bought product at wholesale or traded for product using cards I already had. As long as people want the product, you can keep selling it, assuming you can get in front of them somehow. All you worry about is supply, delivery, marketing and your profit margin (only!).
Cons: That delivery part of the equation was a nightmare. I spent hours every day writing out addresses on envelopes and cardboard boxes and heading to the post office once a day to send off the goods. It was tiring and the profit margin made it a low return for a lot of work.
I did make my own hours with this business, but I never felt like I was exactly living the dream. If anything, it was because I didn't make enough money and I could tell to ramp things up it would take an incredible amount of labour. Luckily (perhaps) credit card fraud hit my little e-commerce store hard, which made me give it up.
2. Selling A Service
I've had several service businesses over the years, from an English tutoring service, to a web hosting and design service and most significantly, a proofreading service.
Pros: I liked selling services when it was a service I primarily didn't deliver, or I could deliver once and then it kept paying me. For example, once a website is set-up, I earn a recurring hosting fee, or I sell a service someone else delivers, like the proofreading business where I had editors working for me. The margins could be good too, and if you know how to market and set up with the right model, you can scale this kind of business quite far.
Cons: I made the mistake of delivering services myself several times, which obviously can't scale far and makes for a lot of work, although it is a good way to learn about your customer and industry. The hosting business had became so competitive that the margins were all but eliminated, and given the amount of customer service required it can be tricky to justify doing so much for so little in return. Services are often easy to replicate, unless you have some kind of proprietary advantage or positioning advantage.
3. Selling Information
You might call selling information just like selling a product, but thanks to the Internet information is a non-physical product, which has several advantages (no trips to the post office for example!). I've enjoyed tremendous success with this model and still consider it the best option for a lifestyle business.
Pros: The margins can be significant, your delivery cost is next to nothing, you can replicate as much of your product as the market demands and if you establish authority, you enjoy competitive advantage. If you know something that other people want to know, you just need to get what you know into some format others can learn from, and sell it. It's one of the simplest businesses to run without employees, and can make big money.
Cons: Finding the right niche can be challenging and executing a strategy that nets you the necessary traffic takes work, a lot of work. You can eventually settle down somewhat, but until you have built up some kind of "traffic assets" you face an uphill battle to build the audience you need to succeed. It can be hard to systematize and scale this kind of business into the multiple millions, however if it's a lifestyle business you want, you don't need that much money.
4. Software
I'm only just now embarking on a journey involving software with CrankyAds.com. We are not selling software, we are giving it away, however we are using software as the basis for the business. In the past I've had one other software experience – an attempt to build automation software for my proofreading business – which I stopped early on because it was clearly going to balloon in cost.
Pros: Software is one of the best ways to develop a competitive advantage, especially if you build something people can't live without and switching cost is high. Today's largest Internet companies and pretty much every successful start-up is based on software, although software alone is usually not the key.
Cons: By far cost has been the hardest part of software development in my experience – it quickly spirals up just getting basic features created. I realize outsourcing to India or Romania etc are options for creating software with lower cost, but I do think you get what you pay for, and explaining features to someone in another country requires a lot of documentation. The nature of software development means constant bug fixing is a way of life, so much so that it can be enough to kill your project before it even gets off the ground.
Reading the stories of successful tech start-ups, it appears that a solid tech founder or tech team is key to success. We've got a good foundation team at CrankyAds now, however we could really use more help (we're hiring!) and I believe hiring the right people is going to be key to our success.
Switching From Lifestyle To Start-Up
You can see the language I use in the fourth option with software is different to the previous three. My own experience before doing software has been all about lifestyle businesses, where growing big is not paramount. The main goals are developing cash flow sources that don't require too much work.
That's not to say that software can't be the foundation of a lifestyle business. It really depends what your model is. In my case, with software, we are working the start-up model. The goals are bigger but consequently our needs are greater too.
To be honest I think a lifestyle business is still the best choice for most people. The risk-reward ratio is "safer" – you don't risk as much upfront and the rewards are still life changing. Of course as you enjoy success you might like to develop something bigger or different, which is exactly where I am right now.
Become Aware Of Your Growth Stage
As I look back on my own growth as an entrepreneur, for a long time I had no idea what I was doing in terms of the business I was growing. I spent all my time playing with techniques in the hope of making money, that's all I could think about.
I learned a lot initially through experience, but often I discovered there were flaws in what I was doing, contrasted with what I wanted.
As I read books about successful online businesses and entrepreneurs, met people, observed what others were doing, things became clearer. The learning never stops of course, but you do move forward, especially if you take action as the best learning is always through experience.
My advice to you is to look at the current business or project you are working on now and assess the business model. Ask yourself questions like…
How big can what you are doing get?
How big do you want it to get?
What people are necessary to get it that big?
How many customers/sales are needed to reach that goal?
What specific jobs will you be doing personally to get there?
Can you realistically do all those jobs?
Are you a lifestyle or start-up Entrepreneur?
You may not be able to answer these questions yet, but just thinking about them will help you gain clarity.
And don't forget, you can change any time.
Yaro Starak
Entrepreneuring
Photo courtesy of mattjiggins