Update: Looks like Gideon did the old switcheroo on me without telling me (to be fair I was on a plane from Dubai to Singapore at the time), so the deadline is actually 6PM now, not 4PM. You've got two extra hours.

I'll make this brief since you have probably made your decision already, but I want to make sure you don't miss the deadline if you still haven't decided…
Become A Blogger Premium, the video training course presented by Gideon Shalwick and myself, is open for new members at the special introductory rate of $27 a month until 6PM EST US time, Thursday 11th of December 2008, one week since we opened the program. After that the price increases to $47 a month.
You can find out all the details about the course and sign-up here –
www.becomeablogger.com/signup/
Welcome To New Members
I'd like to welcome on board the 600+ members we already have and all the new people who join in the next few days.
For the past few months and in particular during the last two weeks Gideon and I have been focusing our energy preparing this program. As is the case with many information products released online, we spend a lot of time on marketing initially, however now that our opening period is almost over, we're turning our focus on to the members.
The first group of members are special because they help frame how the program evolves. We have a basic roadmap ready to go (no pun intended), however with feedback from the active membership we will be modifying the program as it progresses. We are also inviting members to request videos on any topic they want covered.
The first run through of the program is definitely the best time to do it because you save money and you get to partially dictate what is taught.
Plus don't forget, you have 60 days to decide whether this program is right for you thanks to the mandatory Clickbank refund period (our payment processor). Try it for two months and if you don't get your $27 bucks work, cancel. There's no risk here.
If you can afford $1 a day and you are ready to build a successful blog by following along with Gideon's clean and easy to action videos, here's the link to join –
Don't Forget About The Free Stuff
Although it's pretty obvious I've been promoting a video course on this blog and my newsletter for the past two weeks, you shouldn't take that as an excuse to stop paying attention even if you never intended to join.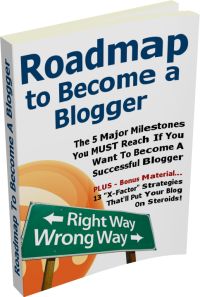 The Roadmap To Become A Blogger report, which is nearing 10,000 downloads, is free and will remain free. It's full of great content and regardless of whether you join our membership site, there's a lot to take away and action from the Roadmap – so don't ignore that resource (in both text and audio downloads).
Gideon has also been releasing a few X-Factor videos, which contain real tips that you can use. Yes they promote our program, but they do so by giving you ideas you can use. This is intended as a content launch that helps everyone – you don't have to give us money to benefit.
And let's not forget, watching a launch unfold is interesting in itself from an Internet marketing perspective. I hope you have been monitoring what Gideon and I get up to with your marketing hats on too, if you are nearing the stage where you are ready to release your own product online.
Thanks To Gideon
I'd like to thank Gideon especially as he has been working his butt off for the past month getting everything ready. This is his first major launch and as is often the case, he's really had to put in the hours to keep things going.
Without Gideon you wouldn't have all this amazing free content and for those special people who joined the Premium site, you have lots more from Gideon to look forward, and of course from me too!
Both Gideon and I look forward to meeting all the new members in the forums and the live teleconferences, which will begin in earnest starting next week once all the new members settle in.
Don't Forget The Thursday Deadline
Make sure you mark Thursday at 6PM if you are going to join and want the $27 a month price. The course goes for six months long, and after that you enjoy lifetime access to all the resources and any future upgrades we release at no extra cost (you pay for six months only).
That's a concrete deadline that we can't change because it wouldn't be fair to the members who acted quickly and signed up early. Join now or be prepared to pay more for the videos from Thursday night onwards.
Yaro Starak
Still Blogging 4 Years Later