It might seem a bit weird to have an article about a recently deceased pop singer on a blog about Internet Marketing, but bear with me, today we're talking about Whitney Houston.
There are actually some very valuable insights to be drawn from the rise and fall of someone who scaled to dizzying heights of success in their industry only to see it all slip away and end in tragedy.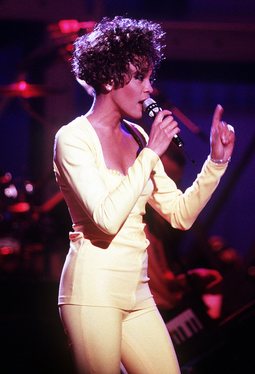 In our world obsessed with fame and stardom, Whitney Houston was one of the few people who actually did break through the masses. But like so many who have gone before her, it didn't seem to bring the everlasting joy and fulfillment we're all hooked on thinking comes from fame and money.
It's the strangest thing, no matter how often we hear that fame and fortune won't make us happy, we never seem content to believe it until we get there. And I'm not excluding myself from this seductive, yet hollow promise.
What Makes Whitney's Life Similar To Entrepreneurship?
This topic is particularly relevant to us as entrepreneurs because every day we pour our time, energy and resources into building a business and we do this essentially to increase our influence and affluence. In other words, to increase our degree of fame and fortune.
I'm not saying we're only in it for the money or the notoriety, but in order to make money, we need to attain some degree of fame in our niche to attract clients and generate revenue. So, in our own way, we're treading the same path as the late Whitney Houston.
The thing we need to understand is what causes us to lose our way. Particularly when the things that promised to make you happy show up in life only for you to find life has as much pain and challenge as it did before, perhaps even more so.
In one of the first posts I ever wrote for Entrepreneur's Journey, I referenced Daniel H. Pink's research from his book, "Drive". In his research, he discovered that we are all driven by two types of rewards, intrinsic and external rewards.
External motivation can and does work very well until our physical needs are met so we can live comfortably, but beyond that, Pink says we "have an innate drive to be autonomous, self determined and connected to one and other. When this drive is liberated, people achieve more and lead richer lives." Numerous studies have shown that when our innate psychological needs are met, we are motivated, productive and feel happy with the way our life is going.
It Was An Inside Job
Intrinsic rewards are things that come from within us, like having a sense of satisfaction and fulfillment from your work, feeling connected to others, or feeling a sense of autonomy and mastery in your work. External rewards are things like money, recognition, awards, and social status. Clearly, fame and fortune are external rewards.
Here's what Dan Pink discovered about intrinsic vs extrinsic rewards;
Our fulfillment largely comes from intrinsic rewards. The the things that truly do give us a sense of lasting satisfaction and fulfillment come from within. The intrinsic rewards of connection with others, feeling free and autonomous in the work you do and the life you lead has a far greater influence on our overall happiness and well-being than external rewards like fame or money.
Digging A Bigger Hole Doesn't Set You Free
This shouldn't come as a surprise to any of us. It's clearly shown to us by the tragic examples of gifted individuals like Whitney Houston, who "had it all" on the outside. Yet somehow, having it all on the outside left a gaping void on the inside.
The reason I'm writing this post is that Whitney's life and death serve as a very powerful reminder to each of us as we race through our days, chasing the elusive things we consider will make us "successful".  We may in fact already have at our finger tips the things that we need to feel satisfied and fulfilled.
In essence, the riches we seek truly do come from within. I, like everyone else, am striving to create greater financial abundance and influence through my work. But everyday, particularly through my work as a writer, I get these little reminders not to lose sight of where my true happiness exists. These reminders, like Whitney, tell me that it's an inside job. No matter how much money or fame I create in my life, it won't make a shred of difference if I haven't mastered the inner game.
I haven't figured this out yet, but even though everyone that reads this post will probably nod in agreement and think, "Yep, that's right, happiness really does come from within." I can't help but think none of us, myself included, really do believe that having more money won't make us happier. It just seems so hard to fathom unless you actually get to that magic number you imagine will mean freedom & happiness to find out whether it will make you feel better or not.
There's a pretty funny and good example of what we're all probably thinking but not saying about how we really see this whole more "money = more happiness" situation by an 8 year old in an interview with Ellen Degeneres. When Ellen tried to tell her that happiness didn't come from having money, you needed to focus on happiness first, she replied, "Ok, I'm happy, but I'll be happier with a billion dollars."
Thanks Whitney Houston for blessing the world with your truly magnificent gifts, and for helping me remember where it's really at.
Neroli