Entrepreneurship is taught in nearly every business program at university, but does your education or your college major really factor into success when going out on your own as an entrepreneur?
If so, what types of education are beneficial to entrepreneurial success and what types are worth a second look?
To best answer this question, we must look further into a few different situations and dig into some myths that many entrepreneurs have about their education in relation to their ability to succeed in business ownership.
Does What College You Graduated From Matter?
I don't think graduating from a particular college really factors into one's ability to successfully start and operate a business.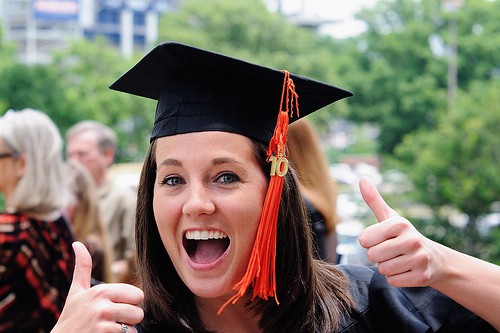 Yes, in certain industries intelligence does matter, but you don't have to be a Cambridge graduate to make money as your own boss. As a matter of fact, many entrepreneurs are too cerebral and end up thinking too much prior to taking any risk, which is a very bad habit.
On the flip side, I feel that there is an indirect correlation between the more rigorous college programs and the ability to be successful as a business owner.
The reason for the heightened odds of success is that entrepreneurship takes a ton of work and one must possess the ability to self teach. If you're an aspiring entrepreneur and you think that education and studying ends with a diploma, having to write a resume is in your near future.
Above all, the most important thing I learned in college is how to sit down and study. Mentors can only do so much and my mentor, Harvey Cohen (may he rest in peace) died of pancreatic cancer two and a half years ago.
Therefore, I am reliant on studying and books and, regardless if you have a great mentor, you are going to need to implement study time after college graduation – a habit best learned while young.
Does Your College Major Matter?
Your college major does not matter all that much. Non-business majors may have some catch-up to do when first starting out, however, this is not too extensive as all businesses start small. Baby steps make learning on the job easier.
Regarding majoring in entrepreneurship or small business, I don't think that any university can fully teach entrepreneurship in a few years, as it takes on the job learning as well as maturity before you can fully dive into the subject.
Regardless, I do recommend that all students take some business classes – especially an introduction to finance and accounting. Thinking statistically is crucial for growing one's business and retaining an accountant is quite expensive.
I also recommend that students take creative writing classes, as while marketing remains visual, the search engines have also made fresh content of utter importance for anybody who wants to gain name recognition as well as be considered an expert in their respective field.
I think that any education is important and the more well-rounded an entrepreneur's education is, the more likely they are going to learn how to sell and connect with people, which is another basis of entrepreneurial success. From knowing successful entrepreneurs as well as learning more about myself and my education, I've come to the conclusion that each major has its strengths and weaknesses and I would recommend diversifying and even taking extra classes while in school.
If you want to be an entrepreneur, the extra few points on your GPA doesn't matter, so take the hard classes and get "B's" rather than your lay-up classes. Hard work and adversity builds character and lays the foundation for your success owning your own business.
What About An MBA?
MBAs are helpful as they are a crash course in business after one gets a broad education. Nevertheless, MBAs give only a slight advantage to those who don't have them. This is assuming that the entrepreneur makes sure that he or she learns as much possible.
If you are looking for something to pad your bio, an MBA is surely expensive padding. As I was writing this, I checked to see if I had my education on my bio and I left it off – simply didn't cross my mind because the professional world isn't too concerned with what college you went to.
Before you start studying for the required admission test(s), keep in mind that MBAs are very expensive and that money can be invested into your company. Also, all the study time cuts into time that you could be making money. Opportunity cost is something to consider.
If you are going to get an MBA, I suggest opening your business before you do so as you may learn that the money is not worth it. Then again, you may decide that getting an MBA for entrepreneurship is worth your time and the investment. Make sure you get a ton out of it.
My closing remarks on the topic are: never get an MBA just for business contacts because relying on contacts as an entrepreneur is not as lucrative as many think. Just because somebody went to the same college, does not mean they are writing you a check. Always remember that an MBA and entrepreneurial success are mutually exclusive.
Business Is The Best Education
You will never know how successful you can be as an entrepreneur until you jump in with both feet. The last thing that you want to do as an aspiring business owner is to postpone opening your business for further, formal education. Opening a business is education enough. As a matter of fact, it is by far the best education one can receive in regards to business.
If someone could legitimately teach people how to become millionaires by owning their own business over and over again, hordes of people would be signing up to enroll. With formal education, if you think that you can't swim without an MBA or a particular major, you are wrong.
Ken
Image courtesy of ralph and jenny