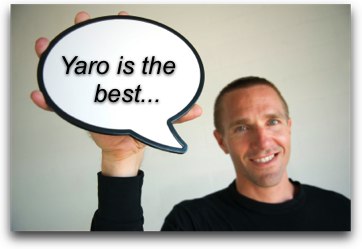 If you've been reading my blog over the last few months you've seen me publish quite a few successful case study podcasts with my coaching students. Stories like Alborz Fallah the million dollar blogger, Leigh Peele making $4,500 a month in the fat loss niche (and recently another $11K in a relaunch), Miami Mitch attracting thousands of readers to his college football blog and Leslie the freebie guy who made $31K last year in the freebies market while still working a full time job as a teacher.
I love case studies as learning tools, and podcast interviews make great blog content, so I'd publish these regardless of whether the people involved are students of mine or not (most of my podcast archives are full of successful people who are not my students), however it makes smart business sense for me to showcase my best members because they offer the most powerful demonstration of proof I can present.
Proof, in my opinion, is the single most persuasive element of any marketing campaign, especially if you are an information publisher. I think it's safe to say that most top Internet marketers agree with me simply by how they market their own products. There hasn't been a single sales page or launch process that doesn't involve people talking about how successful they became after studying the information the product offers.
Proof is so prevalent as a marketing hook today, that many successful launches are hinged on the back of just one success story. The power of the story – and the proof demonstrated within – is enough to convince hundreds and even thousands of people to purchase the product. If you don't understand this and use proof to your advantage with your own marketing campaigns, you're making a huge mistake.
Why Proof Works
There's a very clear reason why proof is a powerful marketing tool. When making a purchasing decision, some of the big concerns a customer has is whether what is on offer is a scam, or won't work for someone like them, or is more hype than substance. Regardless of the objection, proof is the best psychology we have to destroy it when it comes to purchasing decisions.
I don't really need to explain this to you, you already understand and experience proof. Most of the new product buying decisions you make today, especially online, occur usually because you have some kind of proof that it's a good product. The proof may simply be a friend or trusted expert recommendation, like for example me talking about how amazing AWeber has been for my business and showing how I use it to build profitable email lists.
What Kind Of Proof Do You Need?
Proof comes in many shapes and forms. It can be something simple, like a text testimonial from a previous customer, or even just a comment left to a blog post. You can take it further by recording a video interview, or doing full blown case study podcasts as I do.
In general there are two kinds of proof that are prevalent in most information product marketing campaigns, they are –
Proof that the creator of the product has done what is he or she is teaching or selling
Proof that other people have bought the product and then experienced the same or similar results as an outcome
The second type of proof is more powerful because people are more inclined to believe and resonate with the proof when they see that the person has come from a similar place as them, with similar circumstances, and then been able to buy the product and get a result.
It's almost as important that the person selling the product is able to show proof that they have walked the path they are proposing to teach. Although skepticism is more prevalent in your audience when you talk about your own results, provided you can demonstrate tangible outcomes, your own proof is a powerful persuasion point.
In product launch campaigns, it's often the story behind the person who is selling the information that carries the marketing. For example, the "reluctant hero" is a classic tale of proof, explaining how a person was able to go from an average joe-off-the-street and turn around their life into a successful outcome, whether that be making money, learning to play an instrument, having success with the opposite sex, losing weight, or whatever the product is about. The every day joe turned hero is then in a place to teach the next group of average joes, who connect with the story and see the possibility that they too can be the next hero if they just buy the product.
Believability plays a big part in this process. As more marketers show similar proof, for example in the make money online niche, pictures of sports cars, mansions, huge checks, Paypal email receipts and Clickbank balances, are the norm. They are still very persuasive, especially for those people new to Internet marketing sales pages, but as they experience more and more of them, the power of this form of proof wanes.
Volume of proof is also important. As your business grows, which should mean you are delivering value to people, the amount of unsolicited positive feedback you receive will increase. It's a natural side effect, which you can encourage if you need to (in which case it's not "unsolicited", but that doesn't necessarily make it less valid), and can be turned into a powerful proof tool. Showing page after page of testimonials can be very persuasive, simply because of the volume.
When I was building my previous business BetterEdit.com, over the years we received quite a mountain of emails from satisfied clients. I took the best testimonials and put them on to our website. We quickly outgrew just one page of testimonials (and a long page at that) and today there are nine pages of testimonials with the new owners of the business continuing to add more as they come in. Seeing the volume of testimonials and that they have been coming in for many years demonstrating how long the business has been delivering great results, is a powerfully compelling message of proof.
How To Get Started Demonstrating Proof
Now that I've convinced you of the power of proof, or reminded you to look again at this critical element of your marketing process, you have to think about how best to demonstrate proof to your potential customers.
Here's a list of ideas you can implement no matter how big or small your business.
As a successful blogger, one of the first place you can find proof is in comments made to your blog. Positive comments are proof of the value your blog offers, but you can go further than that and take those comments and apply them as testimonials on sales page and other marketing media.
I run an affiliate program for my products and educate my affiliates and blogging students of the power of review writing as an affiliate marketing technique. Reviews often contain fantastic quotes, so if you have other people, such as your affiliates reviewing your work, you can then take that content (with permission) from the review and use it as testimonials.
For people who are about to launch a new product, so you don't have existing customers yet, giving away free complimentary versions of your product in exchange for a review, case study or testimonial feedback, is a fair exchange and a great way to get some early proof developed.
You can follow in my footsteps and contact your best performing customers and ask if they will do an interview with you to talk about their success and how your product impacted them. This should be presented as a win-win situation, since they get traffic and exposure and you get a great case study.
When I relaunched Blog Mastermind in 2008, I made use of the very cool picture-in-a-picture mode on Skype video conversations combined with the software Call Recorder for Mac to record short interviews with my previous students. You can see the videos on the Blog Mastermind sales page.
I learned this one from Mike Filsaime. Create a guestbook in your forums where people can leave feedback and comments.
And lastly, the most logical one of all – ask people for feedback. You can send a broadcast email to your customers asking for general feedback, or email people individually if they look like good candidates for a case study or testimonial.
There are many more things you can do to collect proof elements. Some experts advocate an automatic testimonial gathering system, for example an email in your follow-up sequence that automatically asks people to leave feedback in a certain place (like a guestbook or via email reply) so you always have a repository of great testimonials ready for use.
In your case it depends how developed your business is. If you're just starting and you haven't really helped that many people, then getting those first few testimonials can be tough. As you grow though, you will find positive feedback comes in passively assuming you continue to over-deliver on the promises you make, both in what you give to paying customers and what you offer for free.
What's important is that you make use of proof in your marketing process and that you don't fake it. Genuine proof is powerful and a must-have element in your sales pages or any marketing related messages where it makes sense to include it. I guarantee you, the better your proof, the more case studies, testimonials, videos and pictures you can show people, the more sales you will make.
Yaro Starak
Proving It
PS. My sales page currently features me in the car I own – an 08 Suzuki Swift. I bought a car that is practical for my needs, however a few individuals have challenged me asking if I make so much money online, why would I have such a basic car?
For the disbelievers, people who are compelled by photos of nice cars, and as a further demonstration of proof of my success, I took a couple of photos of me with my other cars* –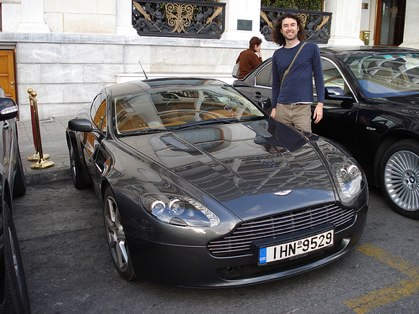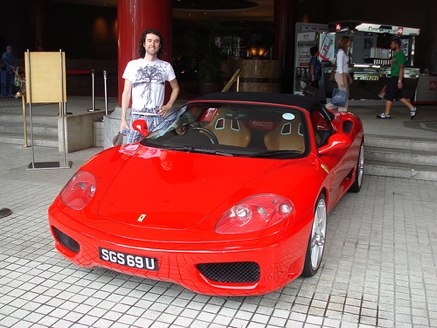 * I don't really own these cars. I just couldn't find them in a color I liked 😉