In the interview I did with Robb Sutton he talked about the $10,000+ worth of freebies he's received thanks to blogging.
While I haven't been that active pursuing free product thanks to the exposure this blog grants me, I do get things in the mail from time to time. In the spirit of saying thanks for the freebies, here are short reviews of three books I received that you may find interesting and a not quite as expected gift of a beanbag that I've been putting to good use.
The Sumolounge Omni Chair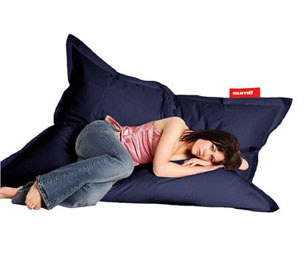 When Andrew Milligan emailed me and told me that his company Sumolounge were entering Australia and whether I would, as a high profile Australian blogger, like to try out one of his beanbags, I was initially torn about what to do.
I wanted the beanbag. My house, still being quite new, is sparse for furniture and having recently won a 40in Sony Bravia LCD TV in an affiliate competition I needed (err, desired) something to sit on to watch it. I was also very curious to know what made the sumolounge beanbags different from your everyday run-of-the-mill beanbag, which I had grown up with and known as grungy and smelly bags, often spewing forth little white foam balls.
The problem, as I saw it, was how to justify taking a free beanbag given I would have to find a way to tie it into the topic of my blog so I could repay the favor of the freebie with some exposure for Andrew and his company.
In the end the justification was easy (in my mind at least). I study a lot of information products, including DVDs about Internet marketing and personal development and it's important you have a good seat to sit on while you absorb this information. So yes, that's the connection between the Sumolounge Omni beanbag I've been sitting on for a few months and why I am now talking about it in a blog post.
Seriously though, the Omni beanbag surprised me. If you've never experienced one of these things in real life, then you won't understand the difference.
The Omni Sumolounge Beanbag is, as stated on the website, "Urban Lounge Gear". Clever marketing yes, but it's also relevant because the beanbag is made of much sturdier stuff than your oldschool beanbag.
When I first sat on my Omni chair my initial reaction wasn't good. It didn't feel the same as beanbags I had known as a child. It was scratchy and plastic.
Now that I've used the Omni for a while, I'm pleased with it. It's comfortable enough to fall asleep in, molds to any shape you like and can be used as a sit upright chair or a lay down bed. Because it's made of, and again I quote the website – "space age rip-proof nylon" – it feels like it will last a long time, you can spill food on it without worrying about it getting smelly and it's not going to burst all the little white balls over your floor.
If you need a beanbag or some unusual furniture to make your place more funky, check out the Sumolounge range.
Personal Development For Smart People by Steve Pavlina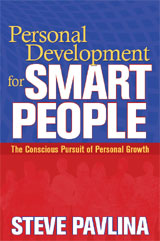 If you are into blogging or personal development then you know who Steve Pavlina is. His effort over the past few years blogging out personal development advice is one of the true success stories of the "average" man turning into a expert in his field, by simply sharing what he knows and experiences through his blog.
Steve sent me a preview copy of his book last year and I've been diligently reading through it. I haven't quite enjoyed the book as much as Steve's blog posts, but that's reflective more of the medium than the message – I like reading short blog posts or magazine articles over long books. Of course to give people an entire framework for developing all aspects of their lives takes more than one or two blog posts, hence Steve had to write a manual in book format.
If you like Steve's work and want to delve deeper into his message and work through his very focused system for developing yourself as a human being, Personal Development for Smart People is a good starting point.
Blog Blazers by Stephane Grenier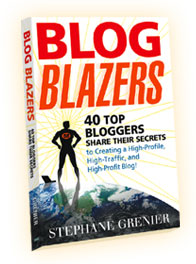 Blog Blazers by Stephane Grenier was a book that was a long time coming. Steph impressed me, first because for most of the time he communicated with me, I thought he was a she (all the other Steph's I know are female), and secondly because it appeared that Steph's project had got the best of him. However, after months of no doubt hard work, Blog Blazers saw the light of day and since then I've seen it mentioned on countless blogs.
Blog Blazers is a series of interviews with some of the most successful bloggers around, including Seth Godin (business), Aaron Wall (SEO), Neil Patel (social media), Anita Campbell (small business trends), Dale Carlson (one of my early blog influences – he covers business opportunities), Trent Hamm (the simple dollar finance blog), Manolo Blahnik (the shoe blogger) and many others.
My only gripe with this book is that the interviews go in alphabetical order, and once again my name attracts discrimination, listing me last in the book (anyone know a popular blogger who's name starts with a "Z"?). Besides that injustice, this is a good book, that is easy to read, featuring casual conversations between Steph the author and the different bloggers HE interviewed.
You can check out more about Blog Blazers at BlogBlazers.com.
Career Renegade by Jonathan Fields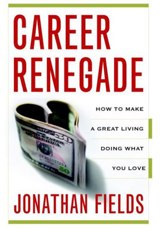 Jonathan Fields has put together a book that readers of my blog will love. His book – Career Renegade – has the the byline "How to make a great living doing what you love", which clearly resonates with everything my blog stands for.
Jonathan touches on a lot of topics similar to what is discussed here at Entrepreneurs-Journey, including a section on "flow-state", finding your passion and how to realize a life where you can earn enough money to live how you want to live, without having to work a job you hate. If you haven't realized this outcome yet, Career Renegade is definitely a book worth investigating.
Jonathan's book is new, it was finally released after two years of development in January 2009, so this is fresh stuff. If you're thinking it's time for change and you want to read about someone who has lived that change (think lawyer becomes yoga instructor becomes writer) and helped others to change their careers too, then grab yourself a copy of Career Renegade.