I've been in communication with Nate Whitehill from Unique Blog Designs for many months now and today his team have released something that all affiliate marketers should be excited about.
Back in August of 08 Nate and his team decided to begin work on a special WordPress theme that would make life easier for affiliate marketers to create websites.
Many online marketers today use WordPress blogs as their default website content management system to set up landing pages, mini-sites and review sites – stock staples for affiliate marketers. This new premium theme makes the process of creating affiliate marketing sites a select-and-click process, much easier and more efficient than hacking standard WordPress themes or building sites from scratch using Frontpage or Dreamweaver for example.
The theme has been given the very obvious name – Affiliate Theme – and you can read more about it here –
What Is Affiliate Theme?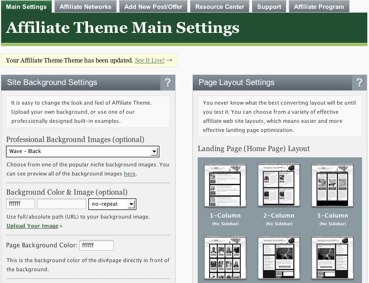 Affiliate Theme is a premium WordPress theme with a customized back-end administration system that allows you to easily control and test the elements of your website.
I've had access to the theme for a few days now and had a play with the interface. If you've ever wanted to control the most crucial elements of your WordPress blog without needing to go in and hack the code, this is the theme you need, especially if you set up blog websites to sell affiliate offers.
Here's a list of some of the customization options –
With a single click you can change the entire layout from 1-column, 2-column, 3-column, 4-column, left-column sidebar or right-column sidebar. That effectively means you can test six different website layouts without needing multiple themes.
You can control the background colors or images, font typography, homepage title and header graphics.
You can easily insert tracking code without needing to hack your theme.
Your blog's navigation system can easily be changed, as well as the footer elements.
There are settings for a featured offer on your homepage (like a highlight box) and also individual page offers.
and a WHOLE lot more…
Frankly it's hard to explain this using text, so the best introduction you can have is this video that Nate put together to introduce you to the Affiliate Theme –
How To Profit With Affiliate Theme
Affiliate Theme is designed for affiliate marketers, in particular marketers who use affiliate networks to find offers in many different niches they then promote with websites.
As a classic example, and something that Affiliate Theme is perfect for, you might choose to target a dating affiliate offer. To do this you set up a website that offers dating tips and advice and send people to dating websites using your affiliate link and earn commissions whenever a person signs up via your site. Some people make hundreds of thousands of dollars right now using this exact strategy.
With the Affiliate Theme you can set up your dating website, or as many dating websites as you like, in a matter of moments just by clicking a few links in the admin area. You could then test different theme layouts to see which gets the most clicks so you can maximize your conversion.
The theme is ideal for people who are practicing any form of niche marketing online, who set up multiple websites to sell different offers in different niches. It's especially good if you're not technical but can't afford a tech person to help with every change, because Affiliate Theme let's you easily control the most important elements of your site – the elements that you test to make more money – without ever needing to look at code or upload files to a server.
If this sounds like something you do now, or you're currently learning how to do niche marketing and want a very easy way to set up websites, Affiliate Theme is a very good choice – the best WordPress theme I know of today for this in fact.
Click here for more details about Affiliate Theme
Are There Any Problems With Affiliate Theme?
When I first logged into the Affiliate Theme admin area in the test site I had access to, I was initially overwhelmed. Given the amount of control you have over your site, the amount of options you face can be daunting. Once I started to play with the settings and see how they impact the look of my site, it started to become much easier, but you need to prepare for a learning curve.
Normally I find with technology like this and of course as the 80/20 rule dictates, after some playing around and developing a few sites you will only end up using a handful of the options available. It will be your ability to test by changing those few options that you will deliver the real leverage, but it will take some time to figure out what those options are.
Let me also state the obvious – simply setting up an affiliate website is not going to make you money. You need to go to work to drive traffic to your site using whatever techniques you know and start making sales. Affiliate Theme is not a magic button, rather a tool to make the process much simpler and more efficient.
Nate has assured me that in future versions of the Affiliate Theme, there will be support for easily adding an opt-in box to the layout and also options for creating squeeze pages and sales pages, so effectively a blog theme for Internet marketers. I'm truly excited about these ideas, but of course for now the focus is on affiliate marketing, so the theme is lacking the email integration options I'd like to see.
There really aren't any major issues with the theme, except of course if you can't afford it. This is a premium theme starting at $97 for a single site license and $147 if you want to use it across multiple sites. If you're focusing on one authority blog then you only need the single site license, but if you are a true affiliate marketer operating in many niches, you will need to purchase the multiple use license so you can set up as many sites with the theme as you like.
The Extras
To help combat that initial overwhelm I mentioned, the UBD team have put together a video resource library to show you how to make use of their theme. There's also a knowledge base and a support forum.
Pre-made templates are plugged into the theme, which you can select with a drop down box. The templates are great if you are in niches like dating, home business, health, anti-aging, weight loss, ringtones, car insurance and skin products, or you can make adjustments on an element-by-element basis (header, footer, background, etc) to construct your site how you want it to look.
If you like to get your hands dirty and play with the code (you sick puppy), then Affiliate Theme has a clean designers interface with fully commented code. Of course you can do pretty much everything with this theme without ever looking at code, but the code interface is there if you're an advanced user.
By far the best bonus are the interviews with expert affiliate marketers, including me :-). You can listen to guys like Ryan Wade, Zac Johnson, John Chow, Gobala Krishnan, Jonathan Volk and Jim Kukral talk about how they make hundreds of thousands of dollars with affiliate marketing.
Of course the reason why you would buy this product is for the theme, but there's some pretty good support features and bonuses to help sweeten the deal.
You can see the full breakdown of what you get here –
Affiliate Theme complete details
Do You Need This Theme?
If you like to have control of how your blog website looks but can't afford a tech person to make the changes for you, a once off fee of $97 is a pretty darn affordable option to give you more power over your site. If you operate in more than one niche, then $147 is still very reasonable for an unlimited site license.
If your blog is functioning well and you are comfortable making design changes by yourself, then you don't need this theme. If you find yourself setting up new blogs every week, then using Affiliate Theme will make things a lot easier and much more effective, plus you get the power to easily test different aspects of your site – and testing is the key for big success online.
Affiliate Theme has the backing of a team of people who are by far the leaders in their field. I don't know of any blog design company I would recommend above Unique Blog Designs and Nate Whitehill is just a great guy. The fact that it's these guys who created Affiliate Theme and are backing it, is a real confidence boost, plus of course you have the usual money back guarantees with Affiliate Theme, so you have no excuses for not giving it a shot.
Here's the link one more time –
Yaro Starak
Affiliate Marketer