Hi there fellow entrepreneur, today I'm reviewing a book by Mark Anastasi called "The Laptop Millionaire".
Mark has put together this book to create a guide that covers a wide variety of ways to make money online and create businesses that allow you to work from your computer and live anywhere in the world.
A lot of the techniques Mark speaks about in this book I've heard before and so will have you, but I was very impressed to find some new ideas and strategies that sound like amazing ways to leverage my time and drive traffic to various online projects I'm creating.
The Biggest Gold Nuggets I'm Taking From Mark's Book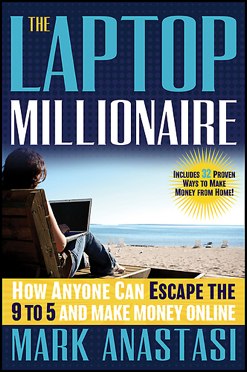 The BIG thing I'm aiming to get from Mark's book is how to market my projects more effectively using some of his outsourcing techniques for Twitter and Facebook, and ultimately building my profile, building my email list and making more sales of three of my products.
I'm currently completing some techniques outlined in Mark's book from Chapters 1, 2, 5, 6 and 7.  My next article will be reporting back to all the Entrepreneurs Journey readers to tell you exactly how simple the strategies were to follow and how successful I was in getting results.
To create my product I've interviewed three experts on "The Insider Secrets To Finding The BIG Money In The List" and this is what I am doing:
Creating an Ebook
Creating an audio product to go with the Ebook
Using outsourcing techniques given by Mark to…
– Get a website made
– Get a sales page made
– Drive targeted traffic to the sales page & product through Twitter and Facebook
– Sell the product
– Build a targeted email list
I haven't been able to complete all if this in time for this book review to go live, so I'll do at least one follow up article for readers to show clearly how successful I was after implementing Mark's strategies.  For the review I'm currently writing, I'll share any case studies of relevance and value from my own experience or from the experience of close friends of mine who run successful online businesses already.
This Is What You Get
Here's the table of contents from "The Laptop Millionaire" which outlines the various things you will learn about.  I'll write a little about each section, as well as add some of my own insights and findings as I went through the material.
Chapter 1: eBooks
Chapter 2: Listbuilding and Email Marketing
Chapter 3: Search Engine Optimization
Chapter 4: YouTube
Chapter 5: Facebook
Chapter 6: Twitter
Chapter 7: Fiverr
Chapter 8: Outsourcing
Chapter 9: Local Business Marketing
Chapter 10: Membership Sites
Chapter 11: Webinars
Chapter 12: Online Advertising
All of these chapters are packed with quality content and easy to follow steps to implement immediately, if these topics describe types of online entrepreneurship that you'd like to master, I'd recommend picking up a copy of Mark's book.
This Is What I Love About "The Laptop Millionaire."
I love Mark's layout and delivery of his content. I also love the quality of his content. Mark gives really clear and simple explanations of each of his strategies and he gives clear, easy to follow guidelines to implement them so you can take action on the ones that inspire you immediately. This means, there's really nothing stopping you, except YOU, from taking the strategies he shares in his book and implementing them straight away to either create a business or build upon your already existing business.
I also love the live links in the ebook version you can click on to get even more information or education on the various strategies he shares or to implement a step immediately. Even though Mark has given clear directions to follow, often when I've found something I like the look of and want to implement it, I also want to educate myself more on it. This way he allows you to leverage your time by finding great quality, extra information immediately.
I also love that Mark has shared some strategies I didn't know about to leverage my marketing to reach a bigger yet still targeted audience. This will increase my success in building my profile, building my list and increasing sales of my products. I'll go into more detail about exactly what this is shortly.
This Is What I Hate About "The Laptop Millionaire."
As Mark says,
There are so many fantastic opportunities for you to take advantage of!
This is actually a problem, there are almost too many! This might sound like a stupid thing to whinge about, but I'm serious.
One of the key issues raised by numerous successful business people I've interviewed is that we can get overwhelmed with choice and end up trying to do too many things rather than focus on one business building/money making strategy and sticking with it until we succeed. Reading this book, I was inspired by the many ideas and options but I also got overwhelmed and scattered my focus.
The other thing I hated was that at times it felt like I was just reading a very long sales letter, with lines like, "have the freedom to run their business from anywhere in the world… and making money while they sleep!" In fact, page 11 annoyed me as it read just like a sales letter with all the appropriate "hot buttons" and voids/pains.
The case studies at the end of each section, whilst being perfectly reasonable and necessary, and even having some great content smacked a bit of testimonials on a sales letter as well. And most of these "case studies" make it sound super fast and easy to make money online… maybe it can be. But every single online or offline entrepreneur I know has said it takes time and consistent effort to grow a business and make decent money…#just sayin.
An In Depth Study Of What You Get
Chapter 1: EBOOKS
I found the content in this chapter to be very informative, useful and also gave a reasonable account of what's possible using the Ebook technique to make money online.
A close friend of mine, Fran Kerr has a blog and she uses Ebooks as one of her successful income streams. Just like Mark says and Fran confirmed, they're easy and very low cost to make, and of course extremely easy and hassle free to distribute once paid for as it's a digital product. There is one important element to remember though, you need to make sure you have an audience with a real need for the product and you need to make sure you can get your product in front of that audience.
Fran is actually a great case study for a few of the techniques described in this book as I know what she has used and continues to use successfully to run her online business.  And Fran really does work from her laptop, and travels and lives wherever she wants to, so it's not impossible to achieve this lifestyle. Currently she's enjoying living in Peru whilst following her own personal and spiritual journey.
Chapter 2: LIST BUILDING AND EMAIL MARKETING
Okay dear reader, brace yourself! This section of the book made me quite annoyed on a number of occasions so I'm going to rant a bit here…
On page 50, Mark shares a Millionaire Secret – The money is in the list – that's not a friggin' secret! For any entrepreneur with even half a clue, this is stating the obvious! It's common knowledge – far from being some well-kept secret. It's so common in fact, it's possibly becoming obsolete… I will explain this more later.
Mark goes on to talk a lot about the money and power being in the list and how vital it is to stay in touch with your subscribers/clients/prospects through email to show that you care. Now, I for one have to say, I don't actually read my emails from subscriptions. I mostly just delete or unsubscribe to save myself the hassle of hitting delete all the time. I'm far more inclined to build my relationships with people through social media rather than reading stuff I'm sent through their automated email service.
Mark also mentions that an email list is more responsive to "cold prospects" from social media… in my case, I'm way more responsive to social media offers and promotions IF the relationship is there. I think there are a number of distinctions Mark really needed to make here that have been ignored.
The money is NOT in the list, it's in the quality of the relationship and having a highly targeted market of subscribers
There is NO money in any list unless you've got a great relationship with your subscribers…see my example of the Google slap further on…

  

Some people, like me, might be sick of the whole email thing and only pay attention to people and offers they already have a good relationship with on social media. Again, it's ALL about the relationship and social media appears to be acing relationship building over email lists.
Now, I'm not saying email lists aren't profitable or valuable, they can be both and they're extremely important elements of your online business. But this topic is a lot bigger and needs more clarification and distinctions, especially in regard to how social media has changed the way your clients interact with you and how this effects the feasibility of your email list.
Lastly, a word of warning about buying email lists. I for one would avoid buying a list. Mark gives plenty of other great techniques you can apply to create or gain access to a big list.
A close friend of mine recently bought an email list from a supposedly reputable source for $3,000. She then paid more money to have the list "cleaned" which means ensuring the people you are going to be emailing are ok with you emailing them.
Even though my friend had gone through all these steps, she had been ripped off in every one of them and somebody who received her email complained to Google and her site was given a Google "slap" and completely shut down. The whole process was extremely costly, stressful and time consuming and I'd say it's just not worth any of it.
Chapter 3: SEARCH ENGINE OPTIMIZATION
Mark's section on SEO is comprehensive and worth reading about to keep your self informed. SEO is definitely an important aspect of online business. We've had two recent articles dedicated to it on Entrepreneurs Journey recently, one from Yaro's friend, Nick McIntosh and one from my friend, Anshul Dayal. Both of these guys are great case studies of people who have used SEO strategies to successfully make money online, so it absolutely works if you work it.
For me, there are other strategies I need to focus on right now, but if this is something you're interested in, Mark gives some great advice and strategies to apply to use SEO to boost you business.
Chapter 4: YOUTUBE
Using YouTube as a business building strategy has been very valuable for two of my friends who run successful online businesses.  Earlier I mentioned Fran's blog, which became a successful money making online business simply from creating and posting YouTube videos. Another good friend of mine, whom many of you will also know from Entrepreneurs Journey, Gideon Shalwick, has created a very profitable and successful online business by focussing on YouTube as his primary strategy.
Mark shares a lot of different ways to build business and create income through YouTube and I was totally impressed with the variety of strategies and techniques given. And I know that this is an absolutely viable option as I've seen both Gideon and Fran succeed with it. If you'd like to find out more about a variety of money making YouTube strategies, you can find them in Mark's book.
Chapter 5: FACEBOOK
Mark shares some Facebook strategies I loved and others I'm not too fussed about. Personally, I think using Facebook to promote your products or services is only worthwhile if you have a very targeted audience and a great relationship with them. If anyone spams me with unsolicited marketing material on Facebook, I immediately block or delete them and most people I know do this as well.
I did love learning about Facebook ads to build business and how to run cross promotions and Joint Ventures with other Facebook users to build your business. Another very good friend of mine, Shaune Clarke, who I've interviewed for Entrepreneur's Journey previously has built his ENTIRE business via Facebook.
Shaune's Speaker Training business started from scratch with no marketing budget whatsoever. His business has grown to be an extremely profitable and robust business JUST from marketing through Facebook alone. Shaune hasn't even had a website made especially for his speaker training business, he doesn't need one. He's got more clients and more work than he can handle already. The message to get here is that Facebook IS a highly lucrative and viable business and wealth building strategy if you decide to use it and understand how to use it properly so it works well for you rather than annoys people.
Chapter 6: TWITTER
Now, this chapter was really useful to me because so far, I haven't really done much with Twitter and just couldn't figure out HOW to add yet another time consuming thing to my already overflowing list of tasks. I'm really glad that Mark shared a strategy that I'm absolutely busting to trial when my Interviews with Experts has been edited and packaged as an audio and Ebook.
Mark shared a number of great Twitter strategies but the one I'm particularly interested in is using Joint Venture partners on Twitter who have large and loyal followings of people who are interested in the product I'm promoting. Mark says that ideally, you want to find someone who has built a great relationship with their followers but doesn't already promote or sell to them or monetize their twitter account in any way. It's also a bonus if they're considered an expert on the topic you're product is about.
Then you send them a private message offering to do a Joint Venture with them and agree to split the profits of the sales 50-50. A goodwill gesture of paying your Joint Venture partner an extra few hundred dollars if the sales generate significant income is a great way to ensure they are happy with the deal and secure a good relationship for future ventures. They may even continue to promote your affiliate link and bring in more sales for you.
Chapter 7: FIVERR
This chapter was interesting as I've had a bit of experience buying gigs from Fiverr and Mark's tips have inspired me to do this even more.  I'm not overly interested in some of the ways he shared to make money on Fiverr, but just because they don't float my boat doesn't mean they won't appeal to you.
Specifically, I'm interested in testing Fiverr gigs to help me grow my subscriber list on the new website I'm creating, and to grow my fan page and twitter following. Again, I'll absolutely be aiming to have targeted traffic and followers, so this is what I'll be trialing. I don't know how successful it will be, but I'll report back to you.
The last five chapters contain very valuable strategies, but as I read through them I realized they're more for the online entrepreneurs who have reached certain level of success in their business and are taking it to the next level. This isn't me; I'm still playing in the areas covered in Chapters 1 to 7. Because of this, I'll just go through these very briefly and share with you any stories I know of friend's who use these strategies to be successful in their own businesses.
Chapter 8: OUTSOURCING
Everyone gets to the point in their business when outsourcing everything except the things only they can do becomes absolutely necessary. The thing I loved particularly about this chapter was that Mark gives a comprehensive list of everything he outsources, he also gave some invaluable information about how to successfully oversee your outsourcing staff and get the best results for both parties.
All of this is new to me, and no-ones ever given me any insight into how best to do this, so that section alone is worth its weight in gold. The other thing I really appreciated in this section was his direction on exactly where he finds his outsourcing staff, why and how he advertises. I'd buy Mark's book just for this content!
Lastly, the thing I've always felt a bit uncomfortable with in regard to outsourcing being exploitative is knowing what a fair rate of pay is. Mark provides a comprehensive list of the different rates of pay for a variety of professions in the country he outsources to, so you can ensure you're doing the right thing by the people you employ.
Chapter 9: LOCAL BUSINESS MARKETING
This chapter is way beyond me right now. If you're already a successful entrepreneur or have a good head for business and online marketing and social media, then the information here might be your ticket to financial freedom.
Chapter 10: MEMBERSHIP SITES
Mark makes a great case for membership sites and shares a good variety of techniques and strategies to make use of this model. I think if this sounds like something you know you could be successful with, then by all means, give it a go. I know that my friend Fran Kerr, whom I've mentioned twice already, spent a lot of time creating a membership site for her blog audience and business; but it wasn't the most successful way to generate revenue. In the end, she closed it down and continued building on the other revenue streams that worked for her.
On the other hand, Yaro has released several courses that charge recurring subscriptions, which made up the bulk of his online income for the last few years, so there is definitely a lot of money to be made with this model. Mark's chapter will definitely help you get started if you have not considered a membership site before.
Chapter 11: WEBINARS
Mark's chapter on webinars is great, I loved the content and wide variety of strategies he provides. I love the idea of webinars, my problem is, even when someone is running one that I'd love to listen in to, I rarely have the time to do so when it's running. Once the webinar has been done, I rarely go back to the link and listen to it even if I want to as I'm always playing catch up on my other projects.
I have a very successful friend, Kerwin Rae, whom I've interviewed for Entrepreneurs Jounrey before who uses webinars a lot to promote his upcoming events. Kerwin runs events almost every week, sometimes twice a week and he runs events all over the world, so obviously webinars ARE a great way to generate business. I just haven't reached this stage of the game myself yet.
Chapter 12: ONLINE ADVERTISING
OK, so this last chapter really is for the established online entrepreneurs among us. There's absolutely no point me even thinking about applying this where I'm currently at, but for those if you who have been running successful online businesses for some time, Mark offers this chapter as the next level.
Ok groover, THAT'S IT! That's my extremely in depth review of Mark Anastasi's latest book, "The Laptop Millionaire".
Here's Who This Book Is NOT Perfect For;
Anyone who isn't going to implement the strategies they learn about immediately or at least begin to within 24 hours.
Anyone who can't choose a single strategy or a series of strategies to follow in succession all the way to completion.
Anyone who is already trialing a bunch of different strategies.
Anyone who already has a strategy to make money online that's working well for them and that will work even better if they stick with it and fine-tune it.
Anyone who is already an incredibly successful online entrepreneur with a wealth of insights, information, education and connections for making money online.
Here's Who This Book IS PERFECT For;
Anyone who wants to start an online business but isn't sure what to begin with.
Anyone who is already dabbling with online business but hasn't yet cracked it.
Anyone who has accomplished some level of success in online entrepreneurship but wants to take it to the next level and needs to master outsourcing and accessing bigger markets for bigger profits.
If the above statements sound anything like you, make sure you grab a copy of Mark's book here –
The Laptop Millionaire by Mark Anastasi
Neroli
This was a sponsored review requested from Mark several months ago to help promote the launch of his new book, the Laptop Millionaire. Neroli was provided with an advanced copy of the book, to complete the review. The review represents Neroli's opinion of Mark's book only. If you are interested in a sponsored review for your product or service, review our advertise options page.