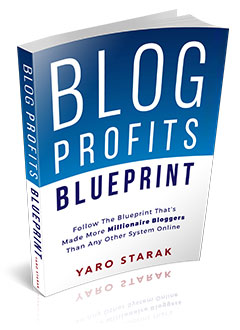 I realize you probably already have my Blog Profits Blueprint since it has been available for over five years now and has been downloaded by thousands of people.
[ iTunes | Soundcloud | Raw RSS ]
However I have never submitted the audio version to my podcast, so I'm posting it here now to get the download into iTunes and on my podcasts page.
This is the original audio version I personally recorded using my own voice of the Blueprint report back in 2007. You might think that makes it dated, which it is in certain parts, however I was very careful to focus on the fundamentals of good and profitable blogging, so the advice stands the test of the time – especially the sections on strategy. It is still downloaded by at least 50 new people a day and demand has not ceased during the last five years.
This is my most seminal training that has been referenced and endorsed by countless bloggers as a go-to-guide for making money with blogs. If you have never heard the audio version I recommend you download it now and have a listen. Even if you have read or heard the audio before, it's always worth going over again.
Please hit the tweet and facebook share buttons if you think your followers would benefit from this.
Chapter Breakdown:
How To Make Money Blogging
Blogging as a Business, Not a Job
What's Next?
Who Is Yaro Starak?
What Is A Blog And Why Are They So Popular?
How Blogs Make Money
The Two Key Ingredients For Attracting Attention
Why Do You Blog?
How To Choose Your Blog Topic – Passions Vs. Profits
Let's Talk Tactics
Content + Marketing = Traffic
What Is A Pillar?
How Do You Create A Pillar?
How To Market Your Blog
Time vs. Reward
Most People Are Lazy
Communication Channels
The Power of Leverage
Compound Effects
Think Big Picture, Work Little Picture
Traffic Tactics
Peer Relationships
Network Effects
Start With Your Peers
Bigger and Better Content Pillars
It's Time To Make Money
Can Blogs Be A Stable Income Source?
The Holy Grail of Blog Monetization – Recursive Affiliate Income
The Next Best Option – Direct Advertisers
The Problem with Google AdSense
Other Monetization Options
My Top Blog Monetization Methods
Turn Your Blog Into A Business
Why Most Bloggers Fail
Do You Have Enough Information To Succeed?
Congratulations! – Now Get To Work
Advice For Beginners, The Lost And Confused
Would You Like Me To Coach You?
Thank You For Your Attention