In recent months I've interviewed quite a few successful self-starter internet marketers. People like Farnoosh Brock, Brian Moran, Chris Guillebeau, and Adam Baker, all tell stories from the first few years of their online business where they were doing everything by themselves.
Tim Ferriss popularized the concept of outsourcing your entire life to other people so you can spend more time doing important things or taking mini-vacations. Of course Tim didn't come up with the idea of outsourcing, but he became a shining example of how an individual earning money in a Western Country with a strong currency can make use of low-cost labour in other countries to get things done for you.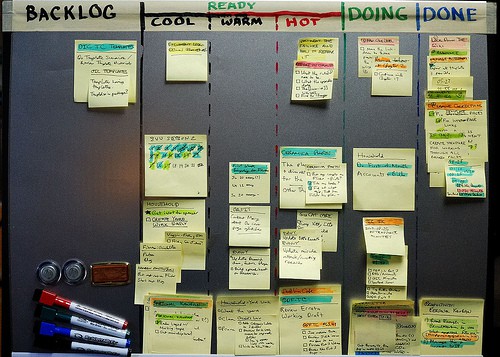 Outsourcing isn't just about gaining leverage from overseas sources of labour. Hiring local is powerful too, especially when you are looking for people who are much more talented than you to take on specialist roles. Every single startup success story I have read states the importance of A-Player employees, and how no company grows big without them.
I'm not here to argue against any of these ideas. In fact I have instructed people to get their blog tech work outsourced as the first step in building a success blog if you are not a technical person. This is among many other examples of things you can outsource to other people that I have talked about over the years.
I've also seen lately how my two business partners, Gideon Shalwick and Leslie Samual, have leveraged talented overseas workers to get everything done from video editing and production, membership site creation, transcriptions, customer support, blog writing and editing and much more.
Outsourcing is great and one of the best ways to grow quickly and do more in less time. However one thing has continually stuck out to me every time I do interviews: Most people do everything by themselves at the start until they have some significant level of success.
I Did It Myself
When I started online I played around in my spare time with bulletin boards and chat rooms. I read basic websites that were around in the late nineties, which were nothing more than text and images, often with poor layouts and crazy backgrounds.
Eventually I wanted my own website, so I found a free service called Geocities and built a site myself using their basic tools. I eventually grew tired of the free website building tools, bought a book to learn some HTML, figured out how domain names and web servers worked and set up my own proper website.
From there I learned how to market my site, build links, joined banner exchanges, started selling ads, made contact with industry people, participated in online communities, installed scripts that did cool things like run forums and chat rooms, and so much more. This lead to having my first business, where I built the website, did SEO, wrote articles for other sites, contacted companies about joint ventures…I did a lot!
All of this was done completely by myself for a good five years. Although I had a few contributions for people who would write articles for my site, or moderate forums, everything was set up and promoted by myself. I handled all the monetization, all the technology, all the email – everything.
When people ask me if I would do things differently if I had my early years again I usually say I would outsource sooner and learn about leverage sooner. This is true, however I can't discount the fact that by doing so much myself early on I built up a thorough sense of familiarity with the online world. I wasn't a programmer, or a graphics designer or a copywriter, or a server admin, but I had skills in all of these areas and understood each of these roles.
This sense of familiarity made me nimble. I could set up projects fast, and although I'd waste time on things I wasn't good at, like tweaking website designs for way too many late nights, I wasn't daunted by online business. I knew how to set up a website and how they could make money, the rest was a matter of execution.
This comfort that came from actually creating things online helped reduce something that kills most projects off before they start: Fear.
As I've written about before, most people believe they will fail or set themselves up for failure even before they start. I never had this sense of doubt about building the necessary pieces of the puzzle, I only wondered whether people would want my creation once it was available.
The One Man Or Woman Show
When it comes to a lifestyle design business, in particular those focused on information products, I hear the same background story over and over again from those who have succeeded.
Get a job and discover you don't like it.
Look for ways to make money online and start side projects.
Spend copious amounts of time on side project until you earn enough money to quit your job.
Continue to grow business and then eventually hire people to help.
Notice how all three first steps to begin with focus only on the founder doing the work (and it's usually motivated by leaving a job they don't like).
It's a one-person show for a long time, filling every spare hour outside of work on your little internet business until it's big enough to justify quitting your job and going full time entrepreneur. Once it reaches true sustainability you can finally bring on help and you gain back some time freedom in exchange (or more money, or both).
I don't think it's a coincidence that even though outsourcing is touted as the smart thing to do, most people who eventually succeed do not do any, or at least not much beyond the odd outsourced logo design, during the early days. This tends to hold true for first time entrepreneurs, those who are established with capital from previous businesses or who raise capital using investors, generally hire straight away to speed things up.
Perhaps the true answer then is that finances dictate the need for thrift, so despite the low cost of outsourcing, the budget isn't there for it.
I think there is more to it than simply a lack of money for your first business. Solo entrepreneurs don't want to hire people until they are confident in what they are doing with their business. If it's completely new to them, hiring, whether outsourced or local employees, may in fact be a mistake because you won't understand who to hire or why. You lack familiarity with how your business works to know what type of person you need.
That's why going it alone is often the smartest choice. It saves you money and it builds your experience so you understand what jobs need to be done by other people and how those jobs impact your company.
Is It Too Much Work?
The differentiator is about your willingness to spend all your free time on doing jobs that you probably shouldn't – jobs that you will eventually outsource to others.
Things like setting up a wordpress blog and installing a nice theme. Managing your web host and domain names. Learning how to write copy and set up opt-in forms and sales pages. How to set up your email list, customize your social media profiles and create videos. All these jobs that you are not great at, and will eventually get help with, but to start you learn just enough to get by so you understand how it all works.
Although it's hardly efficient and not sustainable long term, the ability to juggle a lot of plates and wear a lot of hats early often makes the difference. It's as if those who succeed are stubborn enough or have the right kind of brain to get good at a lot of things, if not great at them.
Somehow these people even manage to do all their business tasks while working full time jobs, getting married, having babies, traveling or all kinds of life tasks that take your time.
You might find this idea daunting, but it can also be inspiring. Other people have succeeded in worse situations than you are in now, and they do it with the same resources you have – a computer, access to the internet, and a brain.
Take Responsibility
The key take aways from this article and what I've learned from doing so many interviews of people who succeed at building money making websites, is that they can do so given minimal resources, and it's never too late to make it happen.
The opportunity for an online business is available to you and if you think there is something you are missing that you can't afford or can't do right now that is holding you back, you are lying to yourself. It's just a limiting belief.
I've had to take this idea on board myself again recently as family circumstances have taken away many hours from my once relaxed schedule. I've had to figure out how to get productive in shorter time frames like I was when I started. In other words – pull my finger out as the saying goes.
Perhaps it's time you pulled your finger out too?
Yaro Starak
Back To Work
Photo courtesy of orcmid