Just over a month ago, CrankyAds (my startup with two partners, Walter and Mick) made a huge shift in how we are developing our business and in particular, how we prioritise and create new features for our service.
I'll write more about why we made the shift and how it was different from what we were doing previously, in my next article.
Today I want to talk about the first fruits of this shift, two new features that CrankyAds released a couple of weeks ago.
We Asked An Important Question: Why Did You Leave Us?
As part of our process for determining what to work on we focused on two questions when it comes to software development –
What do our users want?
What is the lowest hanging fruit we can develop quickest?
Ideally we want both those questions to have the same answer, which unfortunately is rarely the case. However using these two questions we can find a balance of working on what we need the most without getting too stuck on huge development tasks that take months and months.
To answer the first question we sent a short survey to our existing publisher base of about 1,000 website owners who either use CrankyAds to manage their ads, or at least registered for the service at one point and may have decided not to use it.
We wanted to know the following (this is a cut-and-paste from the email I sent to users and now sits in our autoresponder series so we receive ongoing feedback) –
If you have used it (CrankyAds) and liked it, can you tell me why?
If you have NOT used it, or used it and then stopped, maybe
switching to a different service, can you tell me why you left us?
As always, email is fantastic because it gave me answers immediately. We had almost 50 replies within a day.
The feedback didn't tell us anything we didn't know already about what our users wanted, we had pretty much every feedback request on our to-do list already, but it did tell us an important thing –
What is the number one reason why people stopped using CrankyAds?
The most common reason for switching away from CrankyAds is to use Google AdSense instead. The logic being while you don't have any direct ad buyers, which CrankyAds facilities, a website owner can use AdSense to make some money.
We totally understand this. New website owners won't have much traffic and may find attracting direct sponsors more of a waiting game than a rush. If you have to wait a month to sell an ad, that's a month worth of advertising that you may as well do something with right?
Google's AdSense is usually the preferred option, even if it only makes you less than a hundred dollars a month, at least it's fruit for your labours.
The Best Of Both Worlds
We had it on our CrankyAds to-do list to offer AdSense as one of the options you can run on your site whenever you have unsold ad inventory. If you have not sold out of ad spots, CrankyAds will insert AdSense code instead, allowing you to monetize what is known as "remnant inventory" in the advertising world.
AdSense came up as the main option people switched away from CrankyAds for, although most people commented there was nothing wrong with CrankyAds and they wanted to use it, but since they couldn't use CrankyAds to deliver AdSense, they opted for just AdSense, at least until they build up more traffic.
CrankyAds is still new and our focus at the moment is the user experience for publishers. We want people to use – and love – CrankyAds, and most importantly, we want them to keep using us long enough so that we have enough time to sell ads for you via things like our marketplace.
If you sign up and leave after a week, that's not good. We need our advertisers to find lots of great sites to buy ads from, so we need publishers to stick with us. Hence, to help solve our chicken-and-the-egg problem, we know the publisher comes first.
Make publishers happy with CrankyAds, even if you use us only as an ad management tool, which gives us the chance to build up a quality base of websites that we can make available to advertisers.
You Can Now Use AdSense Or Any Code With CrankyAds
The feedback told us – give people AdSense – and we did!
I won't go into the fine details as you can read about how to use CrankyAds with AdSense on the CrankyAds blog here –
Introducing New Unsold Ad Options: Adsense Code And Custom Advertise Here Ads
Once you have the latest version of CrankyAds installed, when you go to the unsold advertising options when you set up or edit an ad zone, you will see the option to copy and paste code. You can copy and paste AdSense code into the box and whenever you have unsold ads, AdSense will appear.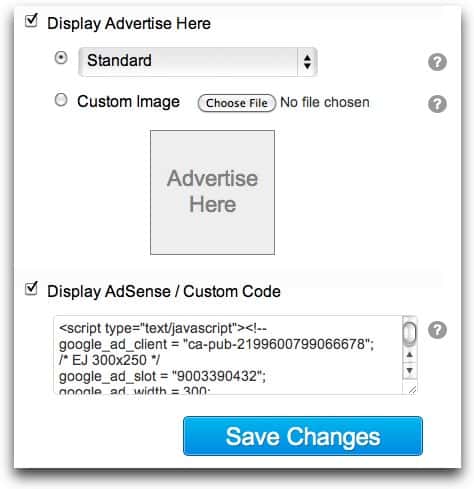 Obviously you should make sure you generate the appropriate sized adsense code to match the size of the ad zone you create within CrankyAds.
You can also use this option to place other code, include ads from another network, or even your own code to place whatever you want.
More Advertise Here Options
The other major feedback we received that was a quick fix was the Advertise Here default ads.
CrankyAds automatically inserts Advertise Here ads whenever you have at least one spare ad spot available. These are designed to inform your audience that you accept sponsors. They've proven very effective on this blog for many years, so I knew CrankyAds had to create these for you, which it does.
The problem, based on feedback, was that some people did not like our default design for the advertise here ads. They also wanted the option to turn them off.
Our users had spoken and since these were not complicated changes, we decided to add these new options at the same time as we added adsense support.
Now CrankyAds lets you choose from a few different advertise here ad styles, or you can upload your own design for an advertise here ad. You can also choose to switch this option on or off on a per ad zone basis.
So now you can have CrankyAds run an advertise here ad of your choice, AdSense or any other code or nothing when you have unsold ad space. Plus of course you can always upload your own internal campaign, or an affiliate banner – you have complete control.
Keeping It Simple
I'm pleased with these new options because they put more control in our users hands, without making CrankyAds overly complicated.
Our ethos has always been simple, and although we focus on new features, we want to be careful not to become like many of the other ad rotation services out there – bloated with features people don't use that just make the whole process of managing ads complicated.
If you haven't yet installed advertising on your blog or website and it's powered by WordPress, try CrankyAds. It's still 100% free and getting better every week!
Yaro Starak
www.crankyads.com