A few months ago Walter, Mick and myself were at one of our regular Wednesday team meetings for CrankyAds, the advertising management tool for blogs that we have been working on together for over a year.
This particular meeting, I have to say, was not fun. We reached a point in our development process that was forcing us to make some hard decisions.
To put it simply, Mick and Walter had run out of the allotted time and funds they had to focus all their energy on CrankyAds. From this point forward, unless our little company was making enough to pay them for their time, they would need to take on contract work to pay the bills.
Of course when they take on contract work, they have fewer hours available to work on software development for our project. This in turn makes it harder to make any money from it, meaning they need more contract work. It's a nasty catch-22 situation.
In order to break free from this situation we need money. Our two options to get money are either for the company to suddenly take off and bring in more cash (which hasn't happened, although we are growing, just not quickly), or to take on investment.
We Said No To Investment
We spent many months looking at options for raising funds, including grants, private investors, incubators and angle funds. We were accepted into an incubator program, but we decided not to join because we didn't like the terms. Preparing a pitch for the application process took time however, again more time taken away from development.
We were told by a panel of experts and investors during a practice pitch session at River City Labs, a shared working space in Brisbane we joined for a few months, that our pitch was good and almost ready to take to investors, if we decided to raise money that way.
I feel pretty confident we can get money given we have the key ingredients investors want – a good team, we are making some money, a concept with global scale and our own skin in the game. For more advice on creating a good pitch, read this – How I Created Our Pitch Deck For Investors.
In the end however, at least for now, we decided not to seek investors.
Why you ask? Because we don't want another vested party, especially with our current direction being variable. It's too much responsibility and pressure, and as I have written about before, I like my relaxed lifestyle. Running an investor backed startup is not conducive to relaxing.
Overseeing a startup has reminded me how much I prefer a lifestyle business (the kind of business I have had for the prior ten years or so as a blogger, information marketer and online entrepreneur). I like keeping things small. I like 2-hour work days. I like expressing myself with content and being free to explore different ideas. I also like that I can create value without needing another person.
That last point has become one of my greatest frustrations with CrankyAds. I love being creative with ideas and working with the guys, but we so rarely get to see our ideas come to fruition. We have pages and pages of features and functions we want CrankyAds to have, many of which would probably flop, but a few could really change how people buy direct ads on websites. We just don't have the resources to make them happen.
Software Is A Complex Beast
Despite being well versed in minimum viable product concepts and the lean startup methodology, developing software is a terribly slow process. A much slower process than I originally thought.
I love it when we get to release new features on CrankyAds. It's probably the most exciting part for me, besides receiving validation when we actually help people to make money from their website. Unfortunately we can only roll out a fraction of the enhancements we want to, and hold back on the big changes because they will take months of development time.
For the last few months development slowed down significantly as both my partners started contract work on other projects. Mick also got married and went on his honeymoon, a pretty good excuse for not working.
As a result we've been forced to really think minimalist and prioritize tasks based on what we can get done in short sprints. We've also had to make changes to our overall strategy, for example changing our pricing structure, to help us hopefully generate more cash flow.
We've concluded that we are in a marathon with CrankyAds and the road is changing as we run it. We'd love to bring in just enough cash to support Walter and Mick so they can develop features full time and build from there. That's our short term goal, whether we reach it or not will very likely come to conclusion in 2013.
CrankyAds Improves Statistics
Since I am writing about CrankyAds, I can tell you about the first in I hope a series of enhancements we just made to the statistics we offer on ad campaigns.
Quite a few people were asking us for a more specific break down of ad clicks and impressions on a daily basis, rather than just a summary. I'm happy to say we have just rolled out this feature.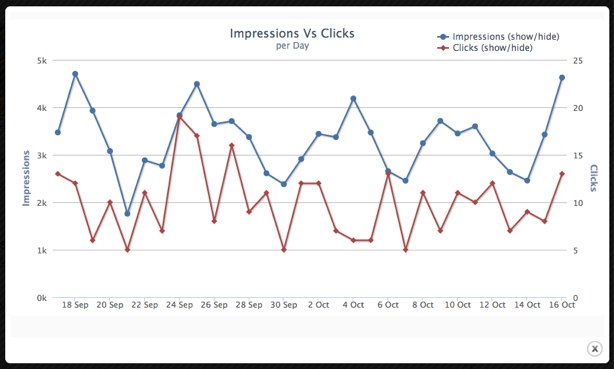 You can read more about the new stats and two other new features we just rolled out in an update I made to the CrankyAds blog.
I'd like to thank the small, loyal and growing following we have at CrankyAds. I was really impressed by how much you embraced our pricing change a couple of weeks ago. It's good to know people are willing to share some income to pay for a service like CrankyAds.
If you have yet to try us and want to sell ads on your blog, please give CrankyAds a go and let me know what you think.
I'll continue to write more about CrankyAds here on EJ when I feel it makes sense to do so and when I can use it as an example to help pass on what I am learning. Even if CrankyAds doesn't find a way to become a viable company, it has, and will continue to be a tremendous learning experience – and a whole lot of fun too (it's great having two business partners to joke around with and still call it work).
That's it for now.
Yaro Starak
CrankyAds Founder