One of EJ's most popular guest columnists, Dr. Mani, has popped back in to submit this article. Take it away Dr. Mani…
Picture me sitting in front of my computer, writing this article.
The phone rings. I answer. It's my friend. He's moving, and wants some advice. For 5 minutes, we discuss his plans. Then I hang up, and return to writing.
"Dad, can you get my towel, please?" my daughter calls out from the bath. I oblige.
As I walk back to the desk, my wife reminds me to turn off the switch to the water pump – which means a trip downstairs. Job done, I hurry back up, new ideas for the article running through my mind.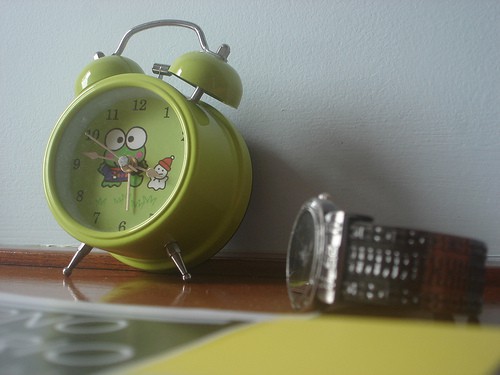 But just five minutes later, the front doorbell rings. Hesitant to break the flow, I wait for someone to volunteer… but then remember that I'm expecting a parcel, and rush down to pick it up.
When I finally get back to work, there's a "Beep! Beep! Beep!" It's my timer, set to alert me when 30 minutes are up – so that I can take my mandatory five-minute break!
So, that's what I do.
– – – –
This work style won't sound foreign to entrepreneurs like you. In fact, replace the specific instances with others of your own, and I could be describing exactly how you get through your typical work day!
Conventional time management teaches you how to overcome such 'distractions' and 'focus' on your tasks. It shows you ways and techniques to tune out other things as you devote yourself with mono-maniacal determination to accomplish your major chores and get that important project done.
Maybe that approach worked for the managers of yesteryears. But as a modern digital entrepreneur, you cannot afford to ignore or shelve other elements of life – because you know that all of them matter.
The challenge you face today is one of balance. And harmony.
That's why you need a new paradigm of time management. One rooted in embracing every facet of your complex work day, managing each of them well, and balancing diverse components of the magical fabric that's your life.
You want it all. You deserve it all. And you can have it all.
But not by following an outdated model of struggling to manage time. Why not?
Because time cannot be managed!
There, that's a radical, even revolutionary concept, brought out in the open for you to assess, evaluate, and accept – or even reject.
Just think about it. You, me, and everybody else has the same 24 hours in a day. Some of us make better use of it than others. Yet none of us manages time. Each of us manages ourselves differently. And by doing it better than others, you can squeeze more out of your day than anyone else.
No, this isn't a contest or competition. You're not trying to beat someone else at this game. You don't (or shouldn't) care about how others are doing it. Your focus should be internal, on yourself and your unique needs, dreams and expectations. That's the Time Management Tao style of becoming more effective.
To casual inspection, this approach is no different from any other. It has 3 tenets:
Find your center – know WHAT to do
Understand your order – know HOW to do it
Pick your timing – know WHO to use & WHEN
Allow me to explain briefly.
Find Your Center
Conventional efficiency training is obsessed with drawing up lists of things to do – and then getting them done, while ignoring everything else.
It's a great system, and works very well. There's just one problem with it. You don't always get to make a list based on your priorities and needs. In fact, most hyper-efficient managers don't even know what those are, preferring to subjugate them to the needs of their organization, or company, or boss.
Not surprisingly, even when this makes you more efficient, it leaves you angry, upset and frustrated with your life – because rarely (if ever) does it resonate with what you truly want.
In the Tao way, goal setting begins from a self-exploratory standpoint. You start by finding out what you really want in the four major areas of your life – money, relationships, health and spiritual growth – and then weave everything else around them.
Understand Your Order
Time management courses teach you how to draw up a to-do list and prioritize each item on it (using an A-B-C-D rating), before getting to work on your 'A' list of activities.
That's fine – as long as your priorities are correct.
Unfortunately, too often, they are biased and uni-dimensional. The result is that entrepreneurs who are super-successful in one area of life end up as miserable failures in other (equally important) areas.
A hard-working business owner may amass massive wealth – but ruin her health in the process.
A multi-tasking executive meets deadlines by bringing work home – but destroys his relationships permanently.
A well-travelled sales person breaks records and brings in high-value clients – yet feels empty and worthless, with no real purpose or meaningful relationships in his life.
By contrast, the Tao approach begins by defining priority rules before even opening your daily planner to jot down the day's chores. That ensures every task is viewed in the broader context of other dimensions of your life, making each activity synergistic in crafting the life you dream about – and so richly deserve.
Pick Your Timing
Nature cannot be rushed. You can't harvest a crop overnight, even if you stay up all night watering your seeds. You can't get a newborn baby to sit, stand and walk in a week, even if you train it with all your heart.
Yet time managers all hope vainly that by following rules and working to their plan, they can twist things around and control their future. When this approach fails, bitterness and weariness sets in.
Enthusiasm wanes. Passion fades. Hope dims.
It doesn't have to be this way. Getting things done is a natural extension of setting the right goals and prioritizing them according to your overall life plans and ambitions.
When this is done well, the rest is merely a matter of execution. Finding the right people to help you. Delegating work intelligently. Having faith in the process. And – most important – staying patient and persistent until the result of your efforts appears.
– – – –
So… what about this darn article?
It's an example of the process at work.
A cup of tea later, I returned to writing it – and got it done in 15 minutes!
Plus, there are some nice fringe benefits:
My wife and daughter are still on speaking terms with me.
My friend has invited me for coffee later this evening.
And the courier delivered a book I've been looking forward to reading all week long.
Life is good.
That's what time management tao can help accomplish in your life too. Efficiency combined with effectiveness. Balance and harmony with the other elements of success. Deep satisfaction, combined with a sense of productivity and purpose.
Don't you want to learn more about it?
Dr. Mani
Photo courtesy of Orange42