A few months ago, Walter and Mick, my co-founders in CrankyAds.com, and I were having a brainstorming session to come up with App ideas.
Since both these guys are entrepreneurial we tend to go on these long tangents sometimes, thinking of cool ideas that just spring forth as we browse around the internet. More often than not we don't actually follow these ideas up because we haven't got the time or resources, but they are still fun to think about.
However I was thinking that if I could find an external resource, like an outsourcing company, we could have one or two of our ideas developed by other people while we are working on CrankyAds. I'm all about the leverage right…
As a result of this I connected with a firm that represents Pakistani developers. The company can develop virtually anything online. You work with a project manager and they develop your projects using their team in Pakistan.
My New Idea
I had a few chats with the owners of the company and decided I would get them to quote on one specific idea I had for a social media tool.
I was playing around with Pinterest at the time and reading about how much traffic the site is driving. Pinterest is an absolute monster for referring traffic, especially e-commerce traffic since so much of the site is full of products that people want to buy.
What I really like about Pinterest is the format. It's perfect for browsing quickly, is very visual and offers continuous scrolling for new content. I think for some sites, a Pinterest style design can do a lot to increase pageview counts and time on site duration because it's just so addictive.
For a moment I even considered changing the front page of EJ to mirror a Pinterest style design to see what it would do for my traffic statistics. I may still test it, although I have to admit I am fond of my current layout.
These thoughts lead me to a new idea, one that I really liked.
How good would it be to have a page that collects all your content and social media feeds in one place and displays them in Pinterest style layout. Imagine your Twitter timeline, your Facebook wall, your YouTube Channel videos and your blog posts all in the one page, displayed in boxes with headlines and pictures and media just like Pinterest.
I thought it was an awesome idea, a page where you could combine everything about you in one of the best formats for displaying content.
I believed it wasn't too tricky to build it as a WordPress plugin to begin with. You install the plugin, link it up with all your social media and content feeds, then it pumps out the page for you dynamically. Easy enough right.
Getting A Quote
I scribbled out some drawings and wrote some notes about my idea. I handed these details to the development company along with a brief stating that I really didn't want to spend more than $5,000 on this, preferably less.
They went away and worked out a quote for me. After some talking it appeared that my simple idea may not be that simple and the $5,000 price target would only get a very basic version of my vision.
Based on my new found experience with software development thanks to CrankyAds, I realised that even making a simple version of this idea would very likely turn into something that required more management and more money than I could afford.
I decided I just wasn't in the right place to commit to something like that, even if a team I wasn't looking after was working on it. I would need to focus time on it, which was divergent from what I was already doing (another lesson I have learned over the years – focus on as few things as you can for best results).
The Rebel Mouse
A couple of weeks ago Leslie Samuel pinged me on Skype. He shot through a link to a new page on BecomeABlogger.com.
It was my idea!
I had shared my concept with Leslie when I first came up with it to get his feedback. He said it was great and gave me a few suggestions.
Before you get worried, Leslie didn't go and steal my idea. He had actually visited Gary Vaynerchuk's website and noticed that his front page was exactly like what I was talking about – a Pinterest style layout meshing together all of Gary's social media and content sources.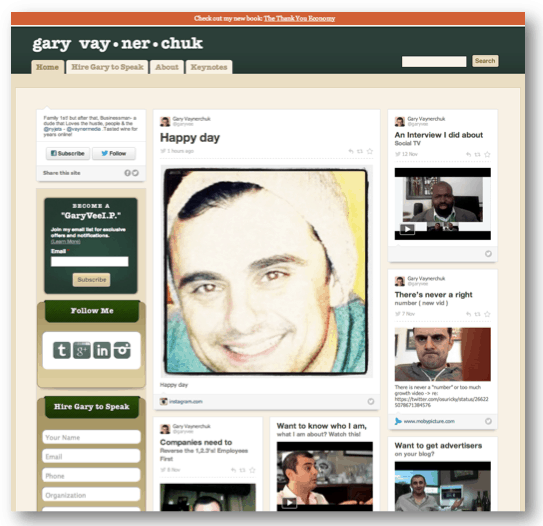 Leslie hunted down how Gary had created the new homepage and found a service called RebelMouse. Leslie registered and then installed it on Becomeablogger.com.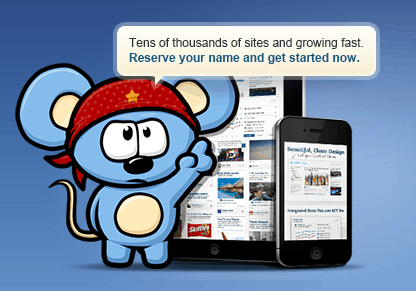 I was blown away that my idea had already been thought of and created. The more I played with it the more impressed I became. The Rebel Mouse team have nailed it, it's exactly what I was thinking and it works really well.
I have registered for Rebel Mouse, installed their plugin and set up my page. You can see it in action on my "Social" page linked from my sidebar –
http://www.entrepreneurs-journey.com/social/
I think it's pretty cool. It offers a great snapshot of my social media life, is easy to scroll through and hopefully will bring more subscribers back to my Twitter and Facebook pages.
If you want to get Rebel Mouse for your blog or website, head to RebelMouse.com
There's No Such Thing As A New Idea
I'm quite relieved that I didn't invest money in my idea because I would have ended up with something not nearly as polished as what Rebel Mouse have created.
I suspect they had the idea before I did and have a dedicated startup team working on it. It's only going to get better.
It is so true, there are no new ideas. It really is all about who executes it the quickest and does the best job.
Not that I want to put pressure on you, but if you have a good idea, go get busy and create it. Today is the day to work on it so someone else doesn't beat you to the punch.
Yaro Starak
Entrepreneur