During the dot com boom around the year 2000, and the years that followed it (this was before I started blogging in 2004), I was a guy in his early twenties looking for a business idea to make my riches with online.
At that stage I had only built a few handful of websites, hobby sites that shared content about subjects I liked.
With all the buzz of the Internet at the time, I was motivated to do something more, to build something bigger.
To fuel this motivation I read a lot of books about how the most famous companies at the time got their start, including Paypal, Google, Napster, Starbucks, and eBay.
For me, the eBay story, related in the book The Perfect Story by Adam Cohen was one of the most exciting, because the idea was so simple.
EBay grew incredibly quickly. The success was surprising considering why it was created in the first place. It started out as the coding work of Pierre Omidyar, looking to help his girlfriend out, and was certainly not intended to become a billion dollar business one day. I'll let you read the book to hear the full story.
What I really found especially eye-opening about eBay, was how much I loved the business model.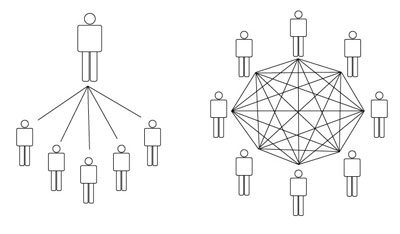 EBay allows people to sell and buy goods at auction. Both the supply and demand side of the equation are provided by customers of eBay. EBay did not have to handle inventory or delivery, just provide a platform for people to connect.
Obviously until you have sellers you don't have products you can offer, hence you won't have buyers either. As with what happened to eBay, if you can cement a leadership position in your market, what used to be a challenge becomes the best barrier to entry you can ever hope for.
The Problem With "One"
I studied a lot of business models during this time, and implemented a few with different business ideas.
For example, I used to run a web hosting and design service because I learned how to manage a server and write HTML. It made sense to start this business because my skills were in demand, especially back then, since everybody was just getting their first websites up and running.
The problem with this business was that I was just one person, trying to build websites for clients, setting up their server accounts, doing customer support and sales, etc. I had all the usual issues of a solo-operated contractor services type business.
My content hobby sites were a bit easier to operate because I didn't have to deal with customers, but it still largely relied on me for value creation. If I didn't build the websites, update them and go out there and market my work, the audience didn't show up. There was no strong mechanism to attract traffic besides my own grunt work.
I read about how other people made money online. I noticed that groups like freelancers, consultants and any person who had clients or created value by themselves, struggled to make significant money. They always complained on blogs and in forums about their annoying clients and customers and the long hours they put in, for the average salary-level incomes they took home.
One of the other challenges with the freelance/consultant model is growth. It is possible to scale such a business if you bring in talented people to do what you do, but that is a very big task, one difficult to manage while you are also delivering the core service your business provides.
My conclusion was that a business based on one person's skills, which are delivered in a per hour or per contract basis, is a lot like having a job, except you are the boss. Unfortunately you lose many benefits of employment, like sick leave, holiday pay, health cover, set hours, and usually end up working even harder for yourself, including weekends.
I decided I wanted to avoid the one-to-one business model, or even the one-to-many business model if possible. I didn't want to be the "one" servicing people.
What Is The Many-To-Many Business Model?
The Many-To-Many model is very simple. You have many customers and many suppliers and link them together as a middle platform.
They say being a middleman is good. With an online business it can be very good, because your technology is the "middleman", and the potential for scale is global.
EBay's auction technology is the platform that allows many people with products to sell to reach many people who want to buy those products.
AirBNB's reservation technology is the platform where many people who want to rent out their property can connect with many people who want to rent places all over the world.
Kickstarter's crowdfunding technology is the platform where many people who want to raise funds for their projects, connect with people who want to back and buy interesting ideas.
And perhaps the best many to many model ever built, Google's search engine technology is the platform where many people who are searching for information can reach many people who publish this information.
In most of these models, the platform provider takes a fee from the transaction they help facilitate. Ebay, AirBNB and Kickstarter all do this, and make millions from it.
Google's search engine does it too, but in a slightly disconnected way. They use AdWords to charge a fee from the many advertisers who want to pay to reach the many people searching.
Google's AdSense for publishers system is another good example. They connect all those AdWords advertisers with web publishers, using their ad delivery platform, and take a cut from every click on an ad.
It's a simple concept, but incredibly lucrative when you tap into large markets online, especially when you are the market leader.
Why Market Leadership Is Critical
Although perhaps a little dated when you read some of the examples and industries written about, many of the principles in the 22 Immutable Laws Of Marketing by Al Ries and Jack Trout are still sound.
Law 1, the Law of Leadership, talks about how being first is a powerful positioning statement in the minds of consumers. When you are first, you define a product category, and it's very hard to lose that position.
Law 7, the Law of the Ladder, talks about marketing based on what position in the market your business or product is in.
The authors explain that products which are number one, usually at minimum outsell number two by more than double. Products in position one and two sell more than the rest of the entire market combined.
The conclusion: if you are first and maintain leadership in a market you do very well.
This principle has never been more prevalent than in many-to-many business models.
The first to capture a market that is driven by a many-to-many business model, will very likely rise to become the leader, a leader much bigger than anyone else in that market.
This is often due to the barriers and advantages created by what are called Network Effects.
In economics and business, a network effect (also called network externality or demand-side economies of scale) is the effect that one user of a good or service has on the value of that product to other people. When network effect is present, the value of a product or service is dependent on the number of others using it. – Wikipedia
The sites with the most users attract the most users, making those sites more valuable. It's a positive feedback loop.
It is very very hard to take market share from leaders in these situations because why would a customer want to go with a provider who doesn't have the inventory?
Why use anything other than Facebook when all your friends are on Facebook?
Why buy from another auction site when eBay has more selection and lower prices because there are so many sellers?
Why use another encyclopaedia, when Wikipedia has so many people updating the content making it more likely to have the answer your need?
Of course there are exceptions to the rule and sometimes a better executed idea can erode a leadership position (MySpace losing to Facebook for example), but in most cases the leader wins and keeps winning thanks to network effects.
Does It Always Work?
For the Many-to-Many model to work you still need business fundamentals to be in place.
To put it simply, you must have an in-demand product or service and the ability to reach people who want it.
The tricky thing with building online many-to-many businesses, is that your customers don't always make it obvious they want what you have to offer before you create it.
In all cases a successful business will tap into a core human desire – material possessions, travel experiences, social connection – but they would not have thought of an eBay, AirBNB or Facebook to meet these needs until clever entrepreneurs made them available.
This is why you need a mix of innovation, business and marketing skill and a willingness to experiment with unproven concepts, to create a true, market leading new business.
The book, Blue Ocean Strategy, offers a framework for creating what the authors call "Blue Oceans", otherwise known as uncontested markets.
A "Red Ocean" is bloody from competition for marketshare by several companies who are vying for the same customers. For one company to increase marketshare, another has to lose it.
A Blue Ocean is the creation of markets clear of competition – a way to lead a market by creating one.
If you combine this principle with a many-to-many business model, you have the formula for a very lucrative result.
Easier said than done of course, but knowing a strategy for what you want is a good first step.
My Own Attempts At Many-To-Many Businesses
My greatest success online in terms of financial return, is blogging and teaching, which is not many-to-many.
My blogging and training business is one-to-many. I am the content producer, and many people enjoy and pay for my work.
I do a good job of extracting high value from this model using limited resources, mainly because it taps into a skill I have that I enjoy using (content creation). I leverage my work in a very efficient one-to-many model. There's only one me however, and it's hard to scale Yaros without some pretty good cloning technology.
My first real online business, BetterEdit, was a true many-to-many business, offering editing services to many students provided by many editors. My business was the middleman. The technology platform was very simple, just a website that explained the service and an email distribution platform to connect editors and students.
It wasn't a pure many-to-many business however because my company represented the editors. To make it pure many-to-many, I would have to let the editors and the students meet and arrange the details between themselves, and then take a cut of the transaction. Basically an Upwork-type service niched down to just editing and proofreading.
The benefits of many-to-many were there however – the ability to scale on either side of the relationship to as big as demand could get, without my own workload increasing dramatically.
The business succeeded, and happily generated over a $100,000 a year in sales during the peak time I owned it, however I never put in the necessary marketing steps to go much further.
I knew there was a very large market still to be tapped (and still is), but I didn't have a way to reach them all around the world effectively. I decided to sell the business rather than continue to work on growing it.
More recently I worked on CrankyAds, an ad network that connects website owners with advertisers, using our custom built ad serving technology.
This is another many-to-many business model, as we serviced many publishers and had many advertisers buy ads from them. We then took a slice of the transaction to generate revenue.
The business succeeded to attract a small and loyal user base, but rather than scale further, we (my co-founders and I) decided to close it down because we were no longer interested in being part of the advertising industry.
Both my many-to-many attempts so far have worked, but they have never truly scaled big, so have not taken advantage of what many-to-many is really about – massive leverage through network effects.
What About You?
Now that you know what many-to-many is, why it's superior to other models and how it can lead to billion dollar businesses, you can contemplate your own ideas.
To help everyone think more about many-to-many, please leave a comment telling us what is your favourite many-to-many business.
Yaro Starak
One-To-Many