Here is another business idea from Yaro's notebook of business creativity. As usual if this idea inspires you don't be afraid to steal it, modify it or do anything you like with it. It is completely open source and I'd love to see it put into action. Or perhaps if you know of a business already operating in a similar manner to this idea, please feel free to point it out in a comment reply.
Car Advertising
I had this idea back when I was studying at university after getting my first car, a secondhand white Mitsubishi Cordia (this car later died in a car accident, may she rest in peace). Many small business owners already detail their car, van or business vehicles with their logo, phone number, web address, email etc. Pizza business are a good example – their fleet of vehicles are covered in branding and may even feature unusual augmentations such as a giant phone on the roof of the car that draws attention to the vehicle.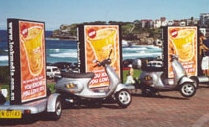 A car is a great advertising tool because it has such broad exposure, it's like a mobile billboard, and some clever people have taken this one step further and created mobile billboard services. It's quite common to see mobile billboard advertising vehicles driving around my city. You may have seen large trucks with a full size billboard in the back and even little mopeds/scooters, often travelling in groups of three (they travel in packs), pulling little billboard trailers promoting the latest softdrink or fashion label.
Many-to-Many Car Advertising
I came up with the idea to establish a many-to-many business model to provide car advertising services that would provide income to students as well. This was before mobile billboard businesses existed, at least in Brisbane, Australia. At the time I had no specific comprehension of what M2M was, I just understood that for scale efficiency on both the supply and demand sides of the business equation that this sort of model was the way to go.
In a nutshell this how I envisioned the business would work – Students, or people in general, could offer their car to be detailed with an advertisement from a corporate sponsor. In return they would be paid a once off fee, or a monthly fee, depending on the arrangement with the advertiser. The business would act as the middle man, coordinating the sale of advertising space, the detailing of cars, signing up new cars and controlling campaigns. The business model provides access to a potentially huge fleet of advertising vehicles limited only by the amount of advertisers willing to pay for the service. It would be possible to localise a campaign by grouping cars based on where the owners live or frequently travel, or even on the type of car (a fleet of four wheel drives for example) or even based on the model (VW Beetle for example).
Of course it would be necessary to ascertain any laws that might impinge on the business working, whether their are any restrictions on car advertising etc. The business would also need to coordinate quality control since perhaps certain advertisers would not want to see their brand associated with a banged up bomb student car.
Side Idea: Car manufacturers could possibly twist this idea as a method to reach the student market. Target early adopter students, offer them a heavily discounted or free new model car with the condition that the car is detailed with extensive advertising of the car/brand. You could possibly even wrap this idea up into a competition or promotion to give away a car or three during launch. I would imagine someone that just won a car or was offered a significant discount would be telling all their friends and driving the car around campus, to parties, everywhere, and the car would be a roving advertisement providing significant exposure and brand recognition.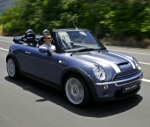 Of course there is a fine balance to be kept between good branding/exposure vs. negative and this form of advertising would not be for everyone. It's certainly has the potential to dramatically increase the exposure for a new product or service if handled well. Imagine a fleet of Mini Coopers driving around town plastered with imagery of the iPod Mini. That would certainly stir up some attention and repeat exposure.
Yaro Starak
Entrepreneur