Squeeze Theme is the latest blog theme from the guys at Unique Blog Designs, who are the designers of some of the top blogs in the world, including the one you are reading right now.
Squeeze Theme is a premium theme for the WordPress blogging platform. Its purpose is to add significant additional functionality and scope beyond what the basic WordPress install includes. Here's a video that explains the key features –
In Squeeze Theme's case, its purpose is to augment WordPress so you can use it as a tool to create "squeeze pages" (or namesqueeze pages), which are pages that focus on capturing an email address of the visitor so you can build your email list. You can also use Squeeze Theme to create sales pages, and standard blog and blog magazine layouts.
Bear in mind Squeeze Theme is not a custom theme in the sense that you buy a certain blog layout style which you can then change or use as is. In this case you're getting a tool to create lots of different types of websites more easily using the tools that Squeeze Theme provides.
The idea is if you are not a coder or designer you can buy a premium theme like Squeeze Theme and it makes it easier for you to create all the different pages your online business needs. Instead of having to play with the code, you get an easier to use back-end interface to control all the different elements like style, color, layout and design.
How Much Easier To Use Is It?
I spent a couple of hours playing with a demo version of Squeeze Theme so I could get my head around how it worked.
Previously I've also tested other premium themes like Affiliate Theme (also from Unique Blog Designs) and Joel wrote a review for this blog of the Thesis Theme.
My first impression, which has been a consistent experience for me with every premium theme I have ever played with, was one of confusion.
In order to offer lots of customization power you have to offer lots of options. This is why when you first log into the Squeeze Theme control panel you are overwhelmed. Expect to feel lost and not sure what to do next.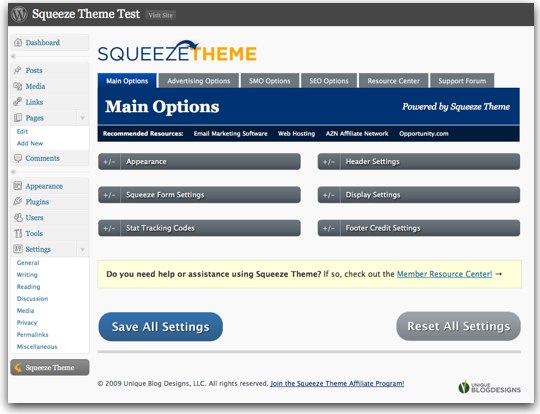 I immediately started to play with all the options to see what changes what, but if you're not the type who likes to tinker to learn, you can follow the many how-to videos provided by the Squeeze Theme team to show you how to use their latest platform.
There's a members resources area with the help videos, a support forum and more tools to help you get the most from the theme. There's also a quick start guide to help you take the first steps to begin using the theme immediately, and a course called SqueezeCamp, which is a 12 week training program you can optionally purchase (available to the first 150 people only) to learn how to really get the most out of the theme, build an email list and make money from your blog.
I'm going to be completely honest with you though – you're not going to instantly be able to understand how to use this theme. You will need to learn through studying the videos and playing with the options until you understand what controls what. I'd say you would need to commit to at least a few hours of practice before you will feel even basically comfortable with how it works.
It also depends how comfortable you are with control panels as to how quickly you become accustomed to the theme. If you play around with the WordPress control panel already, have some basic HTML or CSS skills, then the Squeeze Theme options will not take long to grasp. If you're advanced, you will enjoy the high level of customization options Squeeze Theme provides, so this is definitely a theme that's accessible and relevant to all user groups, except absolute technophobes.
The only group of people I caution is if you are completely computer illiterate. If you don't know how to use something like Gmail effectively, buying Squeeze Theme is not going to suddenly allow you to build a perfect blog or squeeze page. There's a learning curve here and for some people you're just not meant to be a blog designer, no matter how good the tool is. If that's you, hire someone to do your blog and squeeze pages for you, and if necessary, they can use Squeeze Theme for you, to get things done quickly.
Why Would You Buy This Theme?
Here's why I really like Squeeze Theme.
My business currently consists of three types of web sites –
A blog, like you are reading now
A squeeze page like what I offer at http://www.blogmastermind.com
And a sales page, like what I offer at http://www.blogmastermind.com/coaching/
You can use Squeeze Theme with WordPress to construct all three of these pages and run them off a single domain name and one installation of the theme.
It will take some time to build all three sites of course, but management of all the different elements will be under the one control panel. You never need to use FTP, code HTML or CSS or do any programming if you don't want to.
If you like the sound of that and you're prepared to go through the learning curve, Squeeze Theme is a great choice.
Ultimately though, what Squeeze Theme does best is allow you to create small pages that are designed to capture an email address.
You might use video like this example page that was created using Squeeze Theme –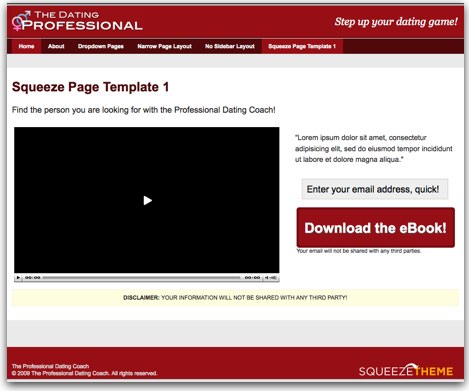 Or a page like this demo –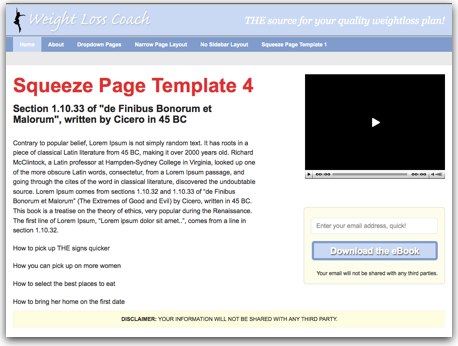 Or you can use it for a sales page like this demo –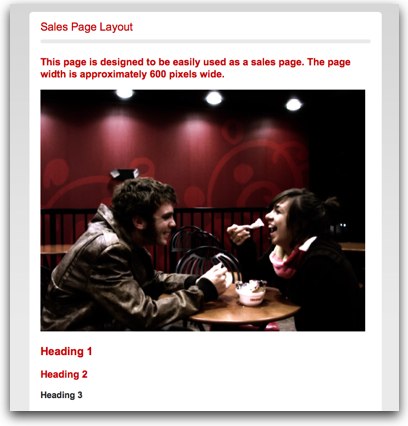 All of these sites would need content added, but you can get a feel for the versatility. Each of these layouts are completely customizable. You can add an ebook cover graphic, a video, align the opt-in box to the left or the right, include the opt-in box in a blog design on the top, bottom, left or right or do basically whatever you want.
It's a very versatile theme, which makes WordPress into a complete content management system to create sites you can use to build email lists and sell products with.
What Else Do You Need?
Since we are talking about email list building (one of my favorite subjects), you're going to need an email autoresponder system.
I recommend AWeber, as do the guys at Squeeze Theme, and many other top bloggers use it as well. Integrating your opt-in code that you get from AWeber to create the forms to capture a name and email, is a simple copy and paste operation with Squeeze Theme.
You can read my review of AWeber here – AWeber Review
You're going to need WordPress, which you can get for free from WordPress.org, and you will need a place to host your sites too. I recommend HostGator as a good introductory web host.
If you don't have a domain name, you will need one. You can try NameCheap for this.
If you're not able to install WordPress and the Squeeze Theme, there is a service provided by the Squeeze Theme team where they will set-up and configure the theme for you for an extra one-time $97 fee, or you can buy one of the bundles that includes the installation. This is a good option if you're not good with playing around with servers and just want theme installed ready to use.
How Much Is Squeeze Theme?
As I write this review Squeeze Theme has just launched and they are offering a 10% to 34% off promo.
Prices range from $97 to $274.30 depending what bundles you take. I expect these prices to increase once the opening promo is over.
SqueezeCamp, a 12 week bootcamp training program on how to get the most out of using Squeeze Theme to build your email list and blog, and make money from both of them, is available as long as you are one of the first 150 students (the camps closes on the 1st December 2009).
If you want all the details on the different bundles and the current pricing offers, check out order page –
Do You Really Need This?
There is a certain type of person who stands to benefit from a premium theme.
In my case I don't need them because I have other people who do my blog design work. These people might choose to use a premium theme to make the work they do for me easier, but it's not something I personally need to make use of.
If however I was just starting out and didn't have the funds to have people do all my tech work for me, and I was prepared to take the time to learn how to use a premium theme's features, they make a great choice.
WordPress itself is a great tool, but as soon as you want to make use of it for anything other than a blog, things are limited unless you add clever plug-ins or purchase premium themes.
Squeeze Theme is a great choice if you want to build squeeze pages and use the same system to manage your blog and sales page.
Affiliate Theme is a great choice if you want to create mini-sites and landing pages that direct people straight to an affiliate offer.
Thesis Theme is a good compromise between the two, having the power to do it all, however there is a learning curve here too and it's not as focused on a particular type of website (affiliate sites or squeeze pages) as the other themes.
All these themes are great choices, supported by excellent developers and I would recommend you investigate them all.
In my opinion, email list building is the most important thing you will ever do online for your business. If that's an area you are currently working on, Squeeze Theme is a good choice to help you build the pages you need easily, once you figure out how to use the tool.
You can buy Squeeze Theme here –
Yaro Starak
WordPress Blogger
P.S. Gideon Shalwick did a great little video to show you how he put together a quick squeeze page using the theme.
Check it out below –