I'm sitting at a Max Brenner "chocolate by the bald man" shop, slurping a dark chocolate iced frappe in Melbourne as I type this on my macbook air.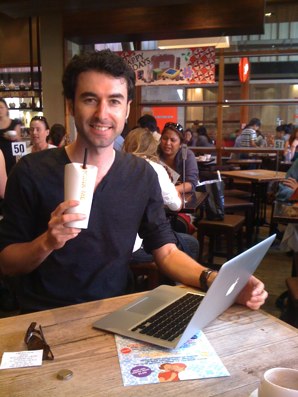 This is the first chance I've had to get some laptop time in the past three days because I've attended a wedding of a high-school friend. What made the wedding unique is because it was an Indian wedding, which means it's a big occasion, with over 250 people showing up at different ceremonies, held over three days.
Melbourne is a great city, my second favorite in Australia after my hometown of Brisbane. I love the trams, and although the weather is a bit unpredictable, I like how much cooler it is compared to Brisbane. It's like Brisbane winter temperatures in summer at night in Melbourne – that means long pants and no sweating, a welcome relief from what has been a hot summer in Brisbane so far. Most of the biggest events come to Melbourne, including the Australian Open tennis, my favorite tournament of the year.
The wedding has been an amazing experience, with such a variety of ceremonies, including traditional Indian customs, food, dancing and clothing. I have a small family, so seeing such a massive group of people come together essentially just for two people, along with all the emotions involved, is at times overwhelming, yet an inspiring experience too.
If you want to see photos from the wedding I've tweeted a few of them, so just check out my Twitter profile for the links. And if you're reading this – a big thank you to Venkatesh and Nishi for the invite to your wedding, and congratulations again.
The Year That Was
Now that the wedding is over I'm back to the real world, thinking about what's coming next in my life. No doubt you're thinking about what's coming up for you in 2010 as well.
This is the last blog post I'm going to write this year, actually – this decade. That makes it a great time for reflection.
In 2009 I turned 30, and celebrated that milestone on this blog with a reflective blog post looking back over the last ten years of my life. You can read it here –
How To Become Comfortable With Yourself
Since I've already covered the highlights of the last decade, and this blog is a chronicle of the last five years of my life, I'm going to focus now only on the year that was and also what's coming up next.
Looking at small time-frames works a lot better for me. I don't make five year plans. I don't even make one year plans. I do look to the past to help me frame my future intentions, however they serve more as learning tools and reference points for what I want now more than anything else.
2009 has been a particularly inspiring year for me because I realized how completely in control of my reality I am. Sure I've understood that idea long before this year, but it was more a concept to me, something that made sense but didn't always manifest exactly how I would expect it to if I was in control. In 2009, especially now in December as I look back, I realize this year more than any other year, was a reflection of what I wanted to experience and thus made physical.
The Law Of Attraction
Earlier in the month I attended a live one day seminar by Jerry and Esther Hicks, who you may know as major players in the movement that is the law of attraction. The Secret DVD featured a lot of content from them, though I should clarify, it's not specifically these two people who teach, it's an entity named Abraham, who speaks through Esther, who does the teaching.
If you're skeptical when you hear the idea of someone "channeling" another being, I don't blame you, I've felt similar judgments in the past, although it's not such a big deal for me any more. I don't care where people say information comes from, we just put labels on things to give different meaning. Whether it's experts, channeled entities, or even god who is speaking to you, it's all the same thing. Listen to the message, not the messenger, and if it resonates, take it on board.
If you need the messenger to help lend credibility, that's fine, just don't be too quick to judge before you listen to the words. Far too many people miss out on potentially life changing insights because they refuse to take on ideas simply because of where the information is coming from. If something challenges your way of thinking, don't reject it on principle, keep your eyes and mind open, listen to the words, see how what is being said can fit into your world view, and grow from there. You don't have to like or even trust the messenger, to benefit from the message.
Setting Intentions
Seeing Abraham speak live on stage was a great experience. However it was the days that followed the event that I realized I had turned a corner in my ability to control what happens in my life.
What was interesting about this awareness was not that I suddenly could manifest whatever I wanted, it was that I had already done it – and in this case, manipulated aspects of my life that I previously struggled to change. I'm talking about aspects of my personality and life that had remained rigid for years, which in the space of months had completely changed, and it was all thanks to what I was thinking, the actions I was taking as a result and what thus manifested in my physical world.
Since we are reflecting, it's worth taking a moment now to look back over the previous 12 months of your life and ask yourself these questions –
In January, what where your big goals, the big changes you wanted to experience in 2009?
Regarding the big changes, how did you think about them – what was your attitude and thought patterns about what you wanted, and how consistent was your thinking?
What actions did you take to realize these changes? Where your actions congruent with your thoughts and how resilient were you to perceived setbacks?
Did you get what you wanted by the end of the year? How quickly could you manifest what you wanted?
In previous years the gap of time between desiring something and experiencing it has been quite significant for me. It could take years to get what I wanted and it often wasn't exactly how I expected it to be. Although you're never sure what you are going to get, I've found lately, this year in particular, the speed of results and the accuracy of getting what I've wanted, has improved significantly.
What Made A Difference?
Below are adjustments to my life and my mindset that I made this year, which I consider most responsible for the significant shift in results I've experienced.
Remove your roadblocks. By choice and often in full awareness, I've carried roadblocks with me for years, which stop me from moving forward. This year plenty of roadblocks were eliminated. These changes required instilling new behaviors that often required facing fears. Sometimes I had to make choices not to do something I would have previously done.

The Theory of Constraints applies here. If you have something holding you back, you're not going to move until you drop the baggage. Letting go of something is mandatory to make space for what you want.

Solidify your belief in the power of intentions. Although I'm open minded enough to believe that I can get what I want and the universe will even conspire to help me, it has been more conceptual for me than practical.

This year I started to believe, and I mean really believe. Consequently I started to see proof everywhere. Now I'm such a strong believer that I find myself just asking for how I want something to play out and everything unfolds pretty much that way. It's not foolproof of course, the universe loves to remind you that mystery is still the guiding principle, but you have more power than you think you do, once you believe you do.

There's a sense of inevitability in believing in what you ask for you will get, but it has to be pure or you're going to get results as wavering as your belief.

Mystery is in control, so flow with it. Although you're given power over your universe, the underlying force behind everything is too complex for us to understand given the limitations of our physical experience. In other words, your body and mind aren't complete tools for interpreting the universe – most of what goes on is incomprehensible in physical form. As a result, it's important that you surrender to the flow of events rather than try and control them.

This might sound counter intuitive to what I've been saying. If setting intentions and believing in your power to control outcomes results in getting what you want, how can I now say that we are not in control? That's one of those wonderful dichotomies we operate within.

We have control in the sense that we can move towards what we want, but we have to understand that we can't force it to come to us. Flow is absolutely critical. This is why it's so important to live in the now, be content with what you have, work within your current reality and follow the natural pull of things. Acceptance is vital.
That last point is so critical I can't emphasize it enough. As I've grown up I've often "fought" for what I thought I wanted. It has felt like a struggle, as if I'm in battle, beating away rejections until I find what I want. This is the wrong way to go about things because you can't get what you want by fighting against the universe.
I used to hate the expression that you only get what you want when you stop looking so hard for it. I hated it because I knew it was true, but felt helpless in my ability not to respond emotionally to NOT having it. I was upset, depressed, sad, angry and above all else, frustrated, because I wanted something so badly, yet seemed unable to make it a reality.
Living with intention rather than fighting with life is the way to go. Let your life play out by following the sign-posts that flow to you when you're open to seeing them, rather than fight and struggle only to find one frustration opening a door of more frustrations. If you're not having fun, then you're doing something wrong.
What Exactly Did I Want In 2009?
Some of this might sound a bit abstract to you since I haven't been very specific with what exactly I wanted 2009 to be about for me.
At the start of the year you may recall I wrote how many of my financial goals were met. I spent the majority of 2008 traveling, so I felt that staying put in my home city was what I wanted to do this year. As much as I like traveling, I enjoy staying in one place more as I can focus my energy on doing exactly what I want and not be distracted by organizing the next hotel, flight, train-trip or site-seeing experience.
Sleeping in my own bed is also one of the most wonderful pleasures, so I was keen to make that the standard for the year, rather than the exception.
Many doors opened up to start new business projects during the first half of 2009, which were potentially very lucrative. The problem was that I didn't want to focus on projects that while no doubt would be fun, were building upon an aspect of my life I felt was running quite smoothly.
I made choices this year to NOT do things that most people would think I was crazy to reject. I said no to doing a live event joint venture that would most likely have led to making multiple six figures – even a million dollars – from just one weekend.
I decided not to offer a high-end coaching program in 2009, which again was saying no to thousands of dollars of potential income. I will be offering elite coaching in 2010, now that I feel well and truly ready to focus on it, however it's clear to me that in 2009 I made the right decision not to.
In short, 2009 in terms of business was sort of like a holiday, which is what I intended. I did go public with a new course, Membership Site Mastermind, which sold very well and is still the highest priced program I have out there. Blog Mastermind continued to sell well. Gideon and I had another very successful launch campaign for Become A Blogger Premium. My affiliate marketing efforts brought in more money in 2009 than all previous years, despite the so called global financial crisis, and of course my blog continued along a healthy growth curve.
This may sound like a lot of work, but it's actually not. It's incredibly easy, in fact 2009 was probably the easiest year of my life, the most fun year of my life and no doubt the most financially successful year of my life too. It was like this because I constructed it that way.
Most of the income I made in 2009 came from the money making machine I've built. I leveraged previous work to extract a high return from the assets I already own. Such a great return that I was able to purchase a new apartment and new BMW this year, despite working less.
So, if I was happy with my finances and business growth, what did I want to do with the rest of my time?
The one big area of my life I felt that was lacking and needed development was my social life. I said no to starting many new business projects so I could spend my time figuring out exactly what I wanted outside of business.
I honestly believe that your personal development is the single most important goal you have as a human being, which is an incredibly holistic undertaken, given how many aspects make up our lives. We all know this and we all know we have areas that are weaker than others. If you're not physically healthy, you know it. If you're financially restricted, you definitely know it. If you're not creatively inspired you know it.
Your spiritual development is perhaps the most important aspect, yet is often the area people are not aware they need to develop. In my case, that's not an area I felt I was neglecting – it's an ongoing life study for me, something I do every day.
The area I felt lacking the most was in relationships – of all kinds. This was the area that I wanted to focus on in 2009. This is the reason why I said no to projects. This is the part of my life that most of my new intentions focused on in 2009.
Constructing A Social Circle
I'm a reasonably content person when I'm by myself and as an introvert I crave alone time, but I'm human, so I need interaction with other humans too.
In 2009, although I didn't exactly realize how it would unfold, I managed to create an entirely new social circle. I made more new friends, had more intimate relationships and most importantly – had more fun with other people – than ever before.
I started the year intending to have certain experiences and work on the aspects of my self that would lead to those experiences. Although I didn't realize it always in the moment, when I look back, it's amazing how the right people came along at the right time to give me the tools to achieve what I wanted.
Although I was frustrated many times during the year when I hit roadblocks and felt I was still experiencing the same lack of results in certain areas that I had throughout my life, or stopped myself because of the same fears, gradually things changed. This month, the last of the year, as I look back, I'm amazed that exactly what I wanted 2009 to be about – happened. I experienced what I wanted, and learned more things about myself than ever before.
Of course experiencing what I wanted inevitably led to changes to what I want. That's the beautiful thing about taking action – you always learn something, often creating an awareness that what you thought you wanted is not what you wanted, or after experiencing something, realizing that you had made that experienced out to be something more than it actually is. The important thing is that growth occurs, and for me, 2009 was a mammoth year for personal growth.
Right now there are very few aspects of my life I feel insecure about. Yes there are challenges and the same old fears are present, but having faced these challenges and fears, they now have less power over me and have allowed me to "dream bigger" about what I want from life. You can't ask for more than that, and I'm looking forward to more growth in the years to come.
Find Your Life Balance
For the first time in my life I feel well and truly balanced and content with who I am. It's been a VERY long journey to get here, and finding the right mix of all the different elements is tough.
It's so easy to keep doing what's working for you, or what requires the least of you, but that's rarely the path of satisfaction. Leaving your comfort zone is a required practice for growth, and as part of that growth process, you come to appreciate even more what you already know you like.
In a wonderful way, the experience of evolving and growing, makes you enjoy your existing passions even more, because you realize they are what matter most.
In 2009 I've loved music more than I have ever loved music before. I've enjoyed writing this blog and teaching other people more than ever before. I've enjoyed the people in our industry, and the gift of freedom as an Internet marketer we experience every day, more than ever before. I've enjoyed learning from other people, in particular spiritual insights, more than ever before. Everything has just become that much more fun, enlightening and special, because I'm not fighting to feel a certain way, or looking to find something I feel I am missing.
There's much more to do yet, but what I do know for sure is that my future is about two things –
Enjoying more of who I am
Helping others to find enjoyment in who they are
And if you look closely, you realize these two things are actually the same thing.
Happy new year, and I'll see you in 2010.
Yaro Starak
Actualizing