I've been debating for a while whether to publish this blog post because it's a bit off topic and very self indulgent, however lots of people have been asking me questions about these two changes to my life, so I've decided why not tell you about them.
Consider yourself warned, this article will not likely improve your life or your business in any significant way, but if you're curious about what's going on in my life, read on.
(On a side note, it never ceases to surprise me how talking about your personal life on your blog, no matter how unrelated it is to your blog topic, can enhance relationships with your audience. Voyeurism is alive and well in the blogosphere and is a great traffic technique. So there you go, I did manage to sneak in an on-topic lesson.)
I Finally Got The Chop
You probably know me as that blogging guy with the long hair and the funny name who looks like this –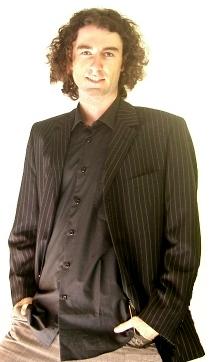 Late in 2009 I decided, after more than five years with long hair, it was time to go back to the short hair version of me.
The funny name stays, but today I look like this –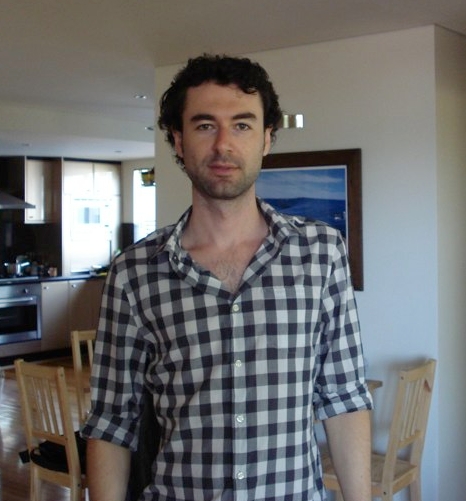 As a kid growing up my mum was in charge of my hair. She figured what's the point of hair cuts so I just looked scruffy most of the time and was often confused for a girl when I was very little.
As a teenager I wanted hair like Nick Carter from the back street boys because I figured he got the girls, but that wasn't going to happen with my fuzzy curly hair. I tried and went with long hair over an undercut (that's shaved underneath and long on top – not a good look!) and wore my hat a lot to try and straighten my hair, but it never really worked.
In my early twenties when I went backpacking in Tasmania I cut my hair to the shortest it has ever been. The photo inset is me on top of Mt Wellington near Hobart from that trip.
Making the decision to go back to short hair, surprisingly, wasn't just a personal image choice, it also forced me to consider my business image too.
Personal branding is important as a blogger, especially in my situation where a unique feature has distinguished me for so long. For the past five years my long hair, which appears in banners across the web promoting my free reports and programs, and on my blog, has identified me.

This may sound strange, but I seriously wondered if cutting of the curly locks would have an impact on my brand.
I've had short hair now for several months, and besides not being quite as easy to recognize at live events (sometimes a good thing!), it hasn't really had that much of an impact on my business. Part of the reason I'm even writing this blog post is to point out the fact that I cut my hair as many people keep asking what happened to the hair when they see things like my Twitter profile pic.
Anyway, enough about hair.
I Bought A New Car
If you followed my tweets during late 2009 you would have seen me debating what new car to buy.
With my father returning from Spain with his girlfriend and my new baby brother, I had plans to give my car to him and get another one for myself. In the end my family did a car swap, with my dad getting the Toyota Yaris my mother had, mum taking my Suzuki Swift, leaving it up to me to find a new car.
The Australian government, to help combat the "GFC", offered a 50% tax incentive on new cars purchased in 2009, so I had to December to decide what to buy.
After several months searching and lots of questions asked of my friend and car enthusiast, Alborz Fallah (founder of CarAdvice.com.au – you can listen to his blogging story here), I settled on a new car.
Back in 2007 I bought the Suzuki Swift new and moved into my suburban townhouse, and had long hair. This is what I looked like then –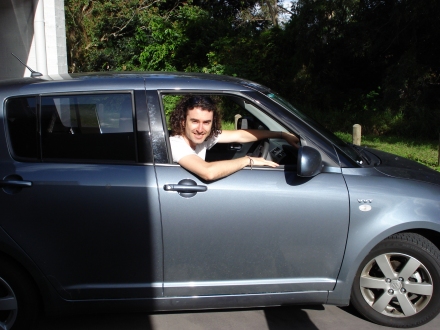 Today I have a new BMW 135i twin turbo inline six, in black with red interior… and much less hair.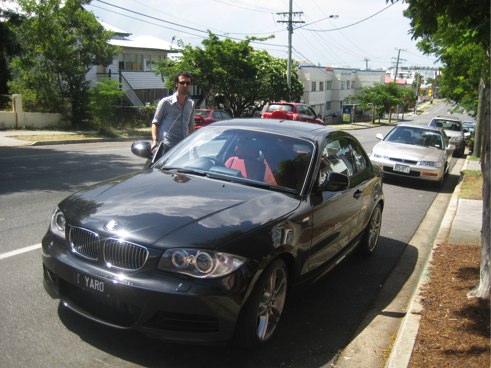 In case you are wondering, I'm not a family man, and this is definitely a bachelors car, so I don't expect to have it forever.
Another somewhat surprising consideration when buying this car was the potential to upset some of my long time followers, who like the fact that despite my financial success, I still drive around a basic car.
I've crossed over to the dark side, driving a more expensive luxury car, which could damage my brand as a "down to earth marketer".
On the flip side, pictures of expensive cars are fantastic social proof tools used by Internet marketers to demonstrate that they really are making as much money as they claim to. However some argue pictures of Ferraris and Lamborghinis etc are faked (rentals for example), and result in many becoming skeptical of the people who use them on sales pages.
No matter what your personal view, marketing psychology tells us that this kind of proof is helpful in conversion.
In the end in my case I wanted a car by December and opted for something in the middle of the pricing range I was looking at. It's definitely more expensive than my last car (about three times as much), and with much joy I can tell you the BMW certainly zooms around a lot quicker too, which was an important criteria for me.
Despite the new car, I can't fight the inner greeny in me. In an effort to decrease my environmental impact, I try not to drive too much and generally walk or catch public transport, so the BMW stays garaged for most of the time.
After learning that my new car spits out a hefty amount of pollution because of the powerful engine, I went out and bought this –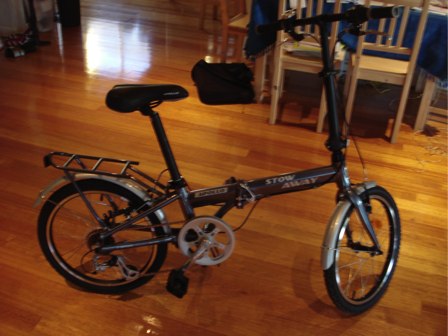 So you could say I'm in two minds about my current transportation. The BMW certainly is a beautiful car, there's no doubt about that and I'm grateful to be in a position to buy one, even though I suspect I won't be an owner for long.
How The Internet Can Change Your Life
I went from living at home with my mother, to buying my first house and first car in 2007, then in 2009 buying a half a million dollar inner city apartment and a new BMW.
(…and cutting my hair.)
It's safe to say the Internet, and blogging in particular, has been good to me.
I hope you see my story as inspiration. If you go back and read this blog from start (about January 2005) to finish you can actually see the progress I made to go from where I was to where I am. There's plenty to be learned in the archives of this blog if you are looking for the kind of success I have had so far.
If you want to follow in my footsteps and use blogging to make money, read my free Blog Profits Blueprint, now well and truly a run away success. You can get your copy in audio and text from BlogMastermind.com
Remember the secret is in the hair…
Yaro Starak
Hair Blogger