It was early 2006. I had been blogging for over a year and felt I had achieved something.
My blog had recently surpassed 1,000 RSS subscribers (what is RSS), making it at the time the most popular website I had ever built. The income was solid – up to $2,000 a month at best – and it was growing. I loved what I was doing.
My plan, based on all the Internet marketing advice I studied from the experts to "create a product", was to start by releasing an ebook to test the waters as my first product. I had already begun to grow my email list, focusing on the idea of teaching other bloggers how to build traffic, since I felt that was something I was becoming good at.
One of the keys to my success with traffic was how well I was doing in organic search results. I was literally famous in the Internet marketing space because all the top Internet marketers would find my blog when searching for their name or their products or terms related to our industry.
This is incredibly powerful leverage, if you want to meet important people in your industry, or as an affiliate marketing technique, because you can just write about something often enough if you want a top ranking for a certain term or name.
My blog's solid search engine performance has continued as a trend today, with about half the traffic I attract to this blog still coming from Google search queries. Considering how much more competitive the environment is now, with so many blogs on the same topic as this one, I consider my consistency an achievement.
I don't really talk about Search Engine Optimization (SEO) much on this blog anymore, mainly because I don't believe much has really changed over the past few years. The fundamentals are still the fundamentals. You will find plenty of articles on SEO in my archives under the SEO category if you're keen for study materials.
However, SEO was a huge part of my early studies of Internet marketing, primarily focused on attracting more traffic to the business I used to own, BetterEdit.com, a proofreading service. When I was running that business, 50% of new client acquisition came from Google search, which was important – it made the business much more hands off for me to run when you have a steady stream of customers coming in without advertising expense.
As a result of the focus I had back then and the results with my blog, I considered myself half-decent at SEO. By no means was I an expert, and I certainly didn't pretend to be one, but I felt I knew enough that I had something to share.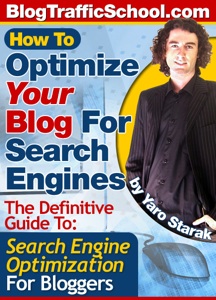 As a result of this, my intended first product, was to be an ebook called "The Definitive Guide To SEO For Bloggers", which as you can guess, was designed as a guide to help bloggers improve their search engine rankings and attract traffic from Google and the other search engines. The ebook was almost complete and I even went so far as to have a cover created for it, which you can see inset (including the big haired, old suit photo version of me).
The book was never sold publicly because I decided to release a course on traffic. I can't really remember why I decided to switch gears so late in the development of this product. It could have been because I thought selling a course at a higher price would make more money, but it was more likely due to some kind of fear based decision making or distractions. I just didn't have the follow-through at the time to do a launch.
I registered the domain name BlogTrafficSchool.com, which I still own, and focused on releasing that program instead.
Of course if you know my story, the product never saw the light of day either, so I ended up having a 75% complete course on Blog Traffic, and a near complete ebook on SEO for blogs. Thankfully the third time I finally got something out the door, and released Blog Mastermind as my first product. The rest is history.
Definitive Guide To SEO For Bloggers – Revamped And Ready For Release
I recently began reviewing my ebook on SEO for blogs and was quite impressed to see that it's still full of fantastic advice. It only requires about 10% revision work and I believe it could become one of the most helpful, and true to my style – simple guides – to follow on how to get more traffic from Google to your blog.
The book is over 100 pages and includes insights into how search engines work, how to optimize the internal structure of your blog, some very solid advice on linking strategies – including 75 link building techniques, with some case studies of my own experience using them – a quick launch checklist, and more.
It's all content of course, direct from my experience and research, into your hands.
So do you want a copy?
I will release the book for sale later in the year, however I have some good news for you if you want a copy now.
This is the primary bonus (there's more below) I'm throwing in as an enticement and I can't think of a more powerful companion ebook to go along with the membership site course.
To launch your membership site you're going to need an audience, and using a well search engine optimized blog has to be the most affordable (almost free) and long-term viable technique available. You just need to do the work, and the Definitive Guide To SEO For Bloggers explains this in some detail.
As one final enticement to make this an irresistible offer (or bribe!) to get you into my membership site coaching program, I'm going to throw in my entire mega-bonus pack, which I've outlined below.
How To Claim The Bonuses
All these bonuses will be sent in an email to all members of Membership Site Mastermind (including any person who has already joined this week and all my previous members – see I look after you too!) on Wednesday the 17th, that's next week.
To make sure you get that email with all the bonuses, you have to join the program by Tuesday at the latest, if you join after, you will miss the email.
Note you won't get the bonuses immediately after joining, you get them on Wednesday, so busy yourself with the course itself until then.
Here's the sign-up link when you're ready to go –
The Definitive Guide To SEO For Bloggers Plus Mega Bonus Pack
Here is a break down of all the bonuses –
Bonus 1: The Definitive Guide To SEO For Bloggers (Revamped for 2010 and never before released)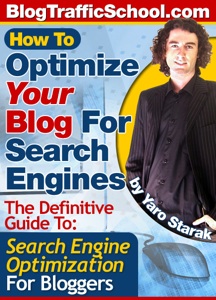 You score the entire 100+ page ebook written by me (Yaro) as a complete guide on how to optimize your blog for search engines and attract waves of free traffic.
Inside the guide you will learn –
My simple three step secret formula that is the foundation of my blogs search engine success
An outline of how search engines work so you can give them what they want, rather than fight them (this is so simple when you think about it, yet incredibly important too)
A guide on how to optimize the internal structure of your blog to give it the best chance of ranking well – and you only need to do these things once, it all happens on autopilot after that
A link building guide, including 75 detailed link attracting strategies where I explain techniques I've used to attract authority links to this blog
How SEO fits into the overall blogging formula, which if followed, can result in life-changing income, fame and real recognition for your work
Bonus 2: My Live Presentation On Buying and Selling Websites
I very rarely present on stage, and besides the people in the audience when I'm on stage, most people never see me talk in person.
This presentation is from an Andrew and Daryl Grant 4-day workshop held in Brisbane, Australia. My talk was about how you can buy and sell websites for profit, and includes –
A breakdown of my formula for website flipping, which focuses on a certain type of website
Three real life case studies where I show you what websites I purchased, how I made them more profitable, and then sold them
How I automated the management and "renovation" process so I could flip sites as a passive income strategy
Where you can go to find websites for sale and how to get the most money for your website when you are ready to sell
Bonus 3: My Live Presentation Of How To Build A Massively Profitable Blog
This presentation is also from a Grant's workshop, but this time in Sydney and the topic is all about making money from blogs. This is a comprehensive presentation, talking about the foundation of a successful blog and includes –
What structure you need in place to start blogging the right way
How to create powerful blog content that attracts people like a magnet
What methods are available to really ramp up your income from blogging, that goes way beyond just adsense
How to use your blog as a lead generator for a proper online business, not just a hobby
Bonus 4: The Keys To A Powerful and Profitable Blog Training Videos
These are special recordings of some of the key concepts that go into building a successful blog. This content has only ever been viewed by the paying members of the Become A Blogger Premium program and features 100% content from me, Yaro Starak.
The focus of these videos is very practical training on how to build and then profit from your blog. If you are looking for the specific techniques I used to build my blog and still use today to profit from my writing, this series of 13 incredible videos will help you. Topic covered include –
The critical pages your blog must have if it is to succeed
How to find your focus when blogging
An in-depth look at what Pillar Content is and how to create it
7 Quick and easy ways of getting Traffic to your Blog
How to profit selling advertising and promoting other people's products
And loads more on Building Traffic and Making Money through blogging
This really is an incredible bonus, you don't want to miss these videos.
You can join here –
Bonus 5: "How To Use The Power Of Video To Market On The World Wide Web" – Teleconference Recording With Gideon Shalwick
During this fantastic call with Gideon Shalwick I drilled him on how exactly he creates quality video using both PC and Mac. Gideon started off as a PC user and later switched over to Mac, so you're going to learn why he did this, and what exact software and tools he uses to create video.
Here's what you will learn in this audio download –
Exactly what kind of equipment you'll need to record perfect video
The secret formula for creating powerful video scripts
How to setup your shooting area to increase the quality of your videos
How to capture and record your first video
How to edit your video using a free and easy to use editing program
How to get your new video onto your own blog or website
Bonus 6: "How To Boost Critical Conversion Points In Your Blog Business" – Teleconference Recording With Will Swayne on testing elements of your blog and email newsletter to improve conversion rates
Will Swayne and his company, Marketing-Results.com.au, helped manage all the conversion testing for my business in 2008. They tested my opt-in forms and sales pages to increase conversion at each point in my business process.
In this recorded teleconference with Will, we reviewed the critical conversion points of a blog business, including –
What are the critical elements of a blog post to test to make more sales
How to sell more affiliate products by improving upon what you already do
Simple tweaks you can make to your email newsletter to improve open and click-through rates
How to change your newsletter opt-in form to boost how many people join your email list
And lots more simple tips to improve your conversion rates…
Mega Bonus Pack Available Until Tuesday Next Week
All the above bonuses are going to be sent via email to all the members of Membership Site Mastermind on Wednesday the 17th of March 2010. If you don't join by Tuesday, then you will not receive these bonuses.
All the details about my membership site coaching program and the order form are here –
I can't wait to see you on the inside of my program, and congratulations if you qualify for the bonuses.
Yaro Starak
Throwing In The Kitchen Sink