I just wrapped up watching the third video from Eben Pagan, as part of his Guru Blueprint launch. You can watch it here now –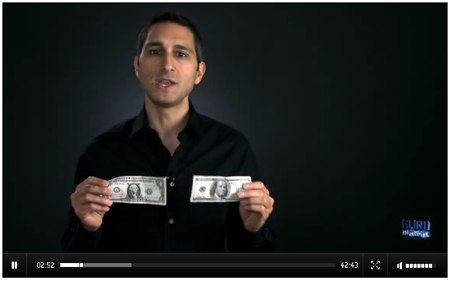 Guru Blueprint by Eben Pagan – Video 3: Content is CASH
(You will need to enter your name and email to access it.)
Eben's first video focused on the potential of selling information, especially if you can marry the convergence between what you know and what people go looking for information about.
In his second video, he went into much more detail on what niches represent the best potential for income online, highlighting the mega-niches of "health", "money" and "relationships".
He also provided a great report that revealed 29 sub-niches within the three mega-niches that represent excellent profit potential (things like raw food, alternative weight loss methods, dating advice for population segments, or credit debt elimination, etc).
The Magic Formula For Premium Perception
The third video begins with a fairly rudimentary introduction to information product creation, where Eben shows you how to record a screen capture video to create a presentation. This was very basic stuff, but if you're not familiar with screen recording programs, you will be very excited to see how easy it is.
The second half of the video was much more interesting for me because Eben presented a "formula" for converting your offer into content that is of premium perceived value, hence you can charge a premium price for it.
It's pretty obvious if you have higher priced products you make more money. That's not an absolute rule, but in most situations you will make a lot more money selling a $1,000 product over a $10 product. The challenge is how to justify and convince people that what you offer is valuable enough to warrant the premium price.
Prospects need to perceive that the outcome your product offers is of such value to them that they are willing to spend that much money on it.
This is also relevant for lower priced items, because the greater perception of value, the more product you will sell, especially given a competitive market.
If you're product is perceived as incredible then you're going to sell more of it – but how can you do this?
Eben, in his usual clear presentation style, was able to teach the following process to demonstrate high perceived value.
Process One: Create a "Magic Formula" and then give it a name.
Eben laid out the following simple process to come up with a Magic Formula. Remember this applies to whatever you are selling in your chosen niche (if you're still not sure about your niche, Eben's second video is a must-watch).
These are the steps…
What is the solution to your prospects problem?
What are the three specific action steps your prospect needs to do to solve their problem?
Name your system using the phrase "The three-step system (for example, "The three-step system for… eliminating your credit card debt in half the time")
Coming up with steps is compelling because it chunks down the system into a sequence that everyone can grasp, and then giving it a name increases the perceived value significantly. This is similar to what I wrote about if you create a "language identifier" and what that does to your perception as a leading expert.
Process Two: Link the formula to the three most important human values.
This is really killer stuff, so read carefully…
Humans need to have the value of something (your offer) explained to them and connected to what we value most in life. Eben recommends you focus on the following as the most important life values when it comes to your information products –
Money
Time
Work
Eben explained how three of the most important human values are "money", "time" and "work". In other words we want more time, or less time doing things we don't like, more money and less work.
Simple right?
The clever bit is how you link it to your Magic formula.
You need to ask yourself how you can save your prospects these three elements based on what you currently do for your people.
For example, if the problem your prospects have is too much fat and you solve it with a special diet that reduces fat quickly, then your system can… "show how to reduce fat in half the time of leading diets, without wasting money on useless supplements, and you don't have to do anything special besides eat the food provided to you… or something like that.
Eben recommend you use a special phrase to link all this together, but you will have to watch the video to learn what that is 😉 .
Perception Is Critical
Perception, not reality, is what matters in marketing, whether you like it or not. That doesn't mean you have to lie, but you can learn how to phrase the best parts of your product using language that enhances it's perception.
This really is all about good copywriting, and good copywriting is all about understanding the psychology behind, well, us – human beings.
If you don't understand what I explained in this article or you want a more detailed visual breakdown, go watch the third video from Eben, and include the first two as well in case you missed them –
Enjoy these free videos and if you want more, look out for the opening of Eben's program next week.
I'll offer a bonus for this program to reward you for buying through my affiliate link, however you will need to be on my email list to find out what the bonus is and claim it.
Yaro Starak
Watching Videos