This episode of the Entrepreneur's Journey Podcast (RSS Feed) contains an interview with Kevin Muoio. Kevin is the co-owner of iPod My Baby and iPod My Photo, two e-commerce websites selling iPod related merchandise.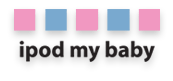 I first heard about Kevin from the podcast interview he did with Andru Edwards from Venturus. In that interview Kevin talked briefly about the blog marketing he did for his websites and that the majority of traffic (and subsequent) sales came from blogs. What made it really interesting though was that he in fact didn't operate a blog himself, he used other people's blogs to promote his business.
At the time of our call Kevin had only spent $100 on marketing for his business, and that was for some pay per click advertising, his blog marketing efforts have been completely free. Blog publicity outperformed some significant mainstream media coverage Kevin's websites received so I really wanted to hear more about how exactly he was using blogs to market his business. I decided to call him up and ask and of course I recorded everything for a podcast so we all can learn from Kevin's techniques.
This podcast has some great advice on how to use the blogosphere to create buzz and market a business without spending a cent. It very much parallels traditional PR or press coverage marketing but because of the nature of blogs and bloggers you face a lot less resistance to access communication channels. Blogs enjoy significant online network effects so a successful blog marketing campaign can result in exponential exposure for a website business. It's a marketing technique that every business should take advantage of.
I hope you enjoy the podcast.
[ Download MP3 | iTunes | Soundcloud ]
"Don't Miss Yaro's Latest Podcast Interviews"
Sign up for the EJ Podcast Newsletter and I'll send you new
episode notices and the best interviews from my archives.