Over the last week Don Crowther has released some free videos in the lead-up to his Social Profit Formula launch.
You can now watch all three of the content videos here (this is my affiliate link, but you don't have to buy anything – I strongly recommend you watch the first video, it's good stuff – especially in the second half, which changed my mindset about social media) –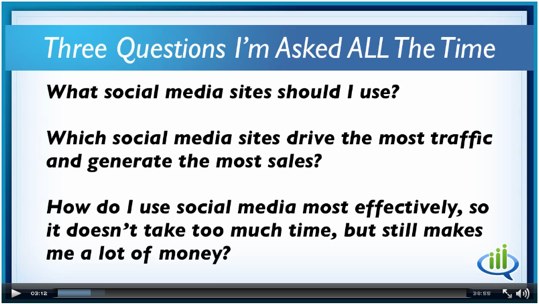 Social Profit Formula Videos from Don Crowther
I like Don. He kind of reminds me of a mad social media scientist. You can tell he likes the science and business behind social media just a little too much, but that's a good thing, because most people don't know how to actually make money with it.
Don's not your usual small time social media expert who just tweets and facebooks every day and thinks that is enough to make you an expert. He's actually got results, results for real businesses too and thus he's called upon to consult in this field, further expanding his knowledge (there's nothing like helping another person's business to grow to really understand your market).
I'm not a social media expert by any means, and after watching Don's videos I realized I don't really have a strategy with my social media and thus I use it mostly to make friends. That's great for my ego, but not for business.
I do make a little money from it no doubt, and it helps build the "Yaro" brand, which brings in traffic, but compared to what Don is talking about, I'm really far off.
It's About Business Relationships
Don is all about laser-focusing in on the type of relationship that leads to sales. Most people dilute the effectiveness of their social media by mixing messages.
One day you're talking about what you had for breakfast, then what movie you saw, then promoting a product, maybe releasing some content, etc. On the surface that seems like the right way to use social media for business, but the problem here is that you send mixed messages.
It's okay to personalize your business social media use, but it should be in relation to the marketing message you are trying to deliver. The key, as Don taught in his videos, is congruency of message delivered via valuable content.
This means creating separate social media accounts, like a Facebook Fan Page and a separate YouTube and Twitter account specifically for your business purposes and make it clear why people should subscribe. This is about a business relationship, not a friendship for friendship's sake.
Some of this is very subtle, and Don does a great job of explaining it all in his video, in particular the second half of the first video. I recommend you go and watch at least the first video now so you understand this very important distinction.
(You will have to enter your name to access the videos, then click the link for the first video.)
My Ah-Ha Moments
This is what I got out of the videos, which makes them must-view content if you have any interest in marketing via social media channels –
The key differentiator: Social Media that brings you friends vs. Social Media that makes you money
Which social media sites are best to actually make money from and how you do so (video three has a fantastic map of all the types of social media, including the best sites in each category)
Which sites require the least effort for the biggest bang for your buck. This is important as social media is overwhelming, but Don does a great job to demonstrate where and how you should spend your time using it.
Video two is 18 minutes long and lays out a strategy for combining short videos you create (one to two minutes long) with YouTube, Facebook, Twitter, your blog and some kind of protected content area where people have to give you their email to access it. This is a fantastic process and quite similar to what I do today, though of course Don's is more streamlined and focused (this video is definitely worth watching!)
The importance of integration between social media sites, because you can leverage your content production across multiple channels, getting more traffic and exposure.
There's a whole lot more in the videos, and if you have an hour spare today I recommend you watch all three, however if you are pressed for time, watch the second half of video one or all of video two – this should take you about 15 minutes.
Here is the link again –
Download The Social Profit Formula Videos
Thanks to Don for producing these videos and giving them away for free, and good luck with your opening launch on Friday.