If you haven't yet downloaded your copy of Gideon's brand new report and training video series on how to create online video blog posts super fast, make sure you opt-in here to get the free goodies!
The Rapid Video Blogging Report by Gideon Shalwick
******
Three years ago I started a project with Gideon Shalwick to produce some training videos on how to set up WordPress blogs. Gideon came to my attention because of how good he was at creating online video and using the medium for teaching.
That initial partnership turned into the Become A Blogger project, which has grossed nearly $400,000 in income.
Gideon has become my go-to-guy when it comes to online video because I know he devotes so much time keeping up with the latest trends, technology and constantly tests different equipment to produce high quality video with minimum fuss.
Video Sucks
Video can be so darn annoying sometimes. I struggled with it when I was a PC user, making use of Camtasia to create my Membership Site Mastermind training videos had to be one of the most challenging periods of product creation I've ever gone through.
I was creating 30 minute presentations for the modules, using my webcam to record my face talking next to presentation slides. Unfortunately after about 5 minutes of recording the video would start to be slightly slower than the audio, with the end result being a delayed presentation.
I figured out a way to solve the problem by only recording small chunks at a time, but obviously I was not happy.
After switching to Mac things got easier, however it has not always been a straight forward process to figure out what combination of software, lights and video equipment to use.
Gideon has been an absolute life saver in this regard as I can cut down my research and testing time simply by tapping his brain. He's done the research, so I just ask him then go out and by the appropriate tools he recommends.
I've lost track of how many times I've bothered Gideon with video related questions, but he's always had an answer for me, which is why I'm so excited to recommend his latest report and videos to you today.
If You're Interested In Online Video – Don't Miss This
During the last few months I've rarely seen Gideon in the flesh because in between welcoming his new daughter Lucy into the world he's been madly preparing a new training program.
Gideon is well aware that he has to prove to you that he can help you with online video before you will consider taking his course, so he has spent weeks and weeks preparing some amazing free resources.
The big release is his new report, The Rapid Video Blogging Report, which is over 90 pages full of information, diagrams and photographs to explain exactly how to get yourself set up quickly to produce high quality video.
In the report Gideon also lays out the framework for using online video, YouTube, blogging and an email list to create a thriving business. Gideon shows you the steps, the tools and the strategy to make this work, so if you want more leads, more affiliates, more sales, more traffic or just a greater online presence, this is a must download report.
Gideon is also releasing three content videos to explain the opportunity that is in front of you, how you can make your own videos and a case study from someone, a close friend of mine, who used video to great success to create a successful online business.
Did I mention that the report and videos are free?
Yep, you can get them all right here after you enter your email address to opt-in…
Gideon is launching his training program next week, which I am of course endorsing because Gideon's a friend and I know his training will be the best out there if you're interested in following the blogging video model.
This Is How Simple Video Can Be
Before I wrap up this blog post I have to share with you a snapshot from inside Gideon's report –

This is taken from page 32 in the report and to me is one of the key sections because it lays out a very simple set-up to create high definition videos with minimal cost.
One of the keys to creating high quality video is actually the audio. Often inexpensive cameras have good quality video, even in HD like the Flip and VADO, but the built-in microphones are not the best.
Gideon came up with an innovative method for recording high quality audio and video at the same time, using equipment that only costs a few hundred dollars. Combining this with simple software like Screenflow and your Macbook, and you have essentially a high quality video production studio, which is portable, affordable and great for bloggers.
I'm using this set up right now with my VADO camera to produce all the latest videos you see on Yaro.TV, and it's all thanks to Gideon.
You can get a full explanation of the set-up in the report and the second video from Gideon, which you can download right now from here –
Gideon Has My Highest Endorsement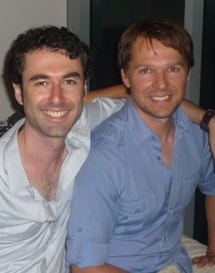 In a world full of skepticism when it comes to online marketing, Gideon is by far the most down to earth person I've ever met. He's also a great teacher.
You don't have to take my word for it of course, just watch his videos and you will see what kind of guy he is.
When his course opens up next week I'll be recommending you join so you can enjoy the benefit of having Gideon's brain to tap for help with your online videos. You won't need to go anywhere else.
Yaro Starak
Video Blogger