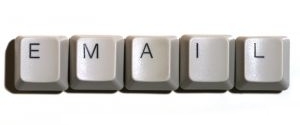 I just unsubscribed from two email lists. One was from a well established online marketer with credibility and a huge following. I never purchased from him but I joined his email list to test him out. After submitting my address I was immediately sent a bunch of materials and a lengthy email. I saved them for reading later. A day or two more I received another lengthy email, then another a couple days from that.
Eventually a pattern ensued that every 2-5 days I would receive a large email, broadcasted out automatically from this online marketers autoresponder (incidentally this was another high profile online marketer using Aweber to handle email lists). The problem was I hadn't found the time to read his first email and materials – it was information overload.
The other list I unsubscribed from was from an unknown online marketer targeting the podcasting market. He had an ebook about podcasting that he was selling and the email list was a free sample course to help sell the book. I subscribed on a whim but found the materials were targeted at podcasting beginners so after reading the first email and skimming the second I realised the information was redundant in my case.
Making Autoresponders Work For Your Target Market
There are some good lessons here. The first one is that if you do intend to build an email list, and as an online marketer you definitely should be, then you need to be careful to balance the size and frequency of your broadcast emails.
The first example I gave above was a case where I just got overwhelmed by too much information too quickly. That particular online marketer was probably taking careful note to track conversions and unsubscribers so I may in fact be a rare case of someone leaving his list or I may be indicative of a trend, which may force him to adjust how often he sends out his autoresponses. It doesn't matter what is the case, the important point is you should be testing how your audience responds to your email broadcasts. Don't be afraid to lose a few people, you can't satisfy everyone, but definitely watch for trends – for example if a certain email in your broadcast sequence produces more unsubscribers it may need to be deleted or delayed or changed in some way.
How Many Emails Is Too Many Emails?
A general rule of thumb is definitely keep in touch at least monthly to maintain a dialogue with your email members. Anything more than that and your subscribers may have forgotten who you are so when they receive an email from you it appears "out of the blue" in a SPAM like manner and they may unsubscribe.
On the flip side, sending an email every day or 2-3 times a week will be too much, be careful not to bombard your readers with mail. Of course don't make assumptions without testing first but in my opinion a good amount is no more than once a week, except of course if you are running an e-course, in which case 5-7 sequential days is fine until the course is finished and then move to weekly after that, then perhaps bi-weekly after a month or three then move to monthly later on.
The most important thing is to keep communicating. There are plenty of cases where an autoresponder may not lead to a sale until six months later when the prospect finally has a need to make a purchase. If your autoresponse series is helpful, informative and entertaining you should be able to establish and maintain a relationship with your prospects for as long as it takes to convert them to customers. You must be in their "headspace" when it comes time to buy.
Email Length
What I like about Perry Marshall's emails is that they are all tiny. You get the main idea within a few sentences, often there is a link to follow if you are interested in the topic and that's it. It takes about 30 seconds to digest his emails.
The online marketer that I unsubscribed from mentioned above had a habit of writing massive emails that I just didn't have the energy to read through. If you can't get the gist of an email with a quick scan then in my opinion that email is not doing it's job.
I write large articles. If you read through this blog most of the major articles are between 1000 and 3000 words, definitely considered too big for quick digesting. I try and keep my email broadcasts short and to the point, but I can't restrict my writing sometimes, especially with blog posts because I have a lot to say.
I'm well aware that it is important to consider my time-poor readers (99% of the web!) so I provide headings. You must make it possible for your readers to quickly scan and read the sections that are important to them and clear headings for each new idea is all it takes. This rule must be applied to email autoresponders too since people have a low attention span when checking their mail and it's very easy to click delete. Anything you can do to get your point across quickly and easily is good and it's even better if you can get an immediate response from a call to action as well.
Off Target
The second email list I unsubscribed from that I mentioned above was because I was not gaining anything from the emails. I was not the right target audience, hence I unsubscribed. This is going to happen to every email list from time to time, but it highlights an important consideration – get your targeting spot on. If you suffer from chronic unsubscriber numbers after each broadcast email you send then chances are you collecting the wrong people onto your list. Check the type of traffic you are funnelling to your mailing list to make sure it matches what you are providing from your emails.
Further Reading
Will Swayne has an article titled – The death of autoresponders? – that has some more points to help you make better use of autoresponders.
Yaro Starak