Two months ago, I decided to launch a training program called the 7 Day Bootcamp. In that program, I teach people how to start an internet business in 7 days. I spent a ton of time putting together the videos, resources, task sheets and I really focused on the quality of the content. Then I launched the site.
Initially, I just wanted to get it out there, and I didn't care too much about how it looked. However, once the content was solid, I decided to look for ways to bring the design up to par with the content. I wanted people to be impressed with the look and feel of my website. I wanted people to be so impressed with both the content and layout of the squeeze page so it converted them into subscribers.
I also knew that I eventually wanted to turn it into a membership site, where people could sign up for free, but then would receive upgrade options to purchase a premium membership, and other backend products later on.
Coincidently, while I was looking into options, I received an email from a marketer I know and trust about OptimizePress. According to him, OptimizePress was exactly what I was looking for. It came at the right time, so I decided to give it a look and I must say – I was extremely impressed with what I saw.
Why Do You Need Squeeze Pages, Sales Pages, Etc?
Before I go into the review of OptimizePress, I think it's necessary to answer that question.
When it comes to the internet, distractions are everywhere. However, internet marketers have quickly come to realize that if you want visitors to your website to take a specific type of action like submitting their email address or purchasing a product, it is necessary for you to minimize distractions as much as possible.
Sales Pages and Squeeze pages (short for namesqueeze pages – designed to "squeeze" the name and email address of a visitor so they join your email list) are set up so you can give your website visitors direct instruction as to what you are trying to get them to do. It gives them all of the information they need to make ONE decision. It does that by building a strong case for how taking that specific type of action will help them solve a problem they are facing.
What is OptimizePress

OptimizePress is a WordPress theme that gives you the ability to easily generate an unlimited amount of Squeeze Pages, Sales Pages, Launch pages, One Time Offer Pages and Membership sites without having to worry about the design. Using the power of wordpress, you can design these pages in a seamless way.
When you install the OptimizePress theme, your wordpress dashboard gets a bunch of features that easily allow you to:
Generate headlines
Generate attractive opt-in boxes
Generate "Add to cart" buttons
Add Delayed Call to action buttons that show up after a specified amount of time.
Add videos to your pages
Add testimonials
A bunch more . . .
In other words, even if you don't know how to do the things mentioned above, you can do it using optimizepress. I'm really loving the features, and how easy it makes it to do those things in a very attractive way.
Integration With Social Media
Another great feature that OptimizePress has is that it allows you to integrate very easily with social media. By checking a box you can allow your members, or website visitors, to share pages of your website with their friends on Facebook or followers on twitter, using some attractive social media icons.
You can also allow Facebook comments on your pages by checking a button, so that whenever someone leaves a comment on your site, it's automatically shared on Facebook. As you know, this can have a very viral affect.
Because I'm using mine as a membership site, I've chosen not to use this feature because the content is to be behind closed doors, but this can be a very useful feature depending on what you are trying to accomplish.
Membership Site Setup
If you are looking to create a membership site, OptimizePress has a bunch of options for setting up the layout and design of your membership site. At the bottom of the section of your WordPress dashboard where you add pages, there is a section for you to customize the look and feel of your membership site.
Here's a screenshot of some of the options: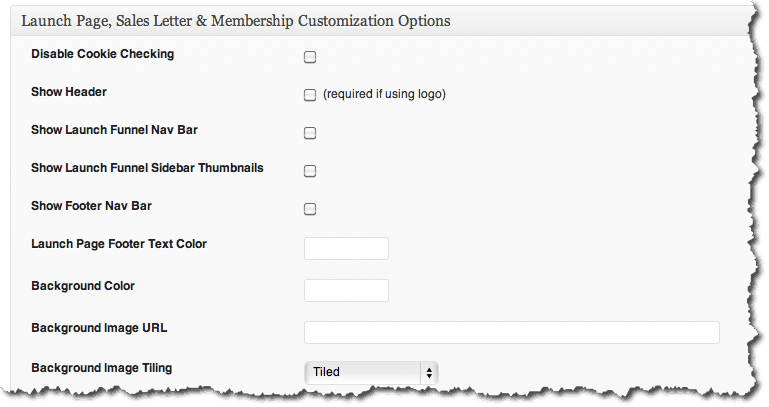 It also does a great job at setting up the navigation and sidebar menus for your membership site. Depending on the membership site script you use, you can place links in the sidebar that will show up only when you want it to. For example, if it's a weekly course, each week's lesson will appear in the sidebar in the specific week when they need to be available.
Launch Funnel Setup
When looking at a lot of the big launches recently, I've noticed that many of them set up a launch funnel where they release a series of videos over a few days and then open the doors after that launch sequence. This is a great setup because it allows you to deliver value before launching your product. This entices people and keeps them on their toes waiting for the actual launch of the product. It's a very impressive feature that has proven to be VERY effective in many recent launches.
OptimizePress allows you to easily setup a Launch Sequence like that, where you can include up to 8 Videos in your sequence. You can see a screenshot below of how easy it is to add this feature to your site. It's as easy as selecting the pages you want to show as a part of the sequence.

Easy To Customize
One of the great features about OptimizePress is that it's very easy to customize. It comes with a bunch of graphics already built in and you get an additional graphics pack that fits right into the design of OptimizePress. It comes with a number of header, call to action, guarantee, and other graphics that help enhance the look of your site.
You can also specify the colors you want for the backgrounds, headers, navigation bar, text and footer.
All of these options are available with a few clicks of your mouse. OptimizePress uses a shortcode system that is very simple to use. By clicking on the shortcode option when adding a page, you are given a drop down menu with options like callout boxes, testimonial boxes, download links, and a bunch of other option that makes it easy to add all of these elements to your site and make it look even better.
Extensive Template system
When adding pages to your site, you have a bunch of templates to choose from. These templates are for different layouts of the different kinds of pages. For example, there currently are 12 membership templates, 24 sales page templates, 10 squeeze page templates and others to choose from, depending on whether you want to use video, where you want the videos, whether you want a sidebar, and a number of other features.
Newly Added Blog Template
One of the things I love about Optimize Press is how responsive the creator (James Dyson) is and how quick he is to make improvements to an already amazing theme.
Between the time I started writing this post and the time it went live, he added a new Blog Template System to allow you to use OptimizePress even as a regular blog. This is great if you have a blog attached to your site, or if you are using a blog to drive traffic to your squeeze page, sales page, launch page or membership site, while keeping a similar look and feel between your blog and all other aspects of your site.
Here's a preview of how that template looks: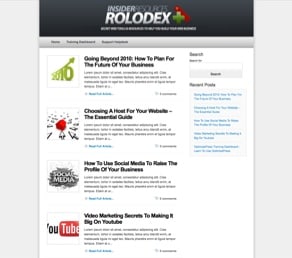 The Best Part
There are many options when it comes to generating sales pages, squeeze pages, membership sites, etc. You can hire a designer to do it and end up spending a few hundred or thousands of dollars. You can get some of the great software that's out there that do the things that OptimizePress does and end up paying a significant amount of monthly fees. OptimizePress does a lot of what is needed and the price is reasonable – just a one-time fee of $97.
Once you purchase OptimizePress, you can use it on as many sites as you like, without ever having to pay again. That's the part I like about it the most. I'm going to use this on all my sites where I sell info products and it won't cost me a recurring monthly fee to do so.
What I Don't Like About OptimizePress
OptimizePress isn't perfect. There are some things it just can't do. The biggest thing for me is that although OptimizePress is great at setting up the layout and design of my membership site, it is not actually a membership site script. In other words, it doesn't handle registrations, protect content for the different types of membership, and deliver the content for you.
For those features to work, you need to install a separate membership site script like Wishlist Member or Digital Access Pass. I've chosen Digital Access Pass to handle my membership site and it works great. It integrates very well with OptimizePress and I'm happy with what I've seen so far.
OptimizePress also doesn't have a built in feature for doing split tests. That would be a neat addition, and something I'm hoping to see in the future.
Who Should Use OptimizePress?
If you are in need of a great Sales Page, Squeeze Page, Membership site design or any of the things I mentioned in this post, and you absolutely LOVE WordPress, you will absolutely LOVE OptimizePress. There are not a bunch of new things to learn and it uses the power of a software we've all become so familiar with – WordPress.
OptimizePress will reduce your cost of setup significantly, and it is optimized to convert. I highly recommend it!
Your Comments
Have you used OptimizePress or similar products? If so what did you think? Let me know below.