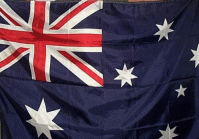 Australian Blogs
Earlier this month Jon Yau approached me to see whether I was interested in being a patron for a new project he and his partners were working on. His project is a Web 2.0 social bookmarking site specifically focused on Australian blogs. I was more than happy to lend a hand to a project that supports Aussie blogging so I eagerly said yes.
The site is live now in beta format ready for testing. Jon is working with his team to develop the site, adding new features in response to user feedback. If you are an Aussie blogger or just someone who wants to highlight some good Australian blogs please make use of AustralianBlogs.com.au and then let us know your feedback. The site is ready for your contributions.
AustralianBlogs.com.au
March 2006

WHAT IS IT?

AustralianBlogs.com.au is a free community resource to bookmark your favourite Australian blogs. Similar to del.icio.us (but less invasive – we don't need you to register or login), you can add your bookmarks or just browse to see what's popular.

WHY?

It is a place where Australian bloggers can showcase their work, and the blog-reading public can find interesting, relevant and popular Australian blogs.

HOW?

By using some basic Web 2.0 features like tags/folksonomy and community bookmarking, Australian blogs can be categorised easily which makes finding them a whole lot simpler. You don't even have to sign-up to post a bookmark or browse the website. It's a community-driven site in its purest form.

PREREQUISITES:

:: It MUST BE about an Australian subject or topic; OR by an Australian; OR have a .au domain name.
:: It MUST BE a blog.
:: *** NO ADULT CONTENT OR SPAM PLEASE! *** (a zero-tolerance approach will be taken)
:: If it passes the above tests, then it's in!
:: If in doubt, just drop us a line: email@australianblogs.com.au

WHO?

AustralianBlogs.com.au is staffed by a small but dedicated team of volunteers who believe that the Australian blogosphere produces high quality blogs that are just as good, if not better than those available offshore. Local content for local readers.