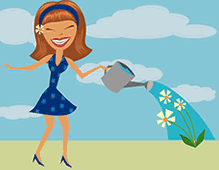 Let me ask you a question – when you first launched your blog did you have 12 people make comments on your very first entry? I didn't.
I just found a new blog that did, and man, I am impressed. It's called Lucky Mom. Go take a look and I think you will know why this blog has enjoyed such a successful launch. It is beautifully designed for the niche it is targeting and I believe because of the design it will very quickly garner an audience.
I'd love to see a case study follow the growth of this blog. I think it's a perfect example of how to create a profitable blogging enterprise. It has so much going for it –
A) It is visually appealing
B) In a fantastic niche that's ripe to make money once the traffic builds (think affiliate products and AdSense)
C) It starts off day one with a comment community ready to go
Not to mention that the author, Lucky Mom Kristine Watson, can simply blog about her life each day as a mother to create content that I suspect will attract a solid readership. No doubt many new mothers and fathers will be following this one and as long as the articles keep coming the audience is going to spread the word with little need for any proactive marketing. Heck I'm even linking to it now and I have no interest in the topic at all, I just admire the design and business potential. Go Lucky Mom!