Total Raised So Far: $2622
Living in Brisbane last week was a little bit different. I'm not entirely sure what the news coverage was like overseas, however I do know many of my readers are aware that we had a little flooding problem in my city, the third largest in Australia. Needless to say it was, and still is huge news, and it caused major disruption to the lives of people in my home town.
In a moment I'll tell you the story of the flood as it hit me and show you some photos, but first I want to get notice out about a special charity drive I'm running to help raise funds for the flood victims.
We Need Your Help
Literally thousands of people have lost their homes and furniture and need help setting their lives back up. While millions has already been raised, it's not nearly enough, so I want to do my bit to help out by rustling up some support from my community – that's you.
To show your support, all you have to do is purchase one of my products over the coming week, of which 100% of the profit will go towards the charity. You receive the full product, I'm donating what you pay to help flood relief.
I've set up three products you can buy to contribute to the charity drive at three different price ranges so everyone has an opportunity to contribute. Two of these products are not on the market at the moment, so this is a unique opportunity to score some great training that is otherwise unavailable and help other people.
Note these are Paypal payment links, after making payment please click the link to leave Paypal and redirect back to my site where you will find a form you need to fill out to access your product. Donations will be paid to the Premier's appeal and include 100% of the profit after Paypal fees are taken out. All prices are in Australian dollars.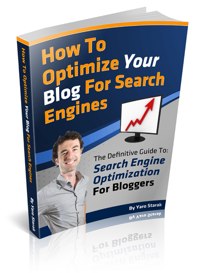 1. The Definitive Guide To Search Engine Optimization For Bloggers – $25 Donation
I wrote this 96 page report explaining what I did to attract traffic to my blog and other websites. If you ever wondered why I get over 50% of my traffic from Google, this will give you the answers. This resource is currently not being sold, so if you want it, this is the only way to get it at the moment.
[ Download The Definitive Guide – Click Here To Make A $25 Donation ]
---
2. Membership Site Mastermind – $297 Donation
I took this off the market last year and I did say it would not be sold again. However since this is for charity, and plenty of people emailed me saying they missed their chance to join because they were away on christmas holidays, consider this your last chance to get access to this course and support a worthwhile cause at the same time.
[ Join Membership Site Mastermind – Click Here To Make A $297 Donation ]
---
3. Blog Mastermind – $497 Donation
Get access to the entire Blog Mastermind training program, my flagship course, and give a hefty donation to helping families recover from the floods.
[ Join Blog Mastermind – Click Here To Make A $497 Donation ]
---
Make A Direct Donation
If you just want to make a donation of any amount directly, please do so to one of these organisations –
RSPCA – Donations to help animals affected by the floods
The Premier's Appeal – The Main flood relief charity appeal
---
What Happens When A Natural Disaster Strikes?
A year or so ago I read a book called "Emergency" by Neil Strauss, the well known author of "The Game". Neil, as a result of a series of significant social and environmental emergency events became paranoid, perhaps justifiably so, and went to work readying himself for serious calamity.
Neil does some pretty incredible self-experiments to put together his book, including several survival training programs, trips to visit many experts and perhaps not so expert people who think the world is going to end. It's an interesting book and one that successfully manages to be both practical and sensational at the same time.
One of the things I took away from the book was some serious self reflection on my ability to deal with calamity. I asked myself, what would I do if my city was without power and food supplies because of some kind of disaster.
What if water from the tap stopped flowing? How long could I live in this situation? What would I do to preserve my food and cook it? Should I invest in back up generators and a water supply?
I wasn't going to go quite to the extreme of preparing a way to fly to an island somewhere and survive in the jungle as Neil did, but I was certainly confronted with the issue. I realized, much like most of the population, I would be in a situation were I would have to rely on the resourcefulness of our emergency services – in other words, other people.
When Nature Goes Extreme
I've never in my life been in a city while a disaster, natural or manmade, has occurred. I've never experienced an earthquake, or a terrorist attack, or political upheaval. The worst we get is some fairly heavy storms in summer that can knock out the power for a few hours.
That was until last week.
We've had a lot of rain in Brisbane and our state of Queensland during the last few months. It was probably the rainiest lead-up to Christmas I can remember. November and December were very wet, and to be honest I didn't mind it because the rain keeps temperatures low. December can be unbearably hot and humid in Brisbane, but with continuous rain it was just wet, but not hot.
Unfortunately for people up north from me in other cities of Queensland, the rain had resulted in flooding. This is not uncommon for the area, almost every summer some country town is flooded. However not since 1974 had a major flooding event hit the capital of Brisbane where I live, which was a time before I was born.
As the rain continued, the flood reports increased. First it was small towns, most of which I had never heard of, who had to evacuate a few hundred people, or were sandbagging their homes in preparation for rising waters. Then the large town of Rockhampton (approximately 75,000 people) was hit, which I became aware of because they were closing the airport just as I was flying back to Brisbane from Melbourne. The entire town became isolated from any transport because all roads in and out from the north and south were flooded.
I thought for a moment what it would feel like to not have an airport or roads to leave your city from. Rockhampton is far north from Brisbane, so again I didn't think about it too long as something I had to worry about.
The Week Of The Flood Begins
On the night of Monday the 11th of January I was at home on the computer. Gideon Shalwick pinged me on Skype asking if I knew whether our mutual friend Katey Shaw was safe. I wasn't aware of what had happened, so quickly pulled up the news sites.
Katey lives in the town of Toowoomba, population of approximately 130,000 and just north of Brisbane, only a couple of hours drive away. On Monday it was hit by flash flooding that was fierce. They started calling it an inland tsunami. It smashed the town, cars and houses floated away and the city center was absolutely devastated.
I noticed Katey was on skype too and immediately asked if she was okay. She lives on a hill, so was safe, while down the road the water had raged.
The news wasn't good from Toowoomba because the water had come so quickly with little warning. This was flash flooding at it's worst. You can see it in action in this video that became a news hit all over the world –
Unfortunately with little warning and such furious volume and speed of water, lives were lost in Toowoomba and in other surrounding areas and towns. As I write this they are still searching for bodies, with 19 dead people found so far. Some fairly horrific stories surfaced, like that of a 13 year old who told rescuers to save his ten year old brother first from a car, who was then washed away with his mother before rescuers could get to him. Both the 13 year old and the mother were later found dead.
On Monday after it was clear that the Toowoomba flash flood was going to be serious news and that people overseas might be worried about me, I sent a tweet out stating I was safe and that the floods hadn't reached Brisbane so we were all okay here. At the time I still didn't think Brisbane was in any risk because we have the Wivenhoe Dam, a dam built specifically to protect the city from flooding as a result of what happened in 1974.
For those asking, the floods aren't impacting Brisbane too much, and I live on a hill so I'm okay. It's intense in parts of QLD though.

@yarostarak 11:51 PM Jan 10th via TweetDeck
The Waters Rise
I woke up the next day, Tuesday morning, and the rain was still falling. It had been raining for at least five days straight with little intermission.
I switched on the TV and there was our premier (the political leader of Queensland), Anna Bligh, flanked by the chief of police and minister for emergency services, delivering an update on the floods. The Premier would continue updates with media conferences almost every two hours, delivering what many considered an incredible leadership job during this time of crisis. Given how many variables needed to be controlled Anna, her team, and the Brisbane and Ipswich Lord Mayors and their respective teams certainly impressed me.
Anna explained on her news conference what had happened in Toowoomba, how a storm near by had caused the flash flooding (made worse because the ground was already so wet from weeks of rain) and what emergency services were doing. She gave the total dead count (this would become by far the most reported topic on news programs in the proceding days as it continually increased as bodies were found) and talked about what the area had experienced.
The next topic was what I was really interested to hear about. What was going to happen to Brisbane and Ipswich, the other large city just inland from Brisbane.
The news wasn't good. Too much water was flowing into the Wivenhoe catchment and plenty had to be released from the dam in order to compensate. It was getting close to 200% capacity (the extra 100% is for flood protection) and when that happened the dam would start releasing water in an uncontrolled manner, as opposed to the human engineers deciding when to release water.
The Brisbane river, which snakes up and down the entire city, was going to rise. They had done the models and predictions were for the river to meet and possibly exceed the levels of the 1974 floods. So much for the dam as protection, nature had provided enough water to mitigate our defense.
Will I Need To Evacuate?
Immediately the news began reporting the first suburbs of Brisbane, those closest to the river, where the water was already rising and would need to evacuate.
The very first call for evacuations was for West End and people in houses near the river, to leave and head for higher ground. West End is the suburb right next to me, where I spend most of my time at cafes and restaurants, many of which unfortunately would eventually succumb to flooding, and as I type this a week later, are still closed.
Shortly after I sent a tweet out that I was mistaken and the floods had found a way to impact Brisbane.
I spoke too soon, looks like the flooding is impacting my area. West End near the river are urged to go to higher ground #qldfloods

@yarostarak Tue Jan 11 2011 10:54:10 (EST) via TweetDeck
I immediately went into news-junky mode. I opened up the Twitter hash tag #qldflood, which was updating at a furious pace – too quick to read. I started monitoring the QLD Police Facebook page which was updating evacuation and other emergency notices as towns became cut-off as the water was rising. Half the local Australian channels switched into 24 hour coverage and scenes from all over my city flashed on the screen. It was surreal, sad, and exciting at the same time.
I'm not normally into news because of the negativity. When something strikes close to home and you're actually living through it, especially in this case because the river was rising, however it wasn't flash flooding, it was a slow rise, so news reporters had plenty of time to get out and cover the story from all kinds of angles, I really became addicted.
Next my friend Alborz Fallah called joking asking if I was under water. It's a joke because I live on a hill, the hill that makes up my suburb of Highgate Hill, next to West End. The water, if it was to reach me would have to rise high enough to drown out most of the city, so I was confident that I would not be impacted by flood waters. The only risk to me was a power outage as they had to "switch off" West End due to the water and I didn't know if we shared the same grid with our sister suburb.
The City Goes Under
If Tuesday was a day of anticipation and preparation, Wednesday and Thursday were the days of fear and flooding. Since we were told when to expect the peak of the flood and how high it would reach due to constantly updated flood-model predictions, it was possible to accurately know what areas would go under and when it would happen.
Despite the accuracy, things were changing every minute because so many different variables were at play. The rain had finally stopped on Tuesday, but the water was already on the ground, Brisbane and its people were waiting for it to hit and see how bad the impact was.
The city was very well organized, again thanks to the incredible job of the emergency services, with evacuation centers ready to take people who were in flood prone areas. People were urged to leave if they were close to the water, and several thousand did, while others stayed to empty and sandbag their properties.
Brisbane is a city of hills, so like me, many people were high and dry and safe from the floods. Many of the most popular parts of the city and the wealthiest suburbs are near the water, but the majority of people live in suburbs well clear of the water so were told to stay at home and not clog up the roads full of evacuating people.
Throughout Wednesday and Thursday the news was relentless. Helicopters flew over continuously, some providing emergency response such as evacuating towns, others covering the news by showing how far the waters had reached.
The Brisbane CBD was one of the first places to be evacuated because it is very close to the river. The whole city was sandbagged, the power cut and then evacuated, becoming a ghost town. The Riverside precinct, home to some very expensive restaurants, was completely flooded. The City Botanic Gardens and many of the lower streets of the city were flooded, the river walkway – a special manmade floating path connecting the city to the suburb of New Farm (another river-side suburb to go under) – started breaking apart and needed to be carefully guided by tug-boat down the river so it didn't cause any damage.
These are just a handful of the very populous places that were evacuated, cut from power and left to the rising flood waters. There were so many news worthy incidents during the rising flood days that the media must have really stretched their resources in order to cover as much as they could. With so many places going under, so many people coming together to help each other, iconic sites being destroyed and so much technology like Twitter and Facebook shining a light on individual stories, it was a really amazing experience to be a part of, if very sad at times.
At one point it was particularly surreal as a helicopter flew over my area to show the impact on West End and Southbank, two inner city suburbs, both very popular areas because of the restaurants and bars, and perilously close to the river (and I live right in between them). I sat watching my TV, listening to the helicopter above me just outside high in the sky, as it broadcast footage from down the road where the water was climbing.
What Happens If You Run Out Of Food?
As the water rises the power has to be cut for obvious reasons. Suburb by suburb slowly went out and eventually over 170,000 homes were without power. Many people decided to wait out the water and had to sit for days eating cereal by candle light.
My personal concerns focused on two areas –
Would the power be cut (no fridge, and worse – no Internet!)
Would I run out of food
As the electricity was cut in West End, but I still had power, I became confident that I must be on a different grid. It looked like I would remain high and dry and plugged in throughout the entire flood.
The next issue about food was a little more concerning because the shops around me were either closed or empty because people had stripped the shelves bare in a panic-buying spree the day before the water rised. It also became apparent that driving out of the central city area where I live would have been impossible due to waters and police cutting road access.
Thankfully I had done my grocery shopping the day before so I had enough food to last until the weekend, when the flood was due to recede. It ended up being some of the healthiest eating days I've had in a long time because I didn't eat out at all.
Another uncanny coincidence occurred regarding water. I made the decision to start buying in mineral water sourced directly from the outback. I decided to do this because they recently began adding fluoride to the water in Brisbane (ironically enough a decision made by Anna Bligh as a measure to help improve teeth health – one I wasn't too pleased with because we didn't have a choice). I don't like the idea of a chemical byproduct being added to my drinking water, especially given some of the evidence I've seen that it's pretty much a poison. Since I have the money, I decided why not use it to improve the quality of something I put into my body every day.
I ordered a month's supply of water, however I hadn't paid for it yet. Despite this, I went outside my apartment the day the flood started hitting us and there was three boxes of water sitting waiting for me to take inside. The water had been shipped and I had a month's supply. Not bad timing when you're going through a natural disaster, but I have to admit I was slightly concerned that this was a sign that I might be needing to be self-reliant for a while.
The Waters Come Down
By Friday the flood peak had been reached and it turned out to be slightly lower than expected, below the 1974 levels but still high enough to wipe out thousands of homes and businesses.
Many of my friends come into my neighborhood and the inner city suburbs on a regular basis to socialize, drink and eat, but since they live in further out suburbs, and the water had cut off many of the main roads into the city center, they had no way of accessing our usual hangouts.
I began to feel like a reporter as I visited some of the most common places my friends and I frequent to see how the water had made an impact. Every single cafe I visit to write blog articles, affectionately called my "offices", were inaccessible due to either the power being out or the water coming in. I headed out with my new HTC Desire Z phone, used the camera to take photos and uploaded them for my friend to see via facebook.
Here's some of the shots I took of the floods –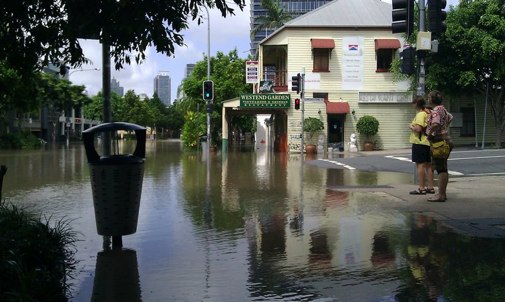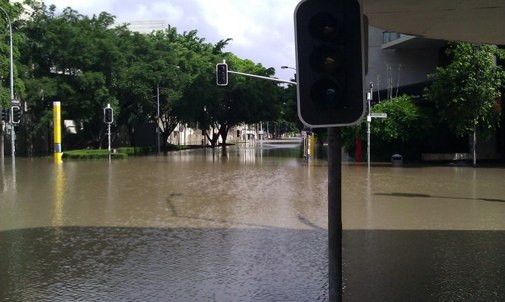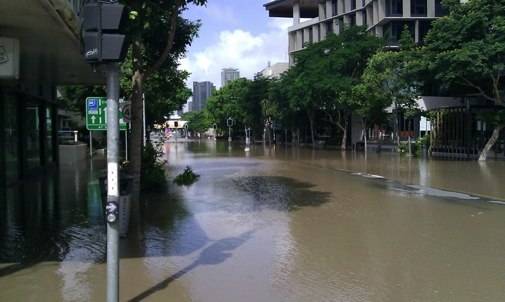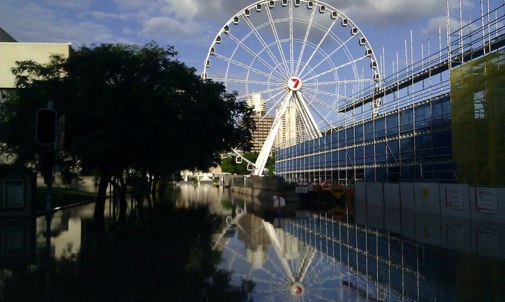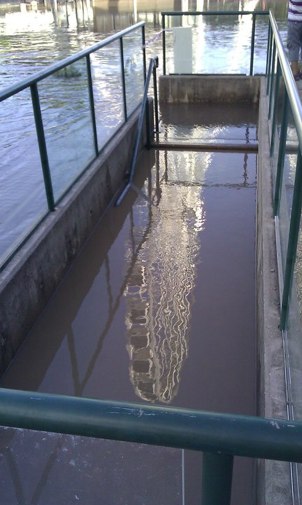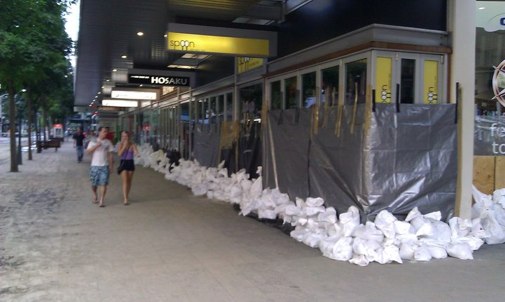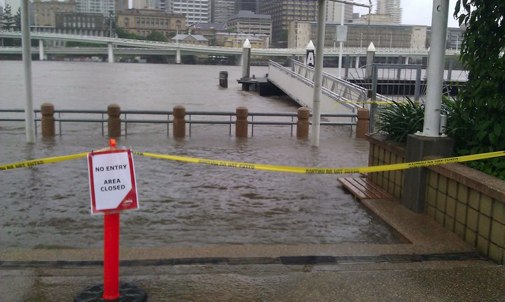 Once the waters came down the real extent of the damage became obvious. What was left was a whole lot of mud and damaged property. In response to this the volunteers rallied and as neighbors helped neighbors clean their properties and people started coming in from the outer suburbs to help those affected, it was clear that Queenslanders have a very strong desire to help each other.
The clean-up operation continues still as I type this and some areas are still without power. In fact even just down the road from me many of my favorite cafes and restaurants are still shut and may remain so for weeks or even months.
The city has been hit hard. The citycat ferry service is knocked out for several months because many of the pontoon stations were damaged beyond repair and will need replacing. The made football stadium flooded and is still being cleaned out, so no events can be held. Many people remain displaced as their homes are far from livable or may never be livable again.
What I'm talking about here is just Brisbane, the capital of Queensland. The rest of the state has been hit by floods too, with many areas like Toowoomba floored as whole business districts and suburbs have been taken out.
I'm Grateful For Your Contribution
I like to do what I can to support charities like Oxfam, World Vision, Kiva and Amnesty International. In this case with this disaster hitting so close to home I wanted to relay my experience to you, even if the subject is a little off-topic from what you usually find at this blog, and help to generate some funds to aid those who need it.
I remained completely safe during the whole ordeal, and like many of the people in my country, the urge to help hit especially hard after seeing just how much needs to be repaired. I'm immensely proud of how many of the people in Brisbane responded, from government officials, to emergency personnel and your every day stranger helping someone in their city simply because it felt like the right thing to do.
The spirit of support and goodwill has been palpable and it goes to reinforce my belief that given a basic foundation of living standards, people are primarily motivated by a desire to help others. It's one of the greatest expressions of love you can give – and it's a two-way street – you expand your own being through the act of giving, so you benefit just as much, if not even more.
If you have some spare money and would like to help some people and study my training programs, I invite you to scroll back up to the beginning of this article and make a donation.
Thanks for your support!
Yaro Starak
Collecting Donations