At the moment I'm spending all my time outside of my mandatory roles (processing BetterEdit jobs, customer support emails and personal emails, etc) on developing my blog traffic business. This is the first time I have created my own information product to sell online and it's turning out to be quite a significant task.
I probably should have realized since I intend my blog traffic business to actually be a business and not just a once off product sale that I would have to invest as much time and energy into it as I would to, ahh…start a business.
While I've been blogging and running websites for the past few years I've studied a lot about selling information products online. I decided a long time ago that this was something I had to try and I can say that the "how-to" knowledge has been in my head for a long time, I've just never executed it.
When the opportunity to work with blogs came along I knew I found the perfect topic for my first information product – because I love blogging and because there is a market demand for a product that teaches bloggers how to get traffic.
At the start of this year I committed myself to blog traffic and creating a course to teach it. While I'm not the kind of person to write lists down I have in my head a task list something along the lines of this:
Write the course – Obviously the most important ingredient, but also the easiest task because I just need to devote enough time to it because writing is something that comes easy to me and I know how to get traffic to a blog.
Find a system to distribute the course – I need a membership service of some kind that I can use to have blog traffic students log in to take the course and gain access to other resources.
Affiliate management system – I am well aware that affiliates will be the most significant drivers of exposure and sales for the course. I will offer generous affiliate commissions and I need a system that is simple yet comprehensive. I want to be certain each student who takes the course also becomes an affiliate.
Conduct a successful prelaunch – I've studied how some of the big Internet marketing products were launched in the past few years and while being no expert I know there are quite a few things I'd like to do in the lead up to the launch of the product. This includes a prelaunch blog, lots of prelaunch free sample materials, a method to build a list of potential customers and affiliates before launching the product so I have an established prospect base from day one and lots of marketing wherever I can (forums, blogs) before and during the launch.
Product refinement using a live BETA test – The long term success of this information product business will be dependent on my product getting results for customers. So while the marketing and the technicalities of the distribution are very important none of that matters if my product doesn't get results for customers. I plan to make use of a small test team to trial the product and provide feedback before launching it to the public.
Foster a community – My big goal with the business is to establish a community of bloggers who, because of their collective power, can stay on the cutting edge of blog traffic building. As much as I am starting this business for the financial reward and the business challenge, I also love working with a community on a topic I myself love (I realized this way back with my first big website – MTGParadise.com which focused on my high school hobby, the card game Magic: The Gathering). I need to ensure that there are tools in place to foster community interaction.
Butterfly Marketing
I've been doing some extensive research into affiliate management and membership software packages. My initial research has show that there appears to be some competent affiliate management software and also subscription services (like Marketers Choice). There are fewer options in the membership management system industry, some of which are quite expensive too.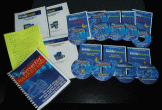 I stumbled across this year's big Internet marketing product, called Butterfly Marketing. Every year there seems to be one or two really big product launches. You may know what I'm talking about – they have huge prelaunches, lots of buzz and usually a very hefty price, usually above $900 USD, and come with lots of CDs, books and software in the mail – hardcopy. They also tend to sell a 1000+ copies or more and generate half to a 1.5 million dollars in a few days or weeks. Oh yeah, and they always have those fantastic massively long sales letters.
Butterfly Marketing by Mike Filsaime was the big product of the start of this year and sold out of 1500 copies for $997. At the time of writing this an additional 500 copies were recently released for $1497 (ouch!).
I'm super skeptical of products like this simply because that's a stupid amount of money to pay, but upon reading through the full Butterfly Marketing sales page I realized at the heart of the product was an automated website building tool focused on membership and affiliate management (using a nice MLM-like tiered marketing system – basically a method to get viral growth of affiliates and lists). The sales page describes a pretty cool system where people who buy a product instantly become affiliates too. I'm a strong believer that customers for a product make for the best affiliates since they have knowledge and experience with the product.
Since there is a money back guarantee I decided to give Butterfly Marketing a chance, stuck it on my credit card (I was lucky to get a copy a $997 before the price hike) and am currently waiting for the product to arrive in the mail (Australia is so far away!). Whether I return the product or not rests entirely on whether the software can be used for my blog traffic course effectively. If it's simple and clean then I'll keep it. I'll also have a good look at all the support materials and information too of course and if appropriate I will do a review as well, but only if I intend to keep the product to test it.
Why I'm willing to spend the cash on a product like this is because I know if it does what I need it to the cost is inconsequential to the return it can help generate. In many cases it's worth paying more if the product is quality and I have no problems spending big if product can help me get big results. Butterfly Marketing has an all-in-one solutions to host my affiliates and students, so if it does what it says it does, should be more effective than buying separate affiliate management and membership management systems and trying to get them all to work together.
Motivated Marketing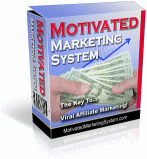 Just a few days ago a person from an Internet marketing forum I frequent sent me an email about a new product called Motivated Marketing System. This product was only released this month and started at a price of $97, however the price was set to rise by $50 every few days or so and at the time of posting this article the price had already risen to $147 (they love these pricing games don't they!).
I read through the sales page and did some research into the author of the product. Motivated Marketing appears to provide the same type of software that the Butterfly Marketing system runs off, but at a fraction of the cost. Of course you don't get all the information and resources that Butterfly Marketing comes with, but you do get some resources with the Motivated Marketing System. I was really only interested in the software of course so I read the sales page carefully, watched a little streaming video about it and then decided to buy (once again the money back guarantee protects me if I decide not to use the software).
The Motivated Marketing System also provides an all-in-one system to manage memberships and affiliates in the one place. I've downloaded the software, installed it and already started to play with it (Butterfly Marketing is already losing because it's taking so long to get here!). So far I like what I see. The system is really simple, or at least is simple for what it is trying to achieve. The interface is very clean, exactly how I want it, and easily customisable if you know how to play with HTML (which I do). I'm not entirely sure if it will do what I want it to do yet because I've only had a day or two playing with it, but so far it's the front runner.
Investing Time Today For Tomorrow's Results
Although I am impatient to get my course out the door, especially as I've had quite a few people already email me and say they would buy it today, I'm conscious of the process I need to go through to get my first information product launched. I want to do it right of course, I'm not afraid to make mistakes along the way, that's how we learn, but I want to make smart choices based on research and testing, so it takes time.
I'm confident because I know that as a result of the time I am spending now I will have a fantastic store of knowledge and experience for future products I produce. My next product will only take a fraction of the time to launch since I will know which systems to use and how to best to use them. Experience like this is invaluable and you certainly can't learn it at university or probably anywhere else.
Oh, and to all those people reading this eager to take my blog traffic course I promise you it will launch soon, definitely this year, hopefully this side of June. As you can see I'm working quite hard behind the scenes to make this a fantastic product that is very easy to use. I've bought plenty of products in the past and been horrified at how hard it was to actually gain access to them and I don't want that to happen to Blog Traffic School. Stay tuned, I promise you won't be disappointed.
Yaro Starak
Blog Traffic King