This is the second part of a report produced by John Webster from AIM IT looking at the key metrics in web site traffic reports.
If you haven't done so already, read part one – Analyzing Key Metrics in Your Web Site Traffic Reports – Part 1.
Referral Report
This important report shows how visitors found your web pages. There are only three ways people can get to your web site:
Click a link on another website
Click a link in an email
Type your web site address into their browser address box or select from their favourites list.
The first two should generate the vast majority of traffic to a web site and this report enables you to assess how your site performs against this metric.
The report specifies the individual sites that referred traffic to you as well as quantifying the number of referrals.
Links from other web sites
SE Referrals
A well constructed and implemented web site should expect 50% – 70% of its traffic to come from the SEs.
You should find that there are many individual SEs referring traffic to you. Every country version of the major SEs will be separately identified, so you could see dozens of different Google, Yahoo, etc. sites referring to you. Then there will be other SEs only identified by a number (Eg. http://64.233.179.104 and http://72.14.207.104 are both Google web addresses).
Other web site links
You may find there are links on other web site pages that generate considerable traffic. These are worth exploring. The links from other web sites are not necessarily to your home page. If you overhaul your site, the linked page on your site could be renamed or deleted, in which case the referring link would no longer be correct and you could lose traffic.
Links in Emails
This metric becomes more important if you use email programs to promote your web site. Email link referrals can be identified in the report, as the referring sites will have names like:
hotmail.msn.com
mail.google.com
bigpond.com/webedge/do/mail
mail.yahoo.com
mailcenter.comcast.net
Example – Getting it wrong
We audited a training company web site in Aug 05. An essential element of an audit is research to identify and quantify relevant search phrases actually used to find information pertinent to a client's products or services. This provides a benchmark of the opportunity for the client's site.
In this example, we identified 303 search terms used by Australians on 50,000 occasions in one month to find the sort of information the site contained.
Against this performance benchmark, an analysis of the client's Referral Reports showed:

Clearly, the site had major problems but they subsequently got worse!
Of the 574 referrals from sister company A web site, various pages were subsequently removed that had generated 213 of the referrals in this report.
To further compound the problem, all links from the web sites of sister companies B and C were also removed after this audit was completed.
Essentially, this site is now only visited by the company's existing customers who know its web address or people who find it from links on one sister company's web site.
Unique Search Words Report
This report should list and quantify all the search words that were used in the SEs to find any of your web pages then click through to them.
This report helps you assess:
– Can your site be found easily in the SEs?
– Are you attracting the right visitors?
Can your site be found easily in the SEs?
This report shows the broad brush assessment of the total number of search phrases used in the SEs to find your web site.
There are many factors that will impact on your results. Three of the main factors are:
Size and competitiveness of different search markets
Size of your own web site.
The ability of your site pages to rank well to relevant search phrases.
Size and competitiveness variations in different search markets probably comes as no surprise but web site size is a factor few people consider.
The reason is simple, all other things being equal, the biggest website is going to win in the SEs because it contains more pages that can target more search phrases than a small web site.
Example 1 – Getting it right
The best example I can give, that removes the first variable from the equation completely is a client who publishes two web sites, both aimed at the same search audience.
The characteristics of this search market are that it is quite small and relatively uncompetitive. Irrespective of your particular industry, if your search market has similar characteristics, then these numbers may have some comparative relevance for your web site.
This client has a corporate web site and a "newsletter" site, which is regularly updated with news articles relevant to Australian marketers and corporate PR staff.

Both of these sites have implemented web marketing strategies that evolved from a SE performance audit and traffic analysis we undertook for them and both use our SE-friendly web page publishing system, so these variables are also minimised.
Example 2 – Getting it wrong
The traffic reports for the training company referred to above shows these figures:

* The training company site includes a course database and course registration function that essentially generates a large number of pages visits when any one visitor uses them. We have subtracted these from the page visit numbers to provide a more meaningful comparison with the PR websites.
The search market for the training company is much larger than the PR example and approximately the same in its level of competitiveness.
If your traffic reports show a small number of unique search phrases like the training company, then you can easily see that your site has problems that need to be redressed and you are probably loosing a lot of business.
Are you attracting the right visitors?
I call this a Quality Search Phrase analysis. The information has to be extracted from the Unique Search Words Report but the analysis can identify major problems that when rectified should produce dramatic improvements to your web site traffic and sales leads from it.
Its purpose is to determine how easily potential clients or customers who do not know you or your brands can find your site in the SEs.
Here is what I do:
From the list of phrases in the Unique Search Words report, excluded search phrases that contain:
– variations of your company name and its brands,
– any clients' names or brands,
– job and work experience search phrases
– general information searchers (Eg terms like "checklist", "resources", "guidelines", etc.)
– Any other phrases that are obviously not primarily intended to find your site's type of content.
Basically, you are compiling a short list of phrases that indicate the searcher is seriously looking for information about the types of products or services your site contains.
These I define as your "quality" search phrases. If these distill down to a very small number, then this could indicate your web site:
– lacks a viable content strategy,
– its content is poorly written or focused, or
– its pages have poor visibility in the SEs.
The following example shows the results that can be achieved when a problem identified with this analysis is then corrected.
Example
As part of the process of planning a PR companies web site overhaul, we conducted an audit on of their traffic reports in Jul 05. The new site was published in Aug and we audited the traffic reports again in Sep 05.
Audit Results:

Not only did the site increase its total visitors by 37%, it is now attracting more people who are interested in the services provided by a PR company, as is indicated by the 60% increase in pages viewed per visit.
The client also reports a dramatic increase in email and phone enquiries generated from the website after corrective action had been implemented.
The most important remedial actions undertaken in this case were:
– research that identified the search patterns people used to find the services of a PR company
– modifying web page content to specifically targeted the search phrase patterns of the target market.
– installation of our Compad website management system with its enhanced SE visibility capability.
As the SEs are continuously changing their page ranking formula and the web is growing at over 1 million new pages per day, I recommend you conduct this evaluation every three months.
Top Entry Pages Report
This report provides more important information on the visibility of you site in the SEs.
When a site has been planned and targeted at a wide range of search phrases any page of the site may be the most relevant to a specific search. Any page found in the search engines can then become the first point of entry to your site.
When you factor into the evaluation that a certain number of searches will relate to your company name, your home page should be individually the most frequent first entry point but if it is the only entry point or most people enter via this page, you probably have site problems.
Usually the most influential factor in this equation is the size of a web site but sometimes other factors can exert an influence. Basically, the more pages a site contains, the less frequently should the home page be the first entry point.
Examples
The following table shows the frequency with which the home page is the first entry point for a number of our clients' web sites.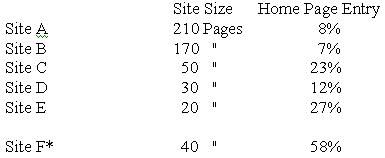 * Site F is the training company used in the Referral Report example. The high home page entry point figure is further evidence of the site's poor search engine visibility.
---
If you would like more information or have questions about website traffic reports, web marketing or would like a performance audit of your site that includes identification and quantification of the real search phrases relevant to your products or services, please contact
John Webster
Aim IT
There are two basic principles that web site owners and managers must implement to achieve a maximum return on investment from a web site. They are:
1. Provide information the web users want
2. Deliver content to the Search Engines (SEs) in the format they need
Site owners who observe these rules should expect 50% – 70% of their site visitors to be referred from the SEs.
John has been helping clients improve their web sites' performance since 1995. His services include:
– Web site performance evaluations
– Web site strategic planning
– Web development project management
– Search engine keyword research
– Content management system evaluations
– Internet marketing training
He is a professional marketer with over 25 years of experience in a broad range of industries including industrial, consumer and service markets.
Clients have included both large and small enterprises.
– Quality Assurance Services (QAS)
– National Association of Testing Authorities (NATA)
– International Accreditation Forum (IAF)
– Network Communications (Public relations company)
– Australian Veterinary Practice Managers Association
– IM3 Inc. (Veterinary equipment manufacturer)
If you would like a free web site performance evaluation, please contact John at:
Aim IT
6 Park Ave,
Gordon, NSW 2072
Ph: 612 9499 3363
Email: jwebster@aimit.com.au