A couple of months ago Gideon Shalwick hosted a webinar with Leon Jay, the founder of FusionHQ. I promised a recording of the webinar and I finally have it for you.
Here is the page were you can watch the full webinar replay –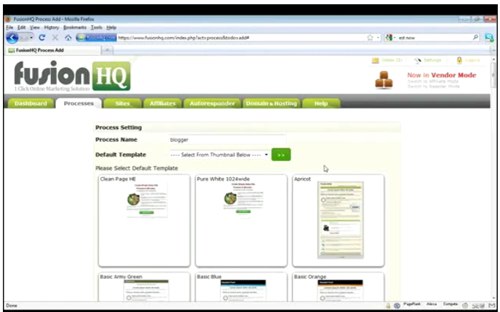 FushionHQ is an internet marketing tool that makes it a whole lot easier to do the following things –
Create pages like landing/squeeze pages, video landing pages, opt-in forms and sales pages with text and/or video using a simple WYSIWYG editor.
Sell information products and distribute them behind protected membership areas with multiple tiers of access (for example, silver, gold and platinum memberships at different prices with different information at each level, and you can easily move people between levels).
The ability to run your own affiliate program for all the products you sell via FushionHQ, including multiple affiliate links for different landing pages
A shopping cart that can plug into clickbank, paypal or 1shoppingcart (more options on the way too)
And a whole lot more!
The system strongest point in my opinion is the simplicity of use when compared to other systems out there. It's very easy to set up sales processes with one time offers and/or upsells, do split tests and replicate pages with a click of a button.
Of course there is a learning curve for any software program, so it pays to investigate whether you are up to the challenge of using this system and whether it meets your needs.
That's where our webinar comes in handy. It begins with Leon doing a short presentation on the keys to success online and then switches to an online tour showing you exactly what FusionHQ does. Leon does a pretty good job showing off his software and I definitely recommend watching the whole webinar if you're considering this resource or comparing it to things like Kajabi, OptimizePress, Wishlist, Nanacast or others.
You can watch the webinar here –
Watch The FushionHQ Live Webinar
There was a special offer made during the webinar when it first broadcast, which you can still access by clicking the link under the video recording of the webinar.
I've been working with Mick my tech guy and at the moment we are planning on using FusionHQ at least to handle distribution of my prelaunch content (videos, report, landing pages, etc) for 2-Hour Work Day course launching later in the year, so clearly I think it's a useful tool.
I hope this webinar helps you make an informed decision on whether FusionHQ is for you.
Yaro Starak