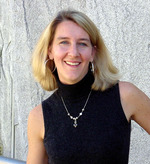 I just stumbled across a fantastic article by Pamela Slim on her blog, Escape from Cubicle Nation, titled – The sweet spot of your work. She must be loving the attention and the traffic because Guy Kawasaki also sent her some link loving.
The sweet spot as Pamela describes it is:
…the intersection of three interlocking circles: the first is "what people will pay you to do" – marketable skills and abilities that you have developed over your working life. The second is "that which you have great passion for" – areas of interest, hobbies, ideas or causes that make your heart race. And the third, and most elusive, is "that which you are genetically encoded to do" – the things that you were brought on this earth to accomplish that no one else on the planet can do as well as you. Where these circles interlock is your "sweet spot" and place that you should spend your working life if you want to feel alive and full of joy.
That's it. That is exactly what I am talking about. I've not read it put so succinctly with so few words before so it's definitely worth replication.
We all know what we enjoy doing and strive to fill our lives with as much of it as we can handle. We know we need to earn income to survive in our society and it's lovely when that aligns nicely with the things we enjoy. The last one is not always talked about as much – your genetic purpose, or as I'd like to simply call it – "your calling". Your calling is a very spiritual element, if you let it be. Once one find their true calling that also satisfies the money monkey and your own passion monkey then well, you have bliss, or at least a very sweet spot.
As I wrote in a previous article – What Is The 80/20 Rule And Why It Will Change Your Life – finding what you enjoy AND what pays you income is a matter of deciding to seek out the activities that provide the most intrinsic pleasure for you and not letting the pursuit of money only for money's sake rule.
Pamela has further advice on finding your sweet spot in her article including discussion on who you really are, what people you should seek to surround yourself with (work with), ascertain the exact work you enjoy and taking risks. Go have a read, it's good stuff.