You can find a list of other reviews and links to the products and resources I use to run my online business in the Resources Section of this website.
******
UPDATE: Everything written below was accurate for the time I wrote the original review, however it now seems this product is not getting many updates. I now recommend Butterfly Marketing as the best all-in-one affiliate and membership site online marketing tool and use it myself. I have not since used Motivated Marketing System because it was too buggy and didn't do what I wanted it to do.
******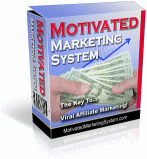 In a previous post – Motivated Marketing With Butterflies – I mentioned a new online marketing service called "Motivated Marketing System" which I recently purchased.
I've had some time now to experiment with the system so I'm in a good position to report back to you my initial impressions.
In A Nutshell: If you don't have time to read the full review here's my "snapshot" opinion. Motivated Marketing System (MMS) is a simple and efficient software package to build a website that can manage affiliates, members and to distribute information products. It also has a one-time-offer functionality that is only available elsewhere in the much higher priced ButterFly Marketing package, so if you need this functionality you either build it yourself or buy MMS.
As MMS currently stands it's not perfect. As I write this the MMS programmers are working on bug fixes and new feature implementation. With each update of the software it gets better and better and closer to a good solution. As it currently operates it can function well enough to use but personally, being the control freak and perfectionist that I am, it's not good enough for me. I will keep it though and not ask for a refund because I will use the software because it is very simple to implement a very quick system for setting up a product or membership site.
The full price of $247 is too much. I bought it when it was just released before they raised the prices. I think $97 is a fair price for the package as it currently stands so I wouldn't recommend paying $247 for it unless you absolutely have to have it or you are at the stage in your business where you can justify expenses like this in order to stay up to date with the industry.
Luckily for my fast-acting readers for the next three days I arranged a discount so you can also get it for $97 – but you have to act quick! (see below for details).
Special Offer – Discounted Price: $97
I've been in contact with the producers of the software, Eric Holmlund and Glen Barnhardt, who have been kind enough to open a three day discount period only for you, my readers. When I first purchased the software a few weeks ago it was $97 but due to demand the software price was incrementally raised to the current price of $247.
During the next three days you can also get the software for $97 but only if you click through this link –
http://www.motivatedmarketingsystem.com/yaro.html
That's a saving of $150 for the complete Motivated Marketing System!
And yes that is an affiliate link but I know you guys and girls are happy to support me so thank you!
Okay, let's get to the full review…
The Software
The Motivated Marketing System (MMS) comes with the MMS software, the MM guide e-book and a collection of other e-books on creating and launching an information product. While the information in these books is certainly valuable I bought this package for the software and that's what I'm here to review.
The main MMS book by Eric does have some good marketing advice regarding setting up websites that use the MMS software but it's not intended to be a technical manual – it's only about marketing. The full documentation on using the software is not provided (yet) so if HTML is something that scares you this package is probably not for you, unless you have a partner/employee who does the technical stuff for you.
Core Features
The concept behind MMS is very much similar to Mike Filsaime's Butterfly Marketing which I also bought but have not received in the mail (it's more than a month now too!), so straight up one good point about MMS is you receive it instantly as a downloadable zip package. No waiting for this one.
I'm not entirely sure who invented it and certainly Mike Filsaime was the first person I came across who labelled it with a brand name including butterflies, but essentially what we are talking about is an automated website building tool with some core functions, which are very important to doing business online as an information marketer. There are also some relatively new innovations that I think we have to credit Mike Filsaime with creating – namely the One-Time-Offer (OTO) and membership sign-up thank you page, which is a new style of namesqueeze, which I'm quite impressed with (I can't really explain it to you in this review – but it's a very cool way to build a list quickly). MMS has many of these core functions including –
Affiliate management
MMS has a fairly rudimentary but well integrated affiliate system which empowers all your members with tools to sell your products. The idea behind a system like MMS is to encourage a pyramid like viral growth pattern with existing members bringing in new members (yes, it does sound like MLM). The affiliate section is crucial and one of the main reasons I bought the package.
In some ways I was disappointed with the affiliate options available in MMS. The system is basic with a single link for affiliates to use and the possibility of offering banners and emails for your members to use (you add these through the admin panel). Users can view statistics about their clicks and conversions and there is a two tier structure so affiliates can bring in sub-affiliates and earn a share of commissions.
Simplicity – An Advantage and Limitation
That's about where the affiliate system ends. Yes it's limiting and you certainly don't get the power of a dedicated affiliate system yet it's the simplicity that I find one of the best parts of MMS. You get complete control of the HTML templates so you can change the look and feel but you only need add your own custom header, footer and background to brand the system as your own. The core content area is very clean with nothing but basic text to deal with which goes straight up and down the page.
I've shopped around for an affiliate system that integrates with a membership system and so far MMS does it best, yet it doesn't do it well enough. At this time I don't think there is one perfect affiliate/membership system out there, but maybe I'm just picky. Other affiliate management systems offer many more features and controls but tend to overcomplify basic functions and certainly turned me away based purely on the end-user screen shots – I need a system that doesn't confuse or intimidate beginner affiliates.
MMS is certainly good enough to use out of the box if you just want your affiliates to refer people to a sales page or thank you sign-up page. It's perfect as a cheap and easy system to get selling online quickly.
One Time Offers
A one-time-offer is a cool method of displaying a sales page just after a person has signed up but before they get access to what they signed up for. The offer is only made available once to make it more compelling. I've yet to make use of a OTO but I'm very eager to. Some other marketers report back sale conversion rates of 8% or more using a OTO which is pretty good. It's definitely a great feature and worth testing especially if you sell non-internet marketing products since your customers have probably never seen a OTO before so it will perform very well.
Admin Interface
The admin interface continues the trend of simplicity. A left panel navigation window lists all the functions and each section only has a handful of options to manipulate. I expect as the system is upgraded the admin panel may become more comprehensive but for the moment it's certainly sufficient, as long as you don't want to do anything beyond the basics.
Open Source
Every page of the system uses templates which you can modify. As long as you don't mess up the code the system can be customized quite significantly with only a knowledge of HTML. MMS is open source and you can change the code to meet your needs if you have the PHP skills to do so.
The Verdict
If you need a simple and customizable solution to sell an ebook or similar info product Motivated Marketing System provides the basic tools. You can set up custom sales pages with sign-up forms to take memberships, integrate one-time-offers and have a basic two tiered affiliate management system all under the one roof. The developers of the product are committed to meeting client requests too so you can expect in the future the software will be even better.
If you are looking for a robust affiliate system look elsewhere. If you need a comprehensive membership system look elsewhere. If you plan to market online by selling information it's worth having this tool in your marketing toolbox even if it won't fit every project. If you can't afford ButterFly Marketing this is pretty good alternative and 90% cheaper.
Reminder: If you want the discount on the package you have until the 17th May 2006 to buy from this link – http://www.motivatedmarketingsystem.com/yaro.html
Yaro Starak
Motivated Marketer