Yahoo! Search Marketing's Failure
I've cancelled my Yahoo! Search Marketing (YSM) pay-per-click (PPC) account. It's a terrible product and I'm not afraid to tell you why.
One problem, the first big problem most people notice especially if they have been using Google's AdWords system, is how terrible YSM's system is to use. The interface is awful and after using Google's system it's almost physically painful to navigate around YSM. You would think after all this time and so much negative feedback that they would work to update and clean their many-years-old system. It's not like they can't get access to Google's system and see what Google does so much better.
YSM has a monthly minimum spend of $25. That means if you can't generate enough clicks you will get charged a minimum fee of $25. To combat this you have to struggle with the system to enter in new campaigns in hope of attracting enough clicks to get your moneys worth. Then the quality of the clicks starts to drop because you chase less relevant keywords and your conversion rate suffers.
Of course why this is a real problem is because Yahoo's network just doesn't get the traffic that Google does. You can't get the clicks because Yahoo's network can't deliver the impressions.
That's a fantastic combination for customer dissatisfaction.
To top it all off YSM forces you to pay a $100 joining fee which I have just found out is not refundable. They probably do this so they at least make *some* money from you before leaving dissatisfied.
Okay, I'm being a bit harsh, but I'm frustrated and I'd like Yahoo! to do something about it. The blogosphere is powerful and I suspect there is a good chance my comments may get back to someone who matters at Yahoo!.
Why Google Owns The Pay-Per-Click Industry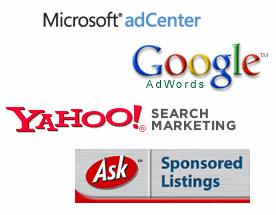 I suspect Yahoo! is well aware of the shortcomings of their PPC system, I'm definitely not the first to complain about it. The underlying problem is that Google owns the lion share of the search traffic and is leaping far ahead of every competitor with their ever expanding publisher's network (Google AdSense). Consequently Google can deliver more impressions and clicks and combined with a far superior system, which is regularly updated and simple enough to be used by small business owners, and you have a recipe for market domination.
Of course Google depends on their PPC system for 90% of their billions of dollars of revenue so as you can imagine, their interest is certainly in retaining a leadership position in the PPC marketplace while MSN and Yahoo! don't depend on PPC to keep their businesses going (thank goodness for them!).
As you may have heard, MSN and Ask.com have also recently launched pay-per-click systems. Ask.com survived previous years because it made use of Google's system to generate revenue while it was getting back on it's feet. Now that it has some momentum it's decided to try an internal PPC system. Of course MSN could never consider making use of Google's system so they have been busy playing catch up to launch their own PPC technology, but like Yahoo!, I suspect their system will suffer from low traffic levels since their network just doesn't have the reach that Google's does.
And that's the problem.
Google wins because of the long tail. Google makes such a tremendous amount of money because millions of businesses all around the world operating in millions of markets all use AdWords to promote their wares. The other search engines just can't service as big a long tail as Google can and can't offer the results where it matters – targeted traffic – like Google can. Their reach is shorter so their tail is shorter too.
Consider The Typical Small Business Owner
I'm a pretty good example of a reasonably average Google AdWords user. I don't spend much but I keep at it month after month in my little niches. I use AdWords and get customers. Google understands the end user is millions of average joes like me and works to meet my needs.
PPC needs to satisfy the long tail of users, the average small business joes, who only have so many hours per day to devote to PPC campaigns. Since I follow an 80/20 rule I'll spend my time where I can get the best results with the least effort. That is Google AdWords.
I don't want to have multiple options for PPC. I want one system with maximum reach. I want to manage one set of campaigns in one well constructed interface with my ads going across every network to as many targeted searches and content as can be delivered (or that I can pay for).
The Big Boys Playing Together?
Ever since Ask.com (back then, Ask Jeeves) worked with Google in an effective relationship I've thought about all the search engines working together. Google will likely remain dominant in the PPC marketplace as long as the market is viable since it depends on it so much. Google has the best technology and provides the best service. Instead of cluttering the market with inferior competitors, who create more systems for small business owners to struggle with in order to market their businesses, why can't everyone use Google's system and share the revenue?
Why can't we just tick a box in AdWords if we want our campaigns to run across Yahoo!, MSN and Ask.com? The customer gets the best experience and therefore more customers come on board and the size of the market increases. With a larger market the revenues increase for all participants. A utopian solution where everyone benefits or am I dreaming or misinformed?
I couldn't begin to speculate whether working together would be more lucrative for the search engines instead of each having their own PPC system. Certainly based on Ask.com's decision to create their own PPC system you would think it is more profitable than working with Google since they must have done the numbers.
In this case, unfortunately, I think this is a situation where the customer loses because the big boys have to compete. In most circumstances competition benefits the consumer but I think in the PPC war, as the current market sits, it would be better if there was only one system to service the entire industry so the little guys like me can keep it simple.
Yaro Starak
Average Joe