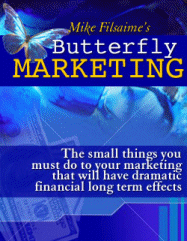 If you are presently on any Internet marketer's list or reading their blogs there is no doubt you know Mike Filsaime is launching a product this week, and you are about to be bombarded with emails about it (consider this my contribution to the noise 🙂 ). Some marketers are leading with the story that Mike has been kidnapped, and while I don't mind the "fun" of this story, I just don't feel like running with it – too cheesy for me – so in Yaro style I'm going to review the manual since I've read it and fully intend to make use of it, in fact I already am with the (never-ending) launch of Blog Traffic School.
Let me get the transparencies out of the way first. I'm taking part in this prelaunch because I have read and used this product so I'm in a good position to give you a honest review. I happen to think this is one of the best e-books for those of you who are slightly advanced marketers selling information products online. If you know the basics of how to sell products on the web Mike's manual is perfect for you. If you are just starting out with net marketing you might want to get the basics covered first as much of what Mike teaches could go straight over your head.
Mike Filsaime has come up with a few key revolutionary concepts that have had a big impact on the way Internet marketing is done. If you want to learn what these techniques are this product from Mike provides the answers, but I'll go through a rough outline of the concepts in my review so you can make up your own mind before purchasing.
The links I include to Mike's manual are with my affiliate ID and I will receive the greater majority of your money if you purchase the product. As per usual I appreciate the support of my blogging if you do decide to buy. Mike has provided a generous commission for affiliates because he wants to achieve a few things with this launch – get the top spot in the ClickBank (aff) marketplace, sell a million dollars worth of product (I'm not sure if his goal is for one day or one week, but no matter what a million dollars for a $97 product is ambitious, but certainly achievable for a guy with Mike's influence and reputation) and of course, further expand the reach of his name/personal brand and the concepts of Butterfly Marketing. I for one have no problems supporting this product because it taught me a lot and gave me many "aha" ideas for my own products, I think it will do the same for you.
If you are already curious you can check out the prelaunch page here and sign-up for the pre-registration email list – www.thebutterflymarketingmanuscript.com (aff)
What Is The Product?
The product to be released on Tuesday 8th of August 2006 is the Butterfly Marketing Manuscript that originally came with the full Butterfly Marketing package (aff). The full package now retails for $1497 USD. I bought it back when it was in it's first run of 1500 copies for $997 USD and if you remember I was still waiting for it and was very much considering returning it because it took so long to get to me here in Australia (I think my order got lost in the mail so they sent me a second package, or something like that). I can report back that my copy did arrive and I've had it for about a month now. It took about a week of shifting through the materials to quickly realize that I wasn't going to be returning it – I am quite impressed with Butterfly Marketing.
I'm going to do a review of the full Butterfly Marketing package in a future blog post once I have used all the materials and the software. At the moment I'm still reading the books and listening to the audio. I haven't had a chance to play with the software yet, which is what I am really looking forward to, and based on how many upgrades it's received (that's one advantage of buying late – all the bugs have been attended to and features have been tweaked) it's should be well and truly in a high-quality, usable state – perfect for marketing all of my future blog information products.
I think the software is the best part of the Butterfly Marketing package, but the next best part and certainly vital if you are to make good use of the software, is the knowledge that Mike imparts through his Butterfly Marketing manuscript – the 120+ page book that teaches what exactly Butterfly Marketing is and how Mike Filsaime uses it to make over $185,000 USD per month online.
For many of you, the $997 and now $1497 pricing point is way over your budget. On Tuesday you will be able to get access to the manuscript for about 1/15th of the price of the full Butterfly Marketing package – $97. The manuscript will certainly teach you everything Mike does to launch a product and use Butterfly Marketing.
So you don't get information overload I'm going to do the actual review of the manual in my next blog post, which will go live a few hours after this one.
Remember if you are curious about the manuscript you can check out the prelaunch page and sign-up for the pre-registration email list here – www.thebutterflymarketingmanuscript.com