Today (Thursday) the doors on StomperNet Membership are opening again to fill the last few available spots that Brad and Andy didn't fill during the previous few weeks.
In case you missed the hoopla, StomperNet is the ultimate search engine optimization and website conversion course. You know me and you know I don't like hype and this product launch has been one of the most hyped launches in history, but despite that I am willing to support it, and I'll tell you why – it's because of Brad Fallon.
Brad was the guy who taught me about SEO from the beginning back when I knew nothing. I took his email course and implemented a lot of the techniques on my business website,
BetterEdit.com
. BetterEdit enjoys first page rankings, in fact last time I checked it had position one or two for every key search term in the editing industry that I optimized for. While there isn't much search traffic in general what traffic has come to BetterEdit thanks to top organic rankings has no doubt contributed many thousands of dollars worth of business – I see evidence almost every week when a new client submits a job and they put "google" as the referral source in their sign-up form.
I can't give all the credit for my results to Brad but I can certainly give him a big chunk of it. If it wasn't for his advice I doubt BetterEdit would have enjoyed top rankings for as long as it has (almost 5 years now of first page rankings at bear minimum – that's a lot of business over a long period of time!).
Conversion + Traffic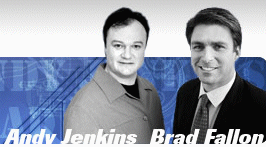 Brad Fallon and Andy Jenkins are the only guys I know who specialize in SEO *and* conversion strategies and are putting together a comprehensive course on the subject. There just isn't any other course out there that teaches this stuff to the advanced level that these guys cover (things like eye tracking tests to see where people look at when they come to a website – that's cutting edge stuff that I thought only Google was doing).
The key to success in Internet business are two ingredients – targeted traffic and conversion of that traffic to make sales. Top organic search rankings result in free targeted traffic. Top conversion strategies result in more sales from that traffic. I hate to sound like a profit-monger, but if you are in business you are in the business of making profits, so it is hard not admire what Brad and Andy do.
The Free Videos
In case you missed the full launch you can catch up on everything and watch the great free videos that were released by going to the StomperBlog.
How To Join StomperNet
The sign-up page is here: Stomper Network
The last of the Slots will be available on Thursday, October 19th starting at NOON eastern time.
If you are early you will see the waiting list page that says StomperNet is closed. You can join the early notification email list to be certain you know when the re-launch is live or just come back to the page at around noon. I have no idea how many slots are left and how "limited" it is – it's always hard to tell with Internet product launches of this magnitude – but I suggest if you are really keen that you are at the page at midday just in case.
Anyway, that's enough from me – you know this is the last chance you will get at this course, yes the re-launch is going to be hyped again today by all the other Internet marketers and you will have plenty of options to buy from if you want to maximize your return on investment because they are all throwing in big bonuses to convince you to sign-up via their affiliate link (behind the scenes the top affiliates in this launch are competing for a prize of a BMW M-5 – that's some BIG motivation! – and no, alas, I am not in the running).
Like I said when the program first launched, I recommend you shop around to find the best deal if you intend to join. If you join via my link well you better darn email me so I can thank you personally (that's my bonus 🙂 ).
Personally I would join if I wasn't already spending $400 US a month on Rich Schefren's course for 12 months and I had the time to absorb even more materials and attend more seminars. I think a 12 month course is a good pace and I suspect if your needs match up with Brad and Andy's claims you will very likely end up satisfied by the end of the course (and no doubt earn back your investment quickly). If you don't have the time or you are terrible at putting things into action I'd focus on those problem before spending more money on Internet marketing products.
StomperNet Membership Outline
If all this is new to you the StomperNet sales page should answer most of your questions and I've included the summary of membership contents list below as well.
1. Internet Business Brain Transplant (18-Part DVD Home Study Course)
Video Screen Capture Step-by-Step Tutorials (Blue Discs &#8212 about 13 Hours)
Boot Camp Videos (Red Discs &#8212 $5,000 Apprentice Boot Camp)
SEO and eCommerce Library (Purple Discs &#8212 11 Hours, Entire Sold-Out Seminar)
SEO Leader's Series (Yellow Discs &#8212 Private Lessons from the SEO Masters)
(Be Aware that the Blue & Yellow DVD's will require a DVD-Rom player on your PC)
2. The StomperNet Lifeline &#8212 Ongoing Training and Support
Webinars &#8212 Just like the Going Natural Videos
Downloadable Videos &#8212 Watch What You Need, Exactly When You Need It!
Custom Videos &#8212 Andy and Brad create ongoing videos, based on the specific needs
Q&A Teleseminars &#8212 Just pick up the phone and ask any question.
Podcasts &#8212 Interviews with Internet Marketing Masters, recorded and archived
3. StomperNet SEO Automation Software &#8212 Private and Proprietary (Shh!)
Part I: StomperNet Content Exchange Software (White Hat and Extremely Effective)
Part II: [Classified: Sorry, this part cannot be disclosed except to actual Members.]
4. The StomperNetProfit Portal
Member Discussion Forums &#8212 The Backbone of the Community
StomperNet Live Chat &#8212 Get your questions answered immediately
StomperWiki &#8212 Instant archive of all the critical information
Your StomperNet Personal Headquarters &#8212 Software for managing your business
Personal AnswerTrack System &#8212 Track your questions and the answers in one place.
StomperNet Profit Building Archive &#8212 Every previous Group Meeting is already there!
5. FOUR (4) Live Training Sessions &#8212 StomperNet Converences & Seminars
Two-Day Seminars that Keep You Current!
One-of-a-kind Networking with Your Peers
Plus, the StomperNet Annual Convention
Each one is a $2,000 – $10,000 Value
Specific in-depth training on All Forms of Internet Marketing
No "Attendeess" & "Guru's" — Just Friends and Colleagues
Yaro Starak
SEO Fan