Review of SEOBook by Aaron Wall
You can find a listing of all the reviews and links to the products and resources I use in the
Resources Section
of this website.
Search Engine Optimization Book by Aaron Wall (SEOBook.com)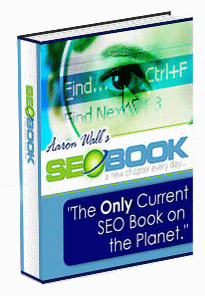 Name: SEOBook by Aaron Wall
URL: www.seobook.com
Purpose: Search Engine Optimization education
I've meant to complete a review of Aaron Wall's seminal SEOBook and get it out to you for a while now. There's one reason why it has taken me so long – the book is massive!
The version I read is 290 pages and I believe it has been updated since then so may be even larger in current form. I'd be lying if I told you I didn't do some skim reading – I would never have finished it otherwise. There was a lot of content I already knew in this book so I think it was safe for me to skim now and then, however if you are new to the Search Engine Optimization (for here on known as 'SEO') world this book really is the bible on all things SEO, and you would be wise to read it start-to-finish.
About Aaron Wall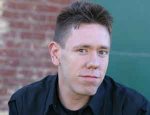 I discovered Aaron, like many people do, through his blog at SEOBook.com. I enjoyed reading his life history and felt an immediate rapport with him – he has a blogging style I can appreciate, very honest and open, which reduces the barrier to buying his e-Book. This is one of my favorite strategies for selling an e-Book online, the blog + sales page combination is fantastic and Aaron's successful execution of this strategy is testament to its effectiveness.
Aaron has an interesting history, including time in the navy, before eventually finding himself in the SEO and search engine marketing world. He's labored long and hard online and his passion for search engines is pretty clear. He's one of those worrying people who enjoys things like algorithms and figuring out how search engines work – personally I prefer to learn from people like Aaron, and reading SEOBook is the best way to absorb much of Aaron's knowledge in a fraction of the time it took him to accumulate it.
The SEO Education Industry
With the recent launch of Brad Fallon and Andy Jenkin's StomperNet, Brad and Andy removed their previous SEO product, Stomping the Search Engines. As far as I can tell it is no longer possible to sign up for the free SEO e-course Brad created to sell Stomping the Search Engines and since doors are currently closed on StomperNet (at the time of writing this review), there are not that many reliable SEO education sources left.
Brad Callen (not Fallon) has a great e-course and free e-book on SEO, but his materials are designed to upsell his SEO Elite software and while the education is sound, it's not quite as all-encompassing as Aaron's SEOBook. In terms of credible experts with materials you can study online, Aaron is almost all alone in the SEO field – that's "credible experts" – there are plenty of SEO specialists out there, it's just difficult to know who is good. Aaron, with this e-Book and blog, proves his position as a top consultant and trusted source on SEO.
It Really Should Be SEMBook
When I begun reading SEOBook I was somewhat surprised. I was curious to see what Aaron could teach me because by the time I found him I was already well versed in SEO, and nothing was really blowing me away in terms of advanced techniques. I was hoping that Aaron's book could offer something new.
What I was not prepared for was the range of topics covered in SEOBook. I think the title is somewhat misleading, which is why I was surprised – it's not really a book about just about search engine optimization – it contains content on the bigger picture – search engine marketing.
What's the difference you ask? Well generally search engine optimization is purely about ranking well in the search engines for the right keywords, while search engine marketing is a broader topic covering how to use the all aspects of search engines to bring traffic to a website and often branches into pure Internet marketing as well.
This is why Aaron's SEOBook is so large – he's covered topics that go beyond just SEO, including subjects like choosing a domain name, copywriting, pay-per-click advertising, usability, hosting and even a history of the Web. On the face of it, this is fantastic because in SEOBook you really do have an all-in-source to learn everything. If you have never done any Internet marketing before, reading this book will get you up to scratch really quickly. SEOBook in a way teaches almost everything I know about the web in 290 pages – that's a scary thought – but great for you if you want to save time and get into Internet business.
My One Gripe
I can see what Aaron is attempting to achieve with his book – he's providing all the background and 'surrounding' information required so you understand how SEO fits into the bigger picture of Internet marketing. It's helpful if you understand something about copywriting and conversion (etc) so you can better leverage good SEO. It's good to know all the pieces of the puzzle before attempting to assemble the final picture.
What bothered me about this was that I had to wade through a ton of content I already knew to find the nuggets of information that I didn't know. Bear in mind I have been working online for nearly as long as Aaron, so perhaps my situation is rare, and it's certainly hard to berate someone for being too comprehensive, but be prepared for redundant information if you already know your Internet marketing and were expecting pure SEO techniques in this book.
That's not to say you won't find fantastic content on SEO – topics like link building, constructing websites for SEO, evaluating link exchange partners, buying links, free links, keywords, site navigation, internal linking, title tags and generating content (etc) are all covered. Aaron realized that not everyone was going to read his book from start to finish so he has clearly categorized each section in the book and provides a quick start checklist at the end too, so if you are like me hunting for the goods in between what you already know, it shouldn't take too long to find what you are a looking for.
Ideas
Perhaps the best feature of SEOBook is all the ideas it will stimulate. Aaron presents you with the techniques to get traffic to your website – and wow, he presents a lot of them! – so you may find yourself swimming in things to do. It's important to pick a few key concepts (hint – look in the link building section of SEOBook for best results) and focus on implementing them if you want success. Aaron is not going to do the work for you and if you follow his instructions from start to finish you have a huge job ahead of you.
One of the best uses of a book like this is for a small company. If your business operates online you could place one staff member in charge of SEO, sit them down with a copy of SEOBook, tell them to read it from start to finish and then implement the techniques. This would ensure your new in-house SEO expert would have all the core information required to start optimizing your web presence.
Aaron provides a section in the book on outsourcing your SEO, so if after reading SEOBook you feel ready to help others, advice on how to land work as an SEO consultant is available to get you started. You know you have found a good book when you can begin a new career based purely on what it teaches you.
Table Of Contents
I'll wrap this review up with a list of the table of contents from within the book. I think this is necessary given the breadth of topics covered. Note that these are the major categories, each category has between 5 and 15 sub-headings under it, but you will have to buy the book to find out what they are.
How To Read This Book
Why Search?
Brief History Of The Web
General Internet Topics
Writing For Search Engines
Directories and Communities
Search Engines
Link Building: AKA The Holy Grail
Pay-Per-Click
Monitoring Results
The Social Web
Hiring a Search Engine Optimizer
Selling SEO Services
Quick Start Checklist
Bonus Materials
Aaron includes several additional resources along with his SEOBook, including a collection of SEO Tools and a 111 page book of interviews with other SEO and Web specialists. Since I received the book many months ago the bonus materials may have changed so you should check the SEOBook sales page to see what currently comes with the e-book.
Recommendation
The only reason I wouldn't recommend SEOBook to you is if you don't have the time to read it. It's big, detailed and comprehensive. This is a good thing and a bad thing, depending on your time and patience. Individuals looking for the "bible of SEO" or a conclusive introduction to search engine marketing should look no further. Experienced Internet marketers looking for ideas will also benefit from SEOBook, as long as you are prepared to do some skim reading to dig through all the content to find what you need.
If in doubt, spend some time reading Aaron's blog first and get to know the guy and his writing style. If you don't enjoy or find value in his blog then perhaps the book is not for you. Remember a blog is slightly more casual in writing format than a book, and although Aaron keeps his style casual in SEOBook, it is still about the content and he rarely goes on tangents like you would commonly find on a blog.
If one or two extra sales from your website would cover the cost of this book then it's a no-brainer. Aaron wall will teach you enough to easily recoup the investment of this book. It really is a must-have on the shelf of any serious Internet business person and you will find yourself referring back to it on many occasions in the future.
Click here to read the SEOBook sales page.
Yaro Starak