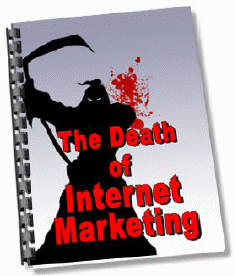 When it rains it pours!
Cut straight to the chase – Download the free report Death of Internet Marketing by Mike Filsaime (aff).
Fresh from reports about the death of AdSense, and Internet business manifestos, and final chapters and life after AdSense and product launches and endless free reports and information on how to make money online I have yet another free Internet marketing report for you to read.
This one, of course, is different, because it's from Mike Filsaime.
I have to be honest with you, I'm not one for hero worship but in the Internet marketing world Mike Filsaime is about as close to my hero as you can get. Mike is one of the few Internet marketers who's newsletter I remain subscribed to and I think his Butterfly Marketing (aff) product is one of the coolest tools available in Internet marketing – it's the most expensive Internet marketing product I have ever bought too!
I love Mike's work and as soon as I heard about this free report I went and downloaded it eager to see what Mike was up to. I was curious whether it was a new product launch or not and what Mike's take is on where Internet marketing is heading, especially given what Rich Schefren and Scott Boulch have been writing about in recent months in their free reports.
It turns out that no, this report is not specifically part of a product launch (I think – you never know!) although Mike is definitely building a list he intends to make money with in the future.
There are some neat features about this free report you should check out – and I don't even mean the report itself! Here are some of the cool things about the Death of Internet Marketing:
If you are an Internet marketer you have to go download the report just to see how Mike is confirming the opt-in. If you thought double opt-in was good, well Mike is using what I can only term "triple opt-in", asking for email verification and extra verification via a captcha code you have to enter after double opting in. Yes this makes for quite a bit of work by the person wanting access to the report but it also means Mike's new list definitely want the report – they went through three steps just to get it! That also means they will probably take extra time to read it and the list will be of a good quality when he goes to monetize it later this year or next year.
Mike is of course using his Butterfly Marketing membership system (aff) to deliver the book and his viral marketing principles as he lays out in his manuscript (you can read my review of Mike's butterfly marketing manuscript to learn more).
He's not pushing a one-time-offer or anything after you opt-in, you just get the e-book, however you also can recommend the book and Mike is paying out $1 for each person you refer to a two tier level. That means you get paid for both the people you refer and the people they refer under them (so essentially Mike pays out $2 per download of his book – he will probably end up paying about $50-60k to build this list).

This is similar to what Scott Boulch did earlier this year with the Death of AdSense report that launched his Click Flipping business and just like that report, those who were in early earned the most referral commissions.

Mike includes a survey (like Scott Boulch did) that attempts to gather some market intelligence about people interested in Internet marketing, which I think is a good move and like he says will help him craft his business plan for the coming year.

As an aside – the survey function is a feature I'd like to see built into the members version of Butterfly Marketing, along with the triple opt-in function, and I expect it's only a matter of time before Mike delivers. He keeps updating the software which is great – he didn't just do the Butterfly Marketing product launch and walk away with his millions. He's been consistently upgrading and enhancing the software month after month, albeit upgrades during the early months after launch were to fix some nasty bugs that the software had and I expect some people asked for refunds as a result. Those who stayed with him got to see the software mature into a very functional tool.
That's enough Mike loving for now. I recommend you download the report as soon as possible and then tell your blog readers and email list subscribers about the report so you can earn your commissions. This really is super-easy money for those who act quick enough, and you get a very relevant e-book and can watch a master of Internet marketing ply his craft.
And yes of course if you download via my link I get a dollar and I get a dollar for the people you refer who download it, so of course I encourage you to do like I am doing to help spread the word for everyones benefit and take advantage of Mike's offer while it is available for two weeks. Since this doesn't cost you anything you certainly shouldn't feel bad or cheated or greedy – everyone wins here. Don't make the mistake of missing the opportunity because you don't think it's right to make money from this – I didn't when I "paid" my dollar to Brian Clark who's link I decided to click to download the report (and there were plenty of options).
Download the free report: Death of Internet Marketing.
What Is The Book All About?
This e-book touches upon pretty much everything we have been hearing lately, especially Rich Schefren's teachings. Since Rich is also Mike's coach it is not that surprising that they agree on a lot of things. Your going to hear about opportunity seeking and the long tail and product launches and pretty much everything else you will have read on my blog and in many other places if you study and/or work in Internet marketing.
Is Internet marketing dying? No. Are there too many product launches and is the market becoming jaded with them? Possibly. What's going to happen next? – Mike's report has some ideas that will certainly make you think. It's a good read.
I like that Mike is a hugely successful Internet marketer himself so is in prime position to actually experience what is going on from the top. I think you can tell by now that Mike, along with Rich, are two of the only guys I still listen to in this industry and look to for advice.
One last time – Download the Death of Internet Marketing.
Yaro Starak
Internet Marketer