I'm back at home in Toronto. It's so crazy as I look out my window right now there is a huge snow storm, the largest this winter so far and it's about -15c. Just a three hour flight south in Florida yesterday it was warm and sunny at about 25c. Amazing.
The Rich Schefren/Strategic Profits conference over the weekend was the first Internet business conference I have attended. It was a great experience and I want to share it with you here on my blog, especially for those of you who have never attended a conference but may be considering it, or for those considering joining the Strategic Profits coaching program.
I want to focus on lessons learnt from Rich and the whole experience, but since the networking and making friends was the big highlight for me I also want to make mention of some of the people I met, so I'll start with that.
I gave out my business card with my blog address on it to many people over the weekend and I expect many of you are reading my blog for the first time as a result of bumping into me at the conference. I hope you enjoy what you find here and please subscribe to my RSS feed or email updates to stay up to date.
Rich Schefren and Mike Filsaime
Rich and Mike are two guys I obviously admire because of their achievements online and one of the main reasons I wanted to attend this event was to meet both of them. Mike has walked the path as an online marketer that I want to walk right along behind him, and obviously Rich is leading the charge in the business systems area. I've already learnt a lot from these guys simply by watching what they do and I hope to replicate their successes.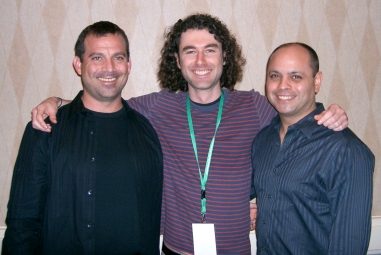 Rich Schefren, Yaro Starak & Mike Filsaime
Before meeting face-to-face I had heard many reports about how genuine and friendly Mike and Rich are. I'm happy to say after meeting them both now in person I can verify that they are very approachable.
It's important to remember that even though Mike and Rich are bringing in millions and have well known profiles, that doesn't make them any less human than you or me. You should never fear meeting people because you perceive they are somehow different from you. The fact is everyone is different from you and that's one of the reasons you should want to meet people – to discover what makes them unique and learn from them.
I knew Rich before attending this conference because he said hello via my blog when he launched his program that I later joined, he featured me in his materials before and we communicate occasionally via email. Mike I had not talked directly before, so it was great to walk up and introduce myself and have Mike immediately know who I was from my blogging. He made comment that I should have a product out since I have so much proof (of my success with blogging) and that one comment has really provided a boost of motivation to get something to market ASAP. Thanks Mike!
Obviously meeting these two were highlights for me but it's equally great to meet other people and I especially love it when I find someone who knows me or I know them, so here's a quick run through of some of the cool people I had the pleasure of sharing the weekend with and meeting in person.
The Torontonians
After joining the Rich coaching program several of the Toronto members hooked up via the member forums and formed a mastermind group. During the last six month's I've had a chance to get to know many of them, some of whom attended the event. I quick shout out to –
Michael Rabinovici and his wife were in attendance at the conference and they live in Thornhill in Toronto, which is the area where my family live too. Mike has a bunch a projects on the go, but his main focus is Occasional Words.
Taylor didn't make the seminar over the weekend but he's been very proactive keeping the Toronto mastermind going, including setting up the blog. He has just started down the path of a new Internet product and has just launched a new blog – ProcessToProfits.com. You have to check out the blog just to see his happy photo :-).
Carolyn Ellis is focusing on divorce support with her Thrive After Divorce business. I saw Carolyn networking all over the place on the weekend so I expect she has an even larger pile of business cards than I do. Carolyn is working on releasing her book later this year and has a bunch of things going which you can check out at her website.
Danny Guspie and Heidi Nabert have long been in the divorce business too focusing on dads, but now they are turning their energies towards their new business, The Podcast Marketing Center. They love all things multimedia and were recording audio at the conference whenever they had a chance to.

Danny Guspie, Yaro Starak & Heidi Nabert

Jan Marie Dore didn't make the conference but she has been a very devoted Toronto mastermind member and I expect there is a portion of my readers who may be interested in her business – Femalepreneurs.com.
Kat King and Tony Kasza also made it to some of our mastermind events, so I have to send a shout out to them too.
New Friends
During the event I met many new people, but the person who I spent the most time getting know was an interesting lady by the name of Elyse Killoran. Elyse is a proponent of the Law of Attraction and schooled in Abraham-Hicks teachings. In case you don't know, much of the Abraham-Hicks Law of Attraction methodology forms the foundation for the now famous The Secret movie, recently featured on Oprah and well and truly going from underground hit to mainstream marvel.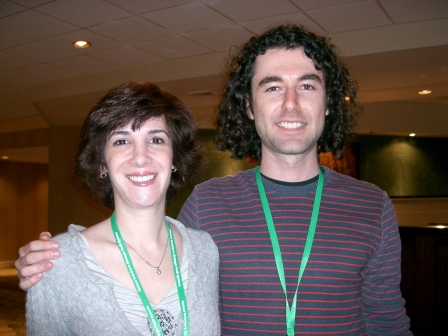 Elyse Killoran & Yaro Starak
I have yet to write much about The Secret or The Law of Attraction here on my blog, but rest assured I've watched the DVD many times since I discovered it mid-last year via Steve Pavlina and am working to further implement the awareness it has brought to me in my own life.
Elyse has practiced and studied The Law of Attraction many years before The Secret came about and runs a coaching business designed to help others use and understand it to enhance their lives. You can find more details at her website – Choosing Prosperity – and at her blog.
Networking While Eating
Lunch and dinner were provided during the event and it was suggested we sit with people we didn't know so we could network. On the first lunch, Mark Doerschlag recognized me from across our table and we had a chat, which led to handing out my business card to everyone at the table. Like many bloggers, I have a Hugh MacLeod Gaping Void blog inspired Streetcard as my business card – you can see the front design here, which in a room not full of many bloggers was new to most people and received quite a few chuckles.
Mark is from Boston where he runs his MarksGuide site, which is all about professional networking.
I also met Christian Fea, who, as his card says, is a Collaboration Marketing Strategist – or as he put it – joint venture specialist and Tawatchai Machumnean originally from Thailand but now in the USA, who was still figuring out what business he wanted to get into.
At lunch on Sunday I sat next to a group of four who I had seen spending a lot of time together. I had a look at the name badge and it turns out it was Andre Chaperon, with his wife and friends. I was familiar with Andre because of his blog – AndreChaperon.com – which recently I have read and often find appearing in search results for similar topics to my own blog.
Andre is a pro at affiliate marketing using PPC (you could call it click-flipping) and has a loyal following of affiliate marketers, who eagerly eat up everything he has to say and offer on the topic. I hope one day we might be able to work together on some affiliate marketing product since we both make money in that area.
I met many more people over the weekend but unfortunately I don't have any more business cards and I can't remember all the names. If you did say hello or want to say hello now, please leave a comment.
That's it for the networking aspect of the event. In the next post I'll look more at the lessons Rich presented.
Yaro Starak
Conference Fan
PS. Part two of this series is now available – Lessons From The Rich Schefren Conference Part 2