I made it to the end of the World Internet Summit (WIS) and wow, it's been a GREAT experience.
I probably didn't have a typical experience since I wasn't there as a person new to Internet marketing and consequently spent more time talking to the presenters, but I want to explain to you first my take on why YOU would consider attending one of these events if you are new to Internet marketing and then I'll throw in more tidbits about my experiences.
Opportunities, Education and Networking
My last article Beware The Allure of The Internet Marketing Success Story should serve as a cautionary tip on the mindset you need to have before entering an Internet marketing conference. Once you have that mindset you can attend these events, really enjoy and learn from the experience and leave with clear intentions rather than overloaded senses.
The WIS is four days. It's a long event. I guarantee by the end if you watch every speaker you have enjoyed a huge variety of presentation styles and learned about many different ways to make money online.
My initial Internet marketing training occured throughout the late nineties and early two thousands where I was managing hobby sites and creating BetterEdit.com. It took a long time to learn the ins and outs of how people made money online and I can honestly say if I attended this conference back then, while I definitely would have felt the urge to buy every program (I feel that even now to a degree), I would have covered about two years worth of hands on training and experience in four days. That's great if you want to speed up the learning process, but it also tends to overwhelm you.
What you will gain is a nice general awareness of how Internet business is conducted today. Things like capturing an email address, the sales funnel, product creation, viral marketing, copywriting, affiliate marketing, niche marketing, butterfly marketing, ebay selling, etc, are all in-depth topics that are covered in some detail at the event by each speaker. You will take a big step forward bringing the knowledge gap between wanting to make money online and understanding how others currently do it.
The big benefits come after the event when you go home and start implementing. You might begin by following the steps and training in a package you bought from one of the speakers, or by acting on the information you absorbed from the presentations. Whatever happens, if the event is the catalyst for you to start implementing and really learning through experience, then you have easily recouped the money you invested in paying the conference fee.
For the absolute newbies I'd say definitely go, it's a fantastic experience, but be prepared to be overwhelmed. For the people who already know a thing or two about net marketing, it's possibly even better. You still learn a lot plus you don't feel the sense of over-stimulation to quite the same degree since the basics are not new to you and you get the chance to see how the big boys and girls make money by presenting at conferences.
The Highest Paying Job In The World
My favorite speaker at the event was John Childers. I enjoy presentations that are funny, entertaining, laid back and informative. John teaches how to use words and essentially is the guy who trains people to become speakers both at events like the summit and on teleconferences. Naturally the speaker-trainer has to be a great speaker, and it's clear John has his game well and truly together.
Each presenter at the event spoke for around one and a half hours and concluded with a "pitch" where they sold their product packages. Most packages were between $2000 and $5000 dollars and usually include audio, video, text and coaching that you take home and study if you want to learn the methods that particular speaker uses to make money online. Needless to say, the speakers really clean up at these events – I don't think there was any presenter who sold less than ten packages and John must have sold close to one hundred. That means each speaker at an event like this earns between $50,000 and $250,000 in sales after their presentation.
To be honest I hate the sales pitch part of the presentation because the current de-facto format for a sales pitch is a lot like copywriting online. You get this plus this and this and this and this. Ewen Chia's was particularly lengthy and full of stuff I suspect most people will not use to good effect, like reprint rights articles and website templates, which I felt cheapened his very good content presentation leading up to the end. It's great these people sell packages, but I think most of the speakers need to learn from John Childers on the best way to make a pitch.
John ended with a thoroughly entertaining process that involved audience participation and didn't elicit a feel of "wait…there's more" style selling. It's hard for me to explain it, you just have to see John in action and really experience his "show". Just watching John ply his craft is a marketing lesson in and of itself, is well worth the price of admission.
John was my favorite but I enjoyed most of the presentations for at least the content part and learned a lot, in particular about product creation. Mike Filsaime was good as always and it was very cool to see the ongoing case study he did live with the launch of The Resource Report. He was also kind enough to give the first day's sales – over $7500 USD – to a lucky attendee in the audience named Nicole. Mike's experiment was a great example of how in a matter of just days he could build a list of over 10,000 subscribers and generate over $10,000 in sales just by using viral marketing via the audience at the summit.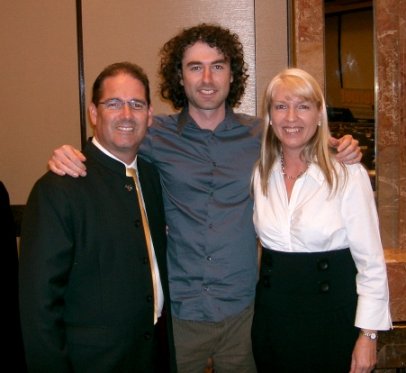 Andrew Grant, Yaro Starak & Daryl Grant
Daryl and Andrew Grant presented their ebook system, which I know quite well already, but I've never seen them present it live and since they are from Brisbane I had to cheer them on (we chatted a lot at the event too). Sandy Foster who opened as the first presenter was solid and I particularly liked her concepts because she is part of "The Secret" part two coming out soon (and was filmed but not included in part one) and is a proponent of the law of attraction/intention manifestation. Paul Blackburn's show was definitely the funniest and it was good that he spoke about the non-business specific areas of life like health and relationships, and not just about money making.
I didn't watch all the presentations, in particular those by Stephen Pierce and Rick Radditz because they spent a good chunk of their time on stage showing how their online system works, which is essentially one long sales pitch for their product. Amanda Clarkson was all about eBay, not an area I'm interested in at the moment but I thought her presentation probably appealed to a lot of work at home mums in attendance because I think eBay represents one of the easiest businesses to get into quickly without needing a lot of technical skills. I'd seen Marc Dussault do his "Jay Abraham" show before and Shaun Clarke kinda bugged me because he had a tendency to shout out his entire presentation and was very much a copywriter, he spoke a lot like a sales page, which really sold well in the end, but wasn't a style I enjoy – not laid back at all – more hypey, but it certainly converted well for him.
Talking To Millionaire Marketers
Pror to the event I had emailed Mike Filsaime that I was going to the event so we made arrangements to have lunch one day. On Saturday I sat down with Mike and his business partner Tom Beal, who I was happy to finally meet in person since I'd heard a lot about him (I also chatted briefly to Mike's wife). We talked about a few different things and I got some advice on what I want to do with my blogging business, which was very helpful. Attending this event really opened my eyes to a few things about the Internet marketing industry that has changed my own direction in subtle ways.
Mark Joyner, called the "godfather of Internet marketing" and the first person to sell an ebook online, showed up to meet new people and say hello to old friends. Mark is a seriously friendly guy and very open to meeting anyone and everyone, I was impressed with how personable he appeared. Mike F had recommended I meet Mark J (Mike credits Mark as his main mentor for his success – high praise indeed!) and I spent some time hearing about what Mark did in past lives and what he is doing currently with Simpleology (incidentally – if you want to see how one of the top pros split tests headlines, go to simpleology.com and change the index number a few times to see all the different headlines being tested).
I had intentions to get a photo with Mark Joyner but unfortunately I lost him before we had the chance. He lives in Auckland now so I'm sure we will have another chance to meet in person sometime soon since it's just across the ditch, and I'd certainly value more time picking his genius brain. I admire what he's trying to work towards starting with Simpleology and if his big vision comes to fruition I suspect the world will be a better place.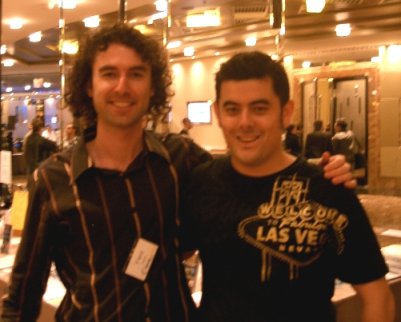 Mark Ling & Yaro Starak
I spoke to Aurelius Tjin often at the event, who I knew previously through online contact. He's enjoying solid success with Butterfly Marketing. On the first day I sat next to Mark Ling, who prior to this event I didn't know existed, but is actually a super-affiliate/Internet marketing trainer turning over seven figures down in New Zealand. He's got an affiliate training course called Affilorama and gave me a free copy of Traffic Travis SEO Software to review (I'll get to that one day soon Mark!).
I also had the chance to briefly chat to many other Internet marketers and soon-to-be Internet business owners. A big shout out to everyone I met and spoke to over the four days. If you have just arrived at this blog thanks to a business card I gave you then welcome and please feel free to browse through the archives by clicking the Articles link or by browsing by category or date using the links in the right sidebar. You should also check out my marketing podcast archive full of great audio interviews with Top Internet marketers – all free!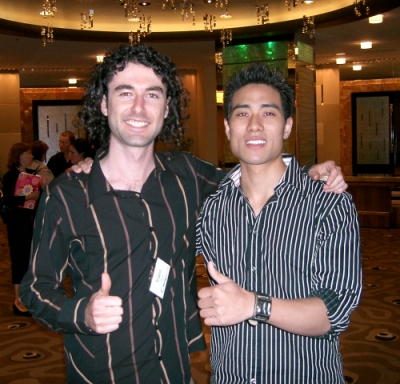 Aurelius Tjin & Yaro Starak
There were so many talented people at the World Internet Summit and I applaud Tom Hua and Brett McFall for organizing such a great event. You definitely have me as a repeat attendee next time it rolls around this part of the world and possibly in other places in the world if I happen to be there at the time.
Yaro Starak
Internet Marketer