I just finished the three day Internet Mastery Secrets event in Brisbane and it was great, but also tiring – three days is a lot of time to spend listening to how people make money and then the subsequent sales pitch to buy their package to learn how you can do the same.
This event is definitely targeted at the absolute beginners. I didn't stay the whole time and missed the question and answer session at the end, but my friend West saw it and was amazed to hear some people in the audience ask uber-beginner questions like – What's an e-Book?.
We all have to start at the beginning, but wow, if someone is asking that question at the end, then 80% of what they heard from the speakers over the weekend must have gone totally over their heads.
As per usual at events like this, the speakers do a presentation of about one and a half to two hours long and end with a sales pitch for their "package" or workshop that sells for anywhere from $1000 – $4000. As I've said before, there is a sugar rush at these events that a lot of people fall for. The potential to make money is very appealing, but unfortunately most will splash out a few thousand dollars on a package and not even make their investment cost back. But that's another story I've already told.
Instant Credibility
The main reason for me to attend these events is to network and meet the speakers. I made plans with Mike Filsaime to have dinner with him and some of my friends on Saturday night at one of my favorite restaurants in Brisbane. Another speaker, Marc Dussault and his wife also came along, and it was a great night full of interesting conversation. I also chatted with Brett McFall, my friends Daryl and Andrew Grant, and briefly spoke to Stephen Pierce over the weekend. If you ever get a chance to attend an event like this I recommend you seek out the speakers and introduce yourself.
What was really powerful is something that happened during Mike's presentation. This is the second time I've experienced this sort of credibility boost and each time it always amazes me what happens in the aftermath.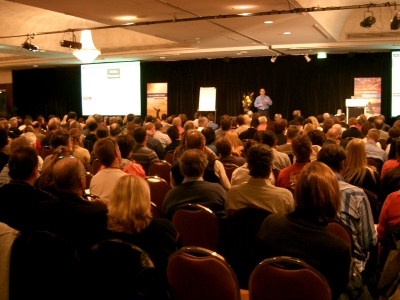 Mike Filsaime at Internet Mastery Secrets Brisbane 2007
Mike was in the middle of his presentation and reached the part about building traffic through content. He mentioned me and my blog and how if you do a search for his name, my blog comes up as the first result. He asked me to stand up and mention the Blog Profits Blueprint as a free report people could get about blogs.
It was literally a ten second thing, but thanks to that one tiny bit of exposure I spent the rest of the weekend talking to people who eagerly came over to say hello and ask about the Blueprint and what I do. Luckily I have ahh…features that stand out (big hair!), and I was wearing a bright sweater too, so people recognized me after Mike pointed me out during his presentation. Before this I was just another attendee and had not chatted to anyone unless I deliberately started talking to them.
As a result of this one tiny bit of exposure and credibility transfer I was able to tell a lot of people about the Blueprint and just get my name and face out there more. I even had one person come up to me and say he would join my mentoring program as soon as it was released and another person invite me to come and speak at her event.
I can't really say how beneficial all this might be for my business bottom line, but it sure is a fun experience. It goes to show how influential the people on stage are and if you ever want to benefit from someone else's credibility like I did, be sure to make friends with the speakers.
How To Make Friends With Speakers
In the interest of helping you enjoy a similar experience as I sometimes do at these events, here's how I have become friends with speakers at Internet marketing conferences.
To be completely honest a lot of the reason why people know me at Internet marketing conferences is because of this blog. Chances are they have come across it at some point or had a word of mouth referral. When I first spoke to Mike at Rich Schefren's conference earlier this year I said hello and he knew my blog. Rich obviously knew about my blog too. Brett McFall had heard about the Blog Profits Blueprint and I had also briefly spoke to him at his World Internet Summit event in Melbourne this year. Daryl and Andrew Grant I interviewed in a podcast.
As you can see, most of the initial contact I have with people somehow relates to this blog, so if you want my own major tip – build a great blog and then attend industry events and introduce yourself as the person behind your successful blog. Chances are they might know you or will know you soon enough if you are building a great blog.
Doing interviews is another great way to meet famous people in your industry and it's because of my podcast that I know guys like Brian Clark, Michael Cheney and Tim Ferriss.
If you don't have the advantage of your own successful podcast or blog, then consider taking some initiative at events and record interviews while you are there. Giddion, a guy from Brisbane I first met at the Melbourne World Internet Summit, was going around at this event and asking the speakers to do video interviews for a book he was planning to release about successful Internet marketers. He had his handycam recorder and was asking any person well known if the would like to be interviewed (including me!). No doubt after this event Giddion will have a stronger relationship with each person he interviews, which could lead to all kind of things in the future.
If all else fails, just go up, say hello, say you love some aspect of their work that you have experienced (maybe their presentation or a product you have bought from them). This at least gets your face out there. They may not remember you, but it makes it easier for you to approach them in the future and I know from experience speakers are more than happy to speak to people, but especially their customers, so if you have enjoyed some success as a result of using something a speaker produces, definitely go up and give your story. You never know, they may single you out for a testimonial during their presentation, which was exactly what happened on several times during this event to different people (it's good for their social proof too).
As always, if you get a chance to attend a conference or workshop I strongly recommend you do so. It's well worth it and can lead to some high profile contacts and exposure, or if nothing else, a fun and interesting learning experience as you see how these speakers ply their craft.
Yaro Starak
Serial Conference Attender