Product Launch Formula Home-study Course by Jeff Walker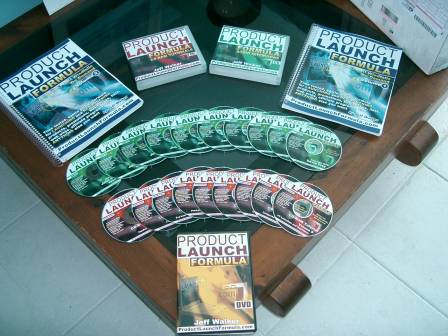 You can find a list of other reviews and links to the products and resources I use to run my online business in the
Resources Section
of this website.
Name: Product Launch Formula
Creator: Jeff Walker
URL: www.productlaunchformula.com
Purpose: Learn the strategies and tactics to launch a product online
It's no secret that my recent launch process for Blog Mastermind was heavily influenced by some of the big profile Internet marketing launches that have come out over the past year. John Reese's Traffic Secrets launch, which was the first big Internet marketing product release that grossed a million dollars in 24 hours, paved the way for other big launches, such as Mike Filsaime's Butterfly Marketing (start of 2006 – see my review of the book version here), StomperNet, Pipeline Profits, Rich Schefren's Strategic Profits (I'm in this program too) and of course, the focus of this review, Jeff Walker's Product Launch Formula.
Jeff Walker was involved in some way in nearly every major Internet marketing product launch since Traffic Secrets and it's because of his wealth of experience consulting on some of the largest launches ever to hit the net, that he is able to position himself as the de-facto expert for conducting a launch online. Because of his involvement in so many big launches, Jeff's accumulated a vast knowledge, based on real market-tested experience, of the ins and outs of successfully releasing a product (or service) online.
Prior to the big Internet marketing launches of 2005 onwards, Jeff initially built up experience launching his own products, which I believe were focused in the stock trading market, although there were probably other industries as well, before he became the "product launch guy".
In 2006 Jeff put together a home study version of his product launch process and it was only natural that he conduct a product launch for it's release. Product Launch Formula is the name of the home-study course he produced and once again he was responsible for making a big splash online, this time for his own product, teaching his launch methods.
I didn't buy Product Launch Formula when it was initially released, but in April 2007 when I was about to undertake my own launch, I thought it was about time to get myself a copy.
How Much Does It Cost?
Product Launch Formula (PLF) is $997 USD, which seems to be the standard price for a home-study course of this type. Is it worth $997? – I can't really say, perceived value tends to play tricks on the mind when it comes to decide the "value" of something.
The simple answer is do you see the potential to make more than a few thousand dollars from a product you want to sell online? If so, then PLF can help you do this, so yes it probably is worth it. If you are not in a position to make money from what you learn in PLF, then no, from a financial perspective it is probably not worth it.
In my case given my own product launch grossed over $13,000 in one week and will continue to bring in a similar amount each month from now on assuming I continue to provide value to all the 300+ Blog Mastermind students, you could say that yes, buying PLF was a good decision since it was at least partially responsible for my success (oh and Paula, if you are reading this – you can bump my "blogging related income" to about $19,000 a month now) .
Then again, there wasn't much I did during my launch that I learned directly from PLF, most of the techniques I implemented were taken from experience watching what guys like Mike Filsaime, Rich Schefren, Brad Fallon, Andy Jenkins and Buck and Brock did with their own launches, all of whom Jeff worked with. So Indirectly Jeff did certainly train me, but it wasn't specifically via PLF.
All that being said, if you haven't gone through a product launch as a customer and a joint venture partner so you can see what goes on from both sides of the fence, then you won't have the experience I did to draw upon, in which case, a copy of PLF will be very helpful. In my case it was more of an affirmation of what I already knew and a few good ideas here and there.
More Than Enough
If anything, PLF provides too many ideas. As a small-business entrepreneur, with limited resources and only a few people helping out during the launch process, I could only implement some of the techniques, probably about 25% of the total things I could have done (you can always produce another video, or send another email, or find another JV partner).
PLF is certainly comprehensive enough to provide all the ideas you need to launch a product online, so if the whole concept of a product launch is foreign to you and you are not sure where to start, PLF is definitely a good choice as a quick all-in-one solution, the next best thing to hiring someone to manage your launch for you.
What Do You Get?
PLF contains two manuals, a series of 10 audio CD interviews with people who have conducted successful product launches, a video recording of Jeff presenting his PLF at a conference, and the "meat" of the course, a series of 9 CDs with camtasia screencast recordings where Jeff uses mindmaps and audio to explain the PLF process.
I enjoyed the audio interviews the most since I liked hearing how other people had launched products, and it's important to note that not every product discussed was an Internet marketing product. For example, one interview is with Mike Long, who has a Magic: The Gathering membership site, and having played the card game myself when I was younger and being familiar with Mike as a well known Magic professional (I even played against him once at a World Championships event in Seattle), I really enjoyed this interview.
The camtasia screencast videos where Jeff teaches the principles of the course is good, however I have to admit I was a bit bored sometimes, mostly because I was quite familiar with the principles and tactics he demonstrated. I nodded my head in agreement many times, having either already implemented what he was talking about, or too resource strapped to do so. There are many great ideas, but for me I often felt overwhelmed being reminded of all the things I knew I could do and simply didn't have the time or resources to get done in time.
Like I said before though, if you have never participated in a product launch then I know you will find the screencast training great. It's 100% content and all based on real-world experience Jeff went through working on various launches. You get the techniques that have been tested many times and work, so it pays to pay attention if you don't know what things like social proof, reciprocity, credibility, urgency, scarcity and other tools of the trade are and how to create them in a product launch.
In the manuals you will find copies of emails Jeff and other people used in various launches, as well as more guidance on the strategy behind a product launch. The manuals are handy, if perhaps not amazing. If you know what a launch email looks like much of one of the manuals won't blow you away, but again, I'm coming from a background where I live and breath marketing emails every day, so if you can't say the same (lucky you!), the content will probably be quite eye-opening and very helpful as templates.
Bonuses
After you buy PLF you get access to a constantly updated bonus area full of many more interviews with people who have gone on to conduct launches, and as Jeff boasts, his training has now helped gross 60 million online.
One of the more interesting interviews features a lady, around the same age as myself (late twenties), who successful launched MySpace software using a launch process that became a $50,000 a month business for her. Not every success story is quite as huge, and of course Jeff and PLF can't take all the credit – in this case with the MySpace software, a good program in a high demand, huge traffic industry, is the root cause of the success – yet still time and time again the PLF process works.
Not every interview in the bonus area is great and I haven't listened to even half of them yet (there are heaps!), but given my life tends to involve plenty of train trips, I appreciate having a nice stockpile of interviews to stick on my MP3 player for my travel time. All the information I listen to goes into my brain, creating ideas I may possibly call upon in the future, so I really value having access to resources like this.
Skepticism
I have to admit I was pretty skeptical about the whole product launch process. Given I am, like many people – many of you reading this too no doubt – totally sick of online product launches and all the "sales pitch emails" that go along with them, it was a great experience to actually do one myself. Nothing beats experience and I have to admit I have more respect now for what Jeff does. It's not quite as "simple" as you might think it is and it definitely works.
Perhaps in the Internet marketing industry the concept of a product launch is becoming a little tired. While marketers need to constantly innovate to make a splash in the "make money online" market, that is not the case for nearly every other industry online. If you have a product or service idea and you can market it online, there is no good reason not to do a proper product launch for it. It works – it really is that simple – and you are hurting your sales if you don't do one.
Of course there's a lot more to it than just having a product launch formula to make it work – you need to have a great product or service, some preeminence in your industry, relationships with the right people and hopefully a nice fat email list too – but the formula as a general rule, can be applied no matter what the industry. It's not complex, but there are a lot of things you need to get done and PLF will lay it all out for.
I think PLF is a good product and for people in the right position to truly leverage all the ides Jeff presents, it can help generate thousands of dollars. If you are not doing a launch or don't expect you will be in a situation to leverage what you learn, then perhaps holding off until you are is the best option.
You can find out more about Product Launch Formula at – www.productlaunchformula.com
Yaro Starak
Product Reviewer