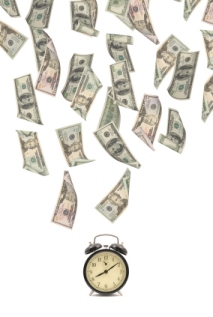 The last few months have seen some huge changes in my life. I bought my first house (pictures coming soon – I move in later this month), I just bought a new car (Suzuki Swift – again photos coming soon), I haven't had a car in nearly 7 years so it will be great to finally not rely on friends for lifts (thanks Fran and Will!), I launched a new business, Blog Mastermind, and began the process of leaving my other business, BetterEdit (more news on this soon too!).
It's been a pretty amazing ride since I left Canada in February, that is for sure!
Something I've noticed lately is a change to my mindset towards how I spend money. Ever since I began studying business, learning the 80/20 Rule, dealing with information overload, studying business systems with Rich Schefren's mentoring program and just my own progression as a business owner, has led to a big mental shift.
The core concept I am talking about here is the relationship between time and money and how I leverage those two resources.
The Bargain Hunter
During previous periods in my life I had an attitude of always looking for the best price and I felt I had to thoroughly research any purchase to make sure I was getting a good deal. It wasn't that I desperately needed to save money, although I certainly wasn't financially stable, it was more that mentally I had a need to feel comfortable with a purchase decision. I needed to feel that I made the right decision and invested enough research beforehand.
This process has completely changed and it's specifically because I now value time more than money. I didn't realize it back then, but the investment I made in energy and time to find the best price and to make sure I felt "comfortable" with my decision was costing me way more than any price saving I made by finding the cheapest option.
Seeking Leverage
My switch in attitude would not have been possible if it wasn't for establishing a system for really leveraging certain activities. Back when I was a bargain hunter I didn't have a business or a blog or anything that was leveraged for greater income. Until I had built a blog that made money and set up a business that had the potential to generate an income that wasn't specifically linear – it wasn't a flat paid by the hour process – I didn't have any means to exponentially increase my return on investment from the work put in.
If you work a job and get paid an hourly rate you can do a straight comparison. Since your income is capped and chances are you don't want to work extra hours, it makes sense to find the best purchase because the saving you make in cost either from a discounted price at the point of purchase, or a more reliable purchase that won't break in the future costing you money, makes sense – it saves you money that you wouldn't otherwise have (unless you do enjoy working extra hours).
When you can save $100 by shopping around for a cheaper supplier, even if that takes a few hours, then it make sense for you. However if you have a leveraged asset, where your input produces more money per hour, for example say each hour you put into your blog or your business results in $200 to your bottom line, then you should spend less time looking for ways to save money, and more time on the systems you have that make a better return. In economic circles this is known as an opportunity cost comparison.
We can take this a step further and outsource all our buying decisions so we get the benefit of the best price and use our time on our most leveraged activities, but it takes balance since you have to weigh up the cost of outsourcing against the savings you make.
Sometimes it's simply smarter to go with the best given option available right now without looking around and researching. This is when it's important to have trusted sources based on past experiences, for example, suppliers who generally provide good output, but may not be the cheapest option. In this case speed and dependability counts – you want to buy as quickly as possible from a reputable supplier so you can get back to the activities that provide the best output for you.
An Example
Let's take an example with the purchase of a digital camera. I'm not a digital camera aficionado, so there is no part of me that looks at buying a camera as indulging in a hobby, I just need it to perform a certain function.
I could walk into a store, say what my needs are and be presented with a few options. Provided I go into a reputable camera store I should get a reasonable spread of quality brands and products, they may not be the best or the worst, but I have the reputation of the supplier (and the warranty) as protection and credibility.
The old Yaro, the bargain hunter, would note the brand and models presented, leave the camera store having not bought anything and then head home to go online to find alternative stores and read reviews of each camera. I'd look up eBay and find online retailers who have the same models cheaper and read reviews to find out if there are better options available.
My research process makes sense, it's good to protect yourself and why not look for the best price at the same time. The problem is this process can take hours, plus time waiting for delivery and if I go the eBay path, there is a potential for fraud or receiving an inferior product (this has happened to me before from eBay purchases).
The new Yaro knows that time spent researching these things takes him away from writing blog content, producing materials for Blog Mastermind students and conducting marketing activities to help grow his business. These activities are more enjoyable and result in a greater return on investment.
The new Yaro walks into a camera store, looks at his options, picks the one he wants and buys it right then and there. He realizes he might be spending more for something he could get elsewhere cheaper, but he doesn't want the hassle – he doesn't want to waste time on low value activities.
Why Not Outsource The Camera Research Process?
I expect that Tim Ferriss would outsource the research process to find the best camera and just make a choice based on what his researchers presented to him. I still haven't made it to the point where I want to outsource every part of my life, I do still enjoy the buying process, I just don't want it to take too long, so I make decisions based on the immediate data available and run with it so I can get back to work. Maybe one day soon I'll be prepared to outsource buying decisions like this too.
Finding Your Money Actions
My change in mindset has come about only because of the assets I have built. Without the potential to leverage my time and not to forget – the fact that I really enjoy working on my assets like this blog and my mentoring program – I wouldn't have the luxury of this situation. Today I buy things immediately without really thinking about the cost, at least when it comes to smaller purchasing decisions (I'm not buying houses and cars quite so quickly…yet!). I know time is worth way more than any price saving ever will be.
In your case you may still have the bargain hunter mentality simply because the process of saving money is one of the best ways to help your bottom line, because your income is linear. Your goal should be to change this situation so it becomes more cost effective to spend time working on your blog or business rather than researching for the best price.
To do this you need to build an asset that has the potential for leverage. Whether that is leverage because you have systems and people that multiply output and get things done without you, or you have access to network effects spreading your message far and wide, meaning one article, in the case of a blog, has the potential to make a huge impact on your bottom line, isn't important as long as you have some form of leverage so your time-to-income ratio is multiplied. You want to work with multiplication tables, not additions and subtractions, so you can leverage your time for significant rewards, not just flat discounts.
Once this mindset starts to set in you will be amazed as you observe how most people waste time and energy because they are so restricted by their own income potential. Once you break away from the linear income world, you realize that freedom – and true freedom is having abundant time and flexibility of choice – is what you really want, and you will never stress about making a purchase decision for fear of not finding the cheapest price.
Yaro Starak
Time Hunter